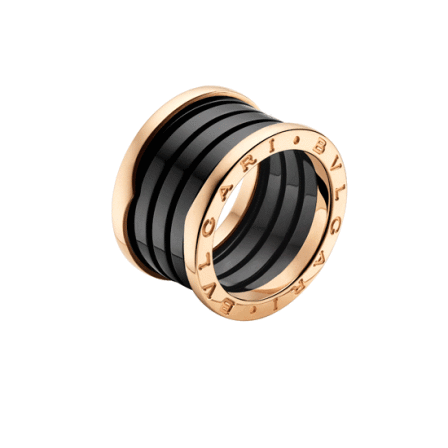 We love hearing of brand milestones and celebrations. So when Bulgari announced the 10-year anniversary of their iconic B.zero1 ring, we couldn't wait to hear what they had in store.
Launched in 2000, B.zero1 became a symbol of timeless and innovative Bulgari design. The collection, which has been under many stylistic evolutions, was designed around the spiral motif. With over 1.5 million pieces sold, this collection is, no doubt, a favorite among the jewelry houses many admirers.
To celebrate its 10th anniversary, Bulgari has remade the iconic ring in two ceramic variations, and teamed up with sculptor Anish Kapoor on an exclusive, special edition ring. Each ring in this anniversary collection will be available at all Bulgari stores starting in May 2010.
For the ceramic versions, the cylindrical body is made of either black or white ceramic and contained within two pink gold rings. Each ring is engraved with Bulgari's distinctive double logo. Long known for designs that combine unexpected materials, ceramic was first introduced to the house of Bulgari in 1994, with the Chandra Collection.
The Anish Kapoor B.zero1 ring features a curved body made of reflective steel converging at both ends with pink gold rings. Again, the rings are emblazoned with Bulgari's Roman epigraphic logo.
Subscribe to discover the best kept secrets in your city