It's finally here…After years of construction, W Hollywood Hotel & Residences finally opened Friday on the famous corner of Hollywood and Vine.
According to the Los Angeles Times, the 15-story, $600-million development, designed by Dallas-based architecture firm HKS, combines on a single L-shaped site the W's hotel and condominium towers.
The building is draped in huge billboards, wrapped around a sizable public plaza leading to a Metro Red Line subway stop and squeezed in next to the landmark 1924 Taft Building at Hollywood and Vine. It boasts over 300 large studio's and one bedroom hotel suites, 143 luxury residences, Bliss Hollywood spa, an outdoor living room, theatre, lounge, and rooftop 25-yard lap pool.
Delphine, the 6,000-square foot eatery, is also open allowing patrons to feast upon classic and modern interpretations of French cuisine by Sascha Lyon and the Innovative Dining Group. The menu includes classics like Steak au Poivre and Moules Frites au Pernod. Innovative is known for bringing L.A. restaurants like Sushi Roku, Katana and BOA. It will be open seven days a week for breakfast, lunch and dinner and has indoor and outdoor seating.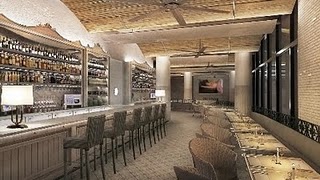 The opening of the hotel also means employment for about 600. Always a plus in this economy.