Deck the halls with … stars of Swarovski? Sure! This Christmas, Rockefeller Center is sparkling for miles with its beautiful annual tree that has been adorned with a 550 pound star with 25,000 crystals and 1,000,000 facets.
Every year locals and tourists flock to Rockefeller Center in New York City to ogle the enormous Christmas tree that has had a tradition of being topped by a Swarovski star each year for the past five years.
This year, onlookers are in for quite a delight as the stunning star is 9 and a half feet in depth, weighs 550 pounds, and is made up of 25,000 with 1,000,000 facets. The star is both high-tech and low-cost (in terms of energy) as it uses energy-efficient LED bulbs and has been modified to work on a cutting-edge computerized system. There are 720 bulbs featured on the star's 12 rays, so being energy-efficient is certainly a welcome addition.  A team of nine artisans and engineers labored for three months installing, programming, and testing the star to ensure the effects with withstand New York's winter weather.
The famous Rockefeller Center began the Tree Lighting Ceremony in 1933 at a time when the tree was typically outfitted with approximately 700 lights. The tradition has clearly come a long way, and this year Swarovski will be placing a replica on display in Rockefeller Center to allow visitors to get a closer view of the sublime detailing of the star. The brand will also be offering an exclusive selection of "star-themed holiday jewelry and ornaments" during the holidays.
This year will be the 77th Rockefeller Center Tree Lighting Ceremony, and it will take place on December 2, from 7pm through 9pm.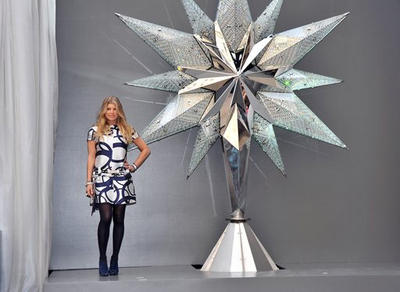 Via: Luxist
Subscribe to discover the best kept secrets in your city