Photo Credit: Brandon Chesbro
BY ANNA CATHERINE BLOCK
PHOTOGRAPHY BRANDON CHESBRO
SHOT ON LOCATION IN NASHVILLE
Photo Credit: BRANDON CHESBRO
In the world of professional football, Jay Cutler's name resonates with strength, resilience, and a relentless pursuit of excellence. Over the course of his illustrious NFL career, Cutler donned the jerseys of several iconic teams, faced intense scrutiny both on and off the field, and garnered invaluable lessons from the likes of legendary coaches and teammates. But life after professional sports is an equally remarkable journey for this former quarterback. Today, Jay stands as a multi-faceted entrepreneur, a devoted father, and a passionate advocate for the great outdoors. I was given the opportunity to connect with him and delve into his kind heart and mind, exploring his transformative experiences in the NFL, his inspiring transition into post-football life, and his exciting ventures, Outsider the brand which includes Outside cigar, Gratis beer and other authentic goods, that are changing the game in the worlds of cigars, craft beer, and outdoor lifestyle.
Jay's NFL journey began with the Denver Broncos, where he had the privilege of working under the guidance of head coach Mike Shanahan. The Broncos were an older team with numerous veterans, including notable names like Champ Bailey, John Lynch, Jake Plummer, Tommy Nalen, Brandon Stokley, and many others. Being surrounded by these experienced players was invaluable to Jay's development as a quarterback. "Being around Mike, Champ Bailey, John Lynch, Jake Plummer, Tommy Nalen, Brandon Stokley, and a ton of other veterans was extremely beneficial. They showed me what the NFL was all about and how to be a pro," said Jay. They showed him what it meant to be a true professional in the NFL, setting the foundation for his future success.
The life of an NFL quarterback comes with tremendous pressure and scrutiny, both on and off the field. Jay tackled the mental and emotional aspects of the game with a nuanced approach. "I think we have to separate things on and off the field. These players are still humans, they have families and do daily mundane things like everyone else." He emphasized the importance of separating life on and off the field, recognizing that NFL players, despite their fame, are still just like all of us, human beings with families and daily routines. This perspective helped him maintain focus and balance. Jay also acknowledged the significance of mental health and sought support from a sports psychologist who provided performance-enhancing tips. Additionally, he emphasized overall wellness, incorporating practices like infrared saunas, cold plunges, float pods, and a commitment to healthy eating to maintain peak physical and mental condition as he aged.
Transitioning from the highly structured world of professional sports to retirement presented a unique set of challenges for Jay. The camaraderie of the locker room and the adrenaline of playing the sport he loved were tough to replicate in everyday life. However, he understood that every chapter in life, regardless of its nature, has its share of ups and downs. Jay's philosophy was simple: he couldn't play football forever, so he aimed to find something he was passionate about and surround himself with people he respected and enjoyed working with.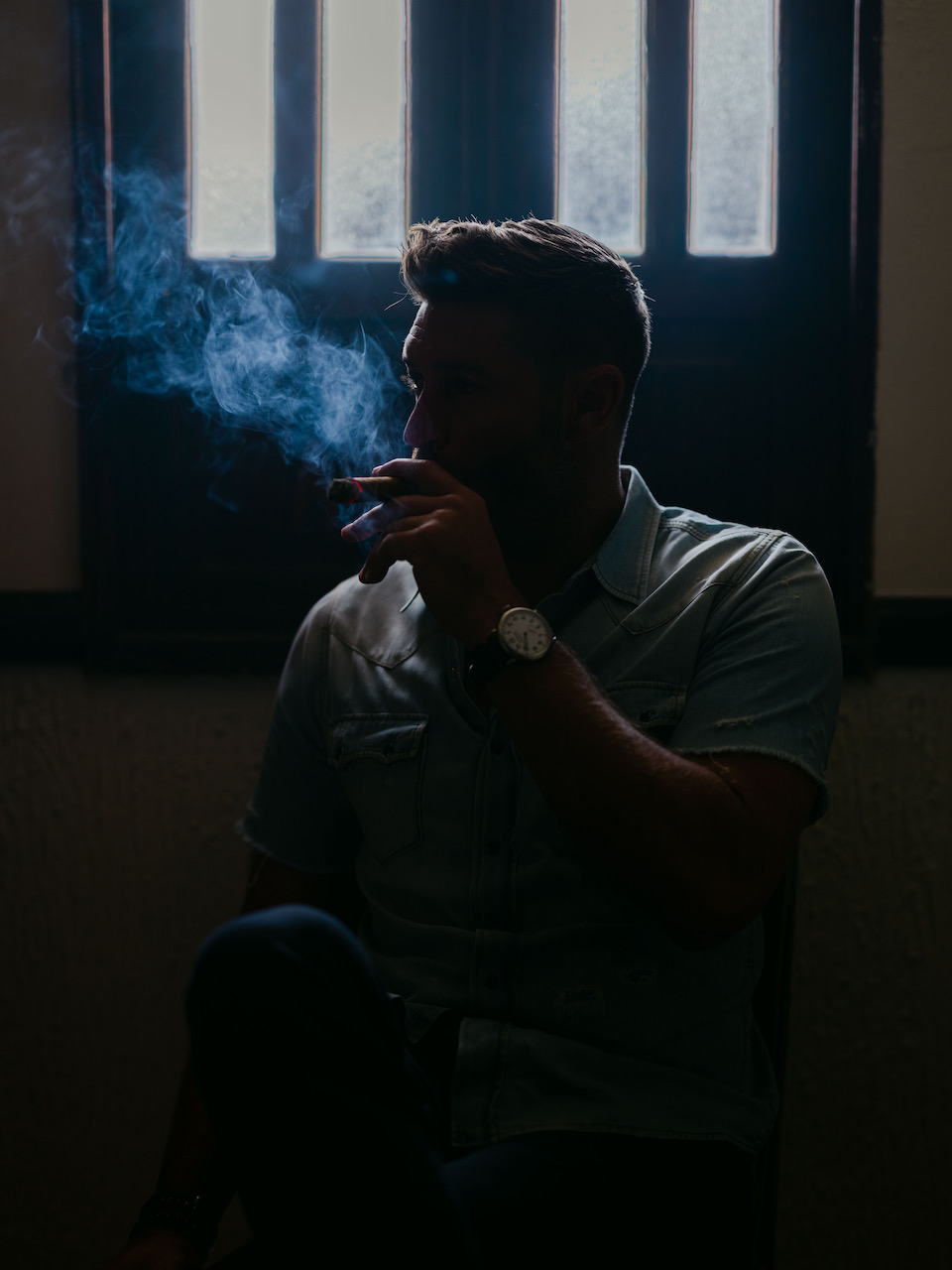 Photo Credit: BRANDON CHESBRO
Fatherhood to Jay Cutler is an incredibly rewarding journey, filled with joy and precious moments. Jay cherishes his role as a father, finding immense joy in helping shape his children's lives. He emphasizes the importance of making the most of the limited time spent with them as they grow up. Balancing his personal and professional life can be challenging, as he never wants to miss significant moments in his children's lives. "Fatherhood is amazing; to be able to help shape these kids' lives is very rewarding. It goes by super fast, though; you only get so much time in front of them, so you have to maximize it." However, technology has allowed him to stay connected even when he can't be physically present. As he looks ahead, Jay anticipates the teenage years, which he acknowledges will bring new and exciting challenges.
Jay explained that his journey took an exciting turn when he joined forces with a friend, Shannon Terry, who had previously founded Rivals.com and 24/7 Sports. The idea for Outsider emerged during the COVID-19 pandemic when they felt the need for a platform that appealed to a broader audience. Outsider represents more than just a brand; it embodies a lifestyle that celebrates outdoor adventures and shared experiences. This venture also led to the creation of the Outsider cigar. Having grown up with a father who had a love for cuban cigars, I was intrigued to learn more about the Outsider cigars and what exactly that meant to Jay.
Creating an Outsider cigar involved a journey to the Dominican Republic, where Jay and his team collaborated with the Kelner Boutique Factory. They sampled four different cigars, and the very first one immediately stood out as the winner. "We went down to the Dominican Republic and met with the Kelner Boutique Factory. He had four different cigars rolled for us to try. The very first one was by far the winner.  We all knew it immediately." The cigar features an Ecuadorian Connecticut wrapper aged 3-4 years, a Monte Plata binder aged 6-7 years, and Criollo 98 and Pelo de Oro fillers. Hand-rolled at the Kelner Factory, the Outsider cigar offers a mild yet flavorful smoking experience. It's designed to be enjoyed on any occasion, reflecting its versatility and accessibility.
Jay's vision for Outsider is ambitious. Over the next 12 months, the brand aims to establish relationships with major retailers to market and sell its drinkware on a larger scale. They are also focusing on expanding their social media presence with outdoor lifestyle content, appealing to fellow Outsiders who share a passion for adventure. Outsider plans to continue growing its cigar line and Gratis Beer, both of which are already in full production and distribution. You can find the authentic goods on Outsider.com and purchase cigars directly from jay6cigars.com.
Photo Credit: BRANDON CHESBRO
In the next three to five years, Jay envisions Outsider becoming a household name, encouraging people to embrace the great outdoors. He anticipates that their drinkware will surpass competitors, and they'll introduce new product lines, further solidifying Outsider as an easy-going brand with broad appeal.
Jay's passion for cars led him to one of the most iconic brands in the automotive industry, Ferrari. Jay consulted with his close personal friend, Jason Lozon, that he had been buying cars from for over 15 years which is what led him to the brand. "I wanted to get into Ferrari's, I had always been fascinated by the car and how amazing they are." Working with Ferrari of Naples has been a fantastic experience, as they've helped Jay acquire several incredible cars. He eagerly looks forward to adding more to his collection in the future. Infact, Jay is allotted the newest launch for Ferrari, The Ferrari Purosangue—the first ever four-door, four-seater car in Ferrari's history. 
When it comes to dining in Naples, Jay's favorite haute spot is Osteria Tulia. After  building his relationship with Ferrari, Jay attended F1 Miami, where he was introduced to Chef Vincenzo. Naturally, they hit it off sharing similar interests in the Naples market. Chef and owner Vincenzo Betulia's culinary expertise shines through, making it a place Jay continuously enjoys visiting. He appreciates the diverse menu and the restaurant's laid-back atmosphere which to me is no surprise. Anyone who has attended a Formula One race knows there is an exhilarating blend of speed, precision, and cutting-edge technology that define the high stake motorsport.
As someone who thrived in the world of professional football, Cutler had a deep appreciation for the dedication and skill required to compete at the highest level, and Formula One offered a thrilling parallel. The fusion of engineering marvels, fearless drivers, and the pursuit of fractions of a second on the track resonates with his competitive spirit. Watching these finely-tuned machines roar down the circuits and witnessing the tactical battles between teams was not just a spectacle but a testament to human ingenuity and ambition, qualities that Cutler admires both on and off the field.
Jay and his team ventured into the beer industry with Gratis in a highly competitive market. The journey began about a year ago in Nashville, with a clear focus on establishing the brand as a local favorite. Their primary goal was to create a beer that tasted great and was also brewed locally in Nashville. With American ale, lager, and summer ale offerings, Gratis started slow but steady growth. They have found a reliable partner in Jason Sheer, a seasoned figure in the Nashville scene who has opened numerous bars and restaurants. Together, they are gradually making their mark with Gratis beer.
Its commitment to quality and locality sets Gratis apart from the competition. By brewing their beer in Nashville, they create a sense of community and connection with their consumers. Jay and his team are excited about the prospect of expanding their beer offerings in the future, catering to an even broader audience. 
Now, when it comes to the perfect pairing, Gratis beer and Outsider cigars make for an excellent combination. The mild and slightly sweet notes of the Outsider cigar complement the flavor profile of Gratis beer beautifully, offering enthusiasts a delightful and relaxing experience. 
As Jay Cutler continues to venture into new territories with Outsider, Gratis, and his various other projects, it's evident that his dedication and passion remain as strong as ever. His journey from the NFL spotlight to entrepreneurship is a testament to his ability to adapt and thrive in diverse fields. Jay's story serves as an inspiration for anyone looking to navigate life's transitions with grace, resilience, and a willingness to embrace new challenges.
While Jay acknowledges that there's no replacing the thrill of being on the football field and the camaraderie of the locker room, he has successfully transitioned into a life beyond the NFL. Being around his children as they grow up has brought new and rewarding experiences. His involvement with Outsider, Gratis, and his work with the NFL, CW, and CBS has been fulfilling and exciting. 
Jay's engagement with the NFL, CW, and CBS showcases his enduring connection to the sport that catapulted him to stardom. After retiring from professional football, Cutler seamlessly transitioned into a new role as an NFL analyst and commentator. His insightful analysis and in-depth understanding of the game quickly made him a sought-after figure in sports broadcasting. Cutler's presence on NFL broadcasts brings a unique perspective, allowing fans to gain deeper insights into the intricacies of the sport he once excelled in. His charisma and ability to break down complex plays make him a valuable asset to the network, further solidifying his legacy in the football world.
Photo Credit: BRANDON CHESBRO
In addition to his work with the NFL, Cutler has extended his reach to include CW and CBS. These endeavors have allowed him to explore new horizons and broaden his creative portfolio. Whether it's through hosting television shows, providing expert commentary, or participating in diverse projects, Jay Cutler's contributions to the media landscape continue to captivate audiences and underscore his versatility beyond the football field.
As Outsider and Gratis continue to grow and evolve in the years ahead, Jay Cutler's legacy will extend beyond the football field, leaving a mark in the worlds of outdoor lifestyle, cigars, and craft beer. With a clear vision and an unwavering commitment to excellence, he's well on his way to making Outsider and Gratis household names, embodying the spirit of adventure and camaraderie that defines the brand.
Following my conversation with Jay, I discovered his admirable character, warm-hearted nature, deep affection for his children, and shared passion for the outdoors, traits that resonate with numerous individuals in the Naples community. Naples, renowned for its scenic allure, lively community, and culinary pleasures, occupies a special corner in Jay Cutler's heart.It's more than just a destination; it's a sanctuary where he can unwind, indulge in exquisite dining experiences, and foster lifelong connections. The city's charm, exemplified by spots like Osteria Tulia, resonates with Cutler's appreciation for laid-back atmospheres and culinary excellence. Moreover, his partnership with Naples Ferrari not only fuels his passion for high-performance automobiles but also embodies the essence of luxury and precision that he values. Naples is more than a location; it's a testament to Jay Cutler's enduring love for the finer things in life, making it a cherished part of his journey beyond the NFL. 
Subscribe to discover the best kept secrets in your city