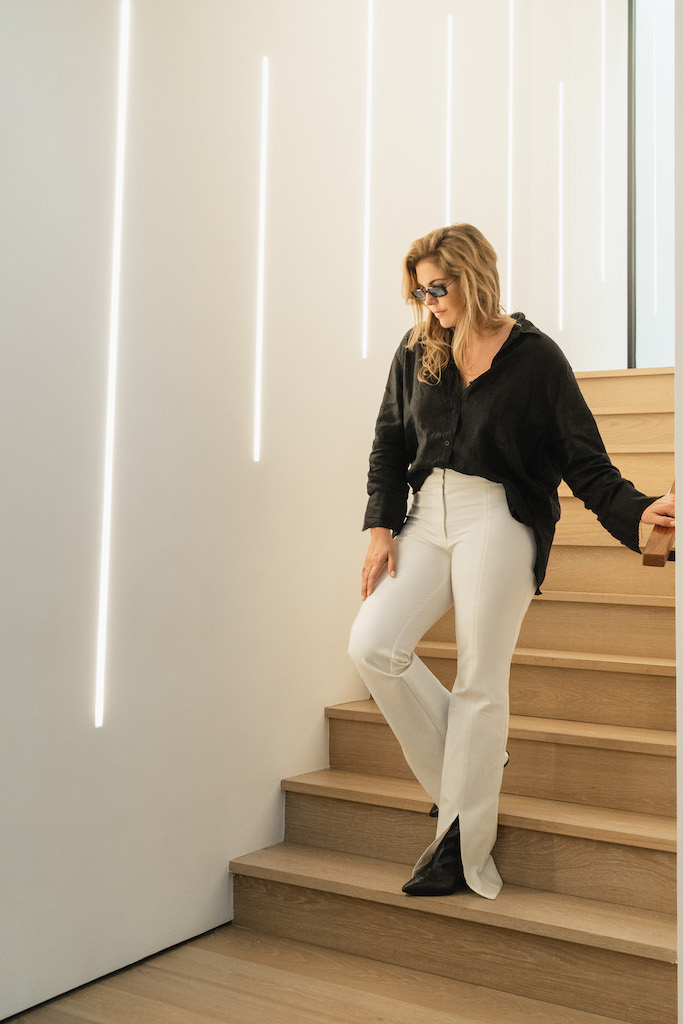 Photo Credit: Ton Gomes – Styling by Liandra Salles
Bea Pernía, the founder of Bea Interiors Design, is recognized for her exceptional ability to blend natural elements with timeless elegance to produce personalized and one-of-a-kind spaces for her clients. Recently, she partnered with the renowned rug firm Art and Loom and collaborated on an exciting project, just returning from showcasing their work together at Milan Design Week at Alcova Fair.
According to Bea, the key to creating a timeless style is to use neutral colors on walls and furniture, which provides flexibility for creativity in decoration and design. She also emphasizes the importance of incorporating natural elements such as wood and marble, which bring life to a space and provide visual comfort that never goes out of style. In addition, Bea designs unique pieces that play a leading role in decoration with unrepeatable forms.
Bea's approach is to push the limits of materials in unique and stimulating ways while developing organic forms. To balance aesthetics, she believes it's necessary to understand the colors, materials, and shapes within the space being designed to make them flow when functionally put together.
Bea Pernia's successful career journey represents the transformation of life experiences into unique and high-value creations. Her training, discipline, and passion have brought her recognition in the interior design industry. According to Pernía, the main secret to success is to stay motivated, passionate, and organized in each project, to understand the needs of clients, and to be ready to work as many hours as needed to achieve the goals.
Bea Pernia's timeless style and unique approach to interior design have created a lasting impact in commercial and residential projects in Miami, delivering personalized spaces that reflect her clients' individuality. With Pernía's expert advice, homeowners and businesses can achieve a timeless style in home decoration that lasts a lifetime.
About Bea Pernia from Bea Interiors Design: FOUNDER + LEAD DESIGNER
Bea Pernia founded BEA Interiors Design in 2012. Drawing upon her multidisciplinary background and global experiences, Bea is known for creating spaces that stimulate the eye, stir the soul, and meet client needs well into the future. She expertly applies her artistic sensibility to craft novel, harmonious aesthetics that follow her passion for interior and product design. Viewing each project as a unique opportunity to explore fabrics, leather textures, contrasts, shapes, and materials in order to realize the vision of her client, she often experiments with natural materials. The outcome fuses organic elements with timeless elegance for a look that is both clean and modern.
Since 2012, Bea has conceptualized and furnished multimillion-dollar homes, boutique hotels, and commercial and hospitality concepts such as restaurants in Miami, Mexico, and the Caribbean. She has also executed high-end design collaborations with renowned artists and architects.
Written in partnership with Luxury Lifestyle Magazine
Subscribe to discover the best kept secrets in your city