Photo Credits: Margaret Patillo
One of the main reasons why people don't start a business is because they feel their idea isn't original enough. The other reason is putting thought-to-action. If it were easy, there'd be an endless supply of entrepreneurs. It's even more challenging if you're a single parent like Andrea Lopez. Lucky for her, it's a great time to be a beauty entrepreneur.
It was her insecurities that led her to entrepreneurship; Lopez suffered from cystic acne. She created an elixir in 2012 that completely rid her of the acne that had long plagued her beautiful face. Thought-to-action finally became foreseeable for Lopez.
The licensed aesthetician bet it all on herself. She put in her two-weeks notice and founded Bonum Vitae. And, what does that translate to? "It's Latin. It means '[the] good life," said Lopez.
But, life as a new beauty entrepreneur was anything but good. Lopez was aware of the incalculable amount of beauty-giants who'd be viciously competing against her. The ones swimming in exponential seeding for branding, marketing, and advertising. Something a startup like Bonum Vitae couldn't compete with.
Determined to help people live the good life, she invested in influencer marketing and it worked. Endorsements skyrocketed sales and exposure significantly. But, she's still actively seeking investors to help take Bonum Vitae to the next level.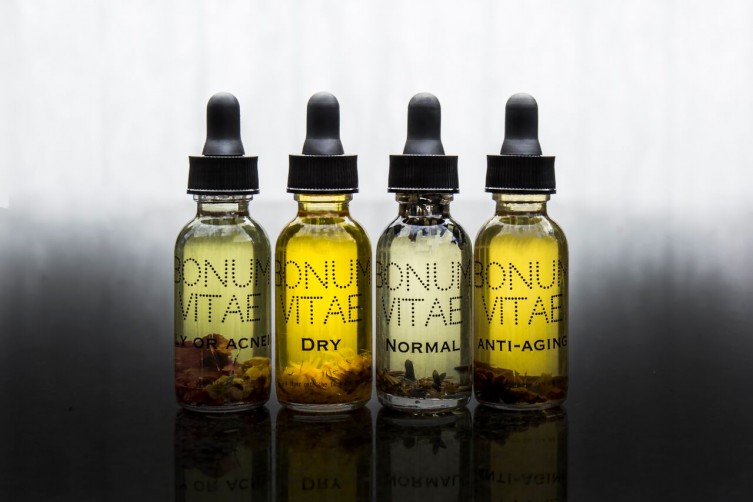 Beauty influencers on Instagram and YouTube adapted her eco-conscious, organic, cruelty-free, and vegan-friendly face oils into their beauty regime. How they've incorporated Bonum Vitae has even surprised her, adding that some even mix the oils and foundations for a smoother application. However, beauty influencers aren't the only ones taking notice. Professional makeup artists with elite clientele are too. Jazzmin Jordan used Bonum Vitae on her platinum-recording celebrity client, rapper Cardi B.
"Moisturizers have some benefits but with oils, you get all the benefits. Moisturizers layer and oils penetrate," said Lopez. The secret to creating refined face oils like Bonum Vitae starts with the person behind it all. Let's just say Lopez has an atelier approach that allows her to achieve potent, high-end, and sought-after face oils. Currently, there are four: oily/acneic, normal/combination, dry, and anti-aging which are all rich in vitamins A, B, C, and E. "The goal for the brand is to be comfortable in your own skin. When people feel good in their own skin I feel like people are better people in general," said Lopez.
The sentiment rings true when you remember that this is coming from the woman who cured her own cystic acne and is now living her own version of the good life: growing her beauty empire with the help of her adorable baby girl.