Photo Credit: Lisa Hochstein
While most people are escaping the treacherous winter weather for warm, sandy beaches, Miamians in the know are headed to the chic town of Aspen for a change of scenery for President's Day Weekend.
Before I met my husband, I had never skied a day in my life—which is crazy considering I'm from Canada. Lucky for me, Dr. Hochstein is an expert skier, and I knew he could teach me his ways in no time. About eight years ago, I was zooming down the blue trails after two days of private ski lessons. I loved challenging myself while enjoying the picturesque views of the mountain. This was the moment I fell in love with Aspen, and ever since I've returned every year.
While visiting the happening city, I never miss an opportunity to hit my favorite restaurants Cloud Nine Alpine Bistro and The Little Nell during the day. At night, Matsuhisa, Piñons, Campo de Fiori, Cache Cache and Casa Tua rank at the top of my favorite spots. And of course, we always end the night with drinks at Caribou Club.
My only complaint about the whole trip is what the high altitude and dry conditions do to my skin! This is how I handle it:
Sunscreen—SPF 30 or higher. You can still get burnt on the ski slopes! Reflection from the snow can be just as damaging as direct sunlight—snow reflection increases UV Intensity by 85 percent! I use Obagi Zo Oclipse Smart Tone SPF 50 because it protects, hydrates and lightly tints your skin. This is available at Hochstein MedSpa.
Exfoliate! The dry air and wind create dry skin, which causes clogged pores, leading to acne and dull lifeless-looking skin. Exfoliate with a crystal-based product such as Obagi Zo Exfoliating Polish, also available @hochsteinmedspa every night. Try a fruit enzyme mask to keep your skin radiant. My favorite is Elemis Papaya Enzyme peel mask.
Keep hydrated. Most skiers don't drink enough water before they hit the slopes. This will definitely hinder your performance. I force myself to drink a couple of glasses before I ski and have a glass on every break. This allows me to ski longer because I don't get fatigued—and most importantly, my skin looks fresh and hydrated! Another tip to keep your skin extra hydrated is using Clinique's overnight moisture mask at bedtime and a few drops of beauty oil, such as Farsáli Rose Gold Elixir beauty oil, under your night creams.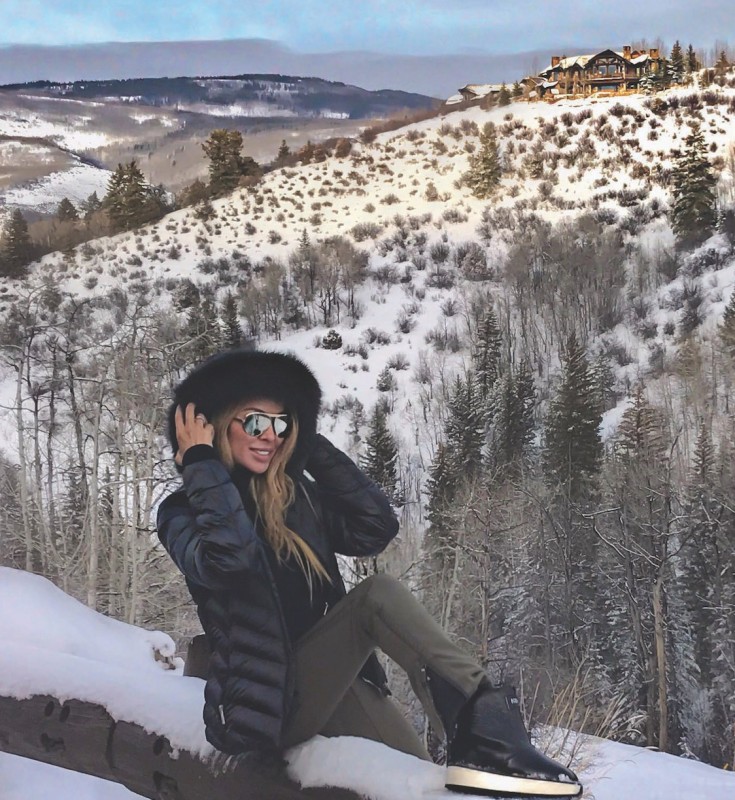 Photo Credit: Lisa Hochstein
Although I want everyone to come to @hochsteinmedspa, I would not recommend getting a laser or aggressive skin treatment at least one month prior to an active ski trip. Instead, try to schedule them when you return home. Your skin will suffer and become more susceptible to the dangers of the sun if you do it beforehand. Of course, we do want you to look your best for your vacation, so I suggest a deep cleansing facial combined with the HydraFacial MD prior to the trip. Body contouring procedures such as VelaShape, CoolSculpting, filler or Botox will also not be affected by the extra-damaging rays caused by such high altitude and extended periods of sun exposure. See you on the slopes!
For more tips, be sure to follow me on Instagram @lisahochstein