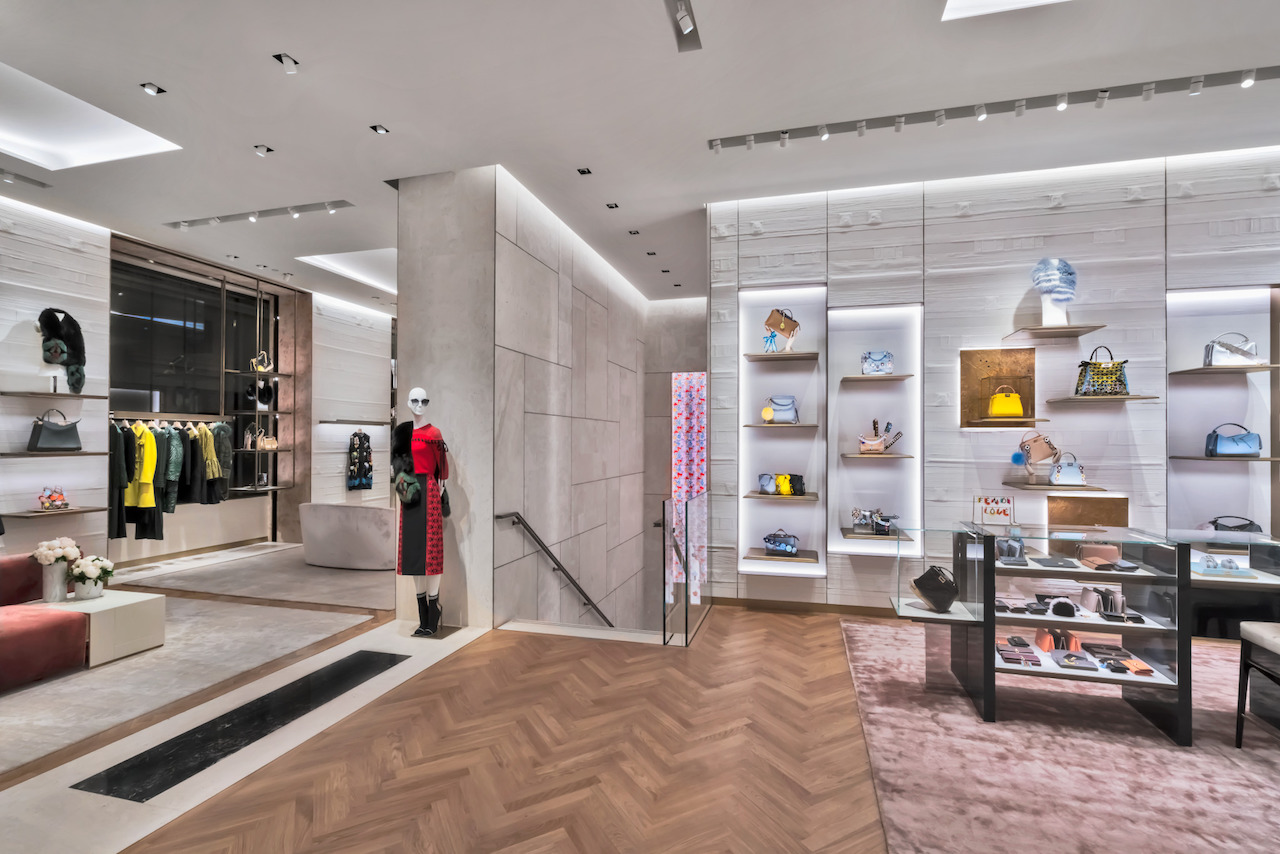 Grant Street in the heart of downtown is quickly turning into San Francisco's answer to Rodeo Drive. It is the street for international luxury fashion brands to open a boutique. Exhibit A: the new Fendi store that opened in late July on the corner of Maiden Lane and Grant Street. The flagship Fendi is a stunning two-story shop that reflects the Italian maison's Roman roots. It is the first SF location for the 92-year-old family-run brand, whose collections are designed by Karl Lagerfeld and Silvia Venturini Fendi. The ground floor has bright open windows that provide ample light for the women's ready-to-wear pieces, direct from the most recent Fendi runway. The brand is known for its furs and the store is stocked with pretty pink stoles, sleek black minks, and colorful fur poufs to hang on purses. The refined decor is sumptuous and grandiose and features a mixture of vintage and bespoke furnishings. The downstairs men's area has deep blue velvet rugs, brown lacquer finishes, and dark grey metal mesh accents. In honor of the gorgeous new boutique, we reached out to Fendi's CEO, Pietro Beccari, to talk all things luxury and to learn how the Italian powerhouse is redefining the fashion experience.
How has the concept of luxury changed in the past ten years?
The concept of luxury continues to change and progress, and we need to keep up with our customers and the evolution of the industry. Clients today don't just want to own something, they want to feel like they belong to something and are part of that story. They want to be reassured that what they buy has a value that goes beyond the price tag. They are looking for emotional value. Social media has also contributed to luxury brands having to evolve quickly. What was once only visible to your exact target market now has many more eyes on it.
What's the biggest challenge for any luxury brand today?
To constantly push themselves and challenge what they have done in the past. Customers have access to so much today, they are more demanding. Brands need to remain relevant and true to their DNA at the same time.
How is the San Francisco market different from other markets?
We see San Francisco as an opportunity to reach a niche luxury customer. The customer in San Francisco enjoys luxury goods but also has a very different lifestyle than other places in the US.
Why is it important for Fendi to have a presence in San Francisco now?
We always saw San Francisco as a must in our US expansion plan. Over the years, more luxury brands have been opening doors in this market. It's obvious customers in this  region are devouring luxury goods. We are very excited for this store and to be able to bring our pieces to the San Francisco market.
What are you most excited about for fall from Fendi?
For one we've gone back to our roots and reexplored our beloved logo, our double F. We've incorporated this into many touch points for the Fall 2017 collection. It was very exciting for our design team to think of ways to include our new logo but in different more modern ways. We also have a new bag launch for the fall, the Runaway bag, which we are very excited about. It's the perfect bag for the working woman and is also one of our lightest bags. It will be offered in matte leather as well as with exotic embellishments.
Fendi is known for supporting the arts. Why is it important to the brand?
Art and the city of Rome have been a part of Fendi since its beginnings. The city is where the brand was founded and it has given so much to us through the years in terms of creativity, inspiration, and savoir faire. It's important for us to give back to the city, and we are very tied to it. We also added "Roma" to our logo, because of our origins, the lifestyle it represents, and also the beauty that Rome represents.
All images courtesy of Fendi.