The first time I dined at Fiorella, an Italian restaurant on Clement Street in the Richmond District I thought, "I wish this restaurant was in my neighborhood." It's the sort of gem that locals live for. The food is addictive and delicious—there's wood-fired pizza, fresh pastas, and savory antipasti—it's classic upscale Italian food that's easy to crave on a regular basis. The stellar wine list consists of interesting Italian varietals; innovative cocktails are made from low ABV spirits. The owners, Boris Nemchenok and Brandon Gillis, are the type of guys who remember your name and favorite type of Lambrusco. Throw in a generous and inviting staff and cheeky decor (the walls are covered in custom-printed wallpaper that features famous Bay Area natives like Alice Waters, Joe Montana, and E-40) and you've got a restaurant that's hard not love, especially when it's up the street from your home. But that's not the case for me or anyone else who doesn't live in SF's outer lands. However, recent changes at Fiorella prove that it's a dining destination worthy of  a visit (and the Uber ride) any night—or day!—of the week.
Photo Credit: Blair Heagerty
First, chef Dante Cecchini has launched a burger night. Cecchini worked at Marlowe before taking over Fiorella's kitchen. After serving Marlowe's famed version to countless diners, he was eager to build his own burger. On Tuesday nights and Friday afternoons, burger lovers can try Cecchini's incredible cheese burger. The six ounce patty is pure B&N ground beef and it's cooked to medium perfection in Fiorella's wood-fired oven. The accoutrements are traditional: melty American cheese, crisp sour pickles, butter lettuce leaves, and sweet grilled onions. The warm and toasty poppy seed bun, from Panorama Bakery, is slathered in Fiorello's "Special Sauce" a creamy concoction that tastes like it must have a mayonnaise-ketchup base. It's a sensational burger that definitely give's Marlowe a run for its money.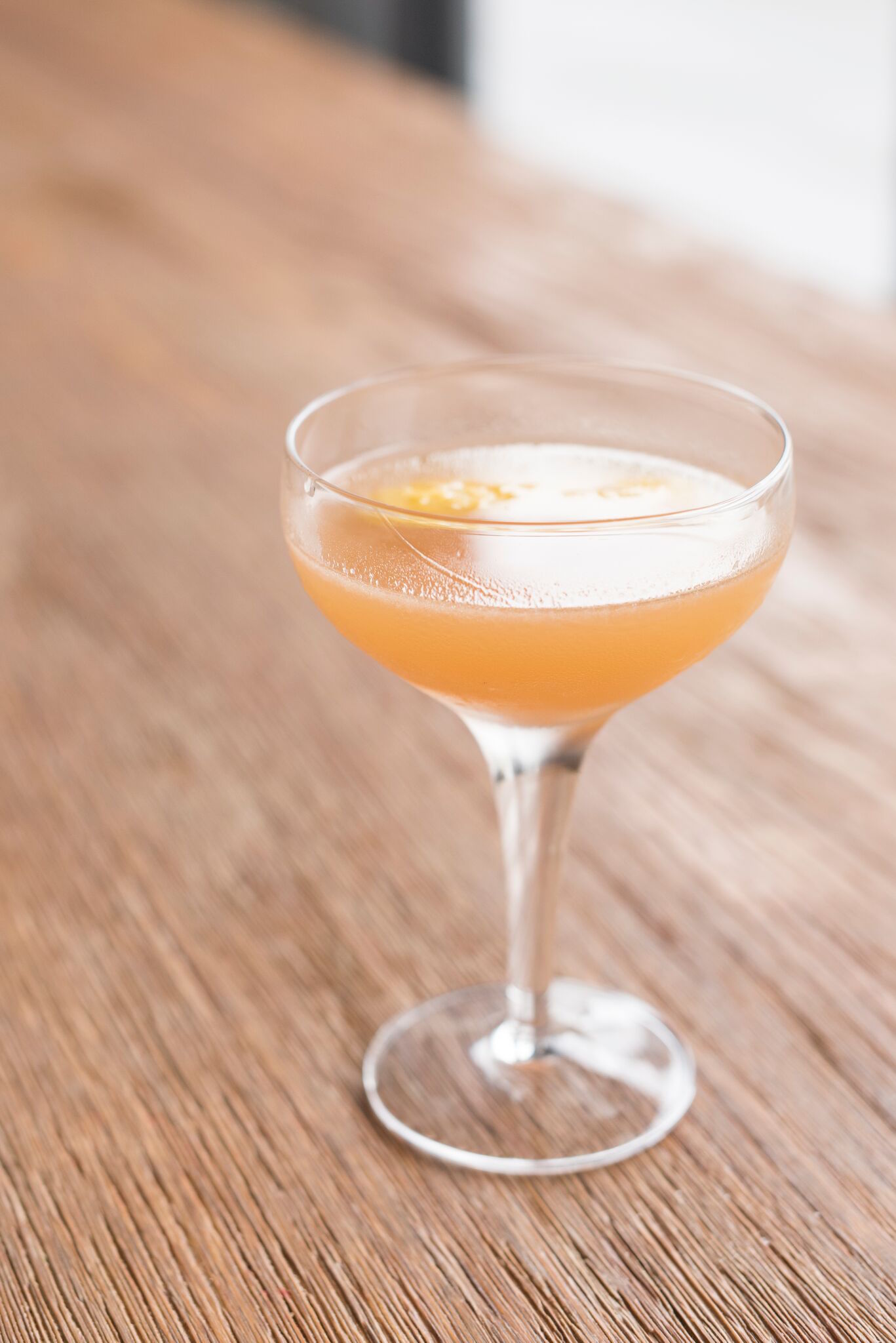 Photo Credit: Blair Heagerty
Next, Fiorella has gotten a lovely new cocktail menu. Bar man Patrick Poelvoorde features something for everyone, from a spritz to an old-fashioned. Although no hard alcohol is used, the drinks aren't lacking in intensity or flavor. Karl's Old-Fashioned features madeira, vin santo, amaro, cherry bark, and orange bitters. It tastes so much like a real old-fashioned that one would never know it didn't have whiskey in it. The concoction also has nice spice to it, perfect for seasonal sipping in the fall. Another standout is the Grapefruits of Wrath (a mixture of pampleau, cocchi americano, cocoa-chilly bitters, and lemons). It is well-balanced, citrusy, and with a subtle heat.
Photo Credit: Blair Heagerty
Finally, the team, which has always served brunch on Saturday and Sundays, has added Friday lunch to the mix. While some of the dinner menu items are served during the hours of 11 a.m. and 2 p.m., there are lots of new items to devour. Kale and winter squash salad is filled with heart-healthy ingredients like cauliflower, pumpkin seed, black olives, endive, and almonds. Ricotta salata adds a creamy saltiness and everything is tossed in a champagne vinaigrette.
Photo Credit: Blair Heagerty
Cecchini is a master of sandwiches—I was thinking about his amazing meatball sub days after enjoying it. Four meatballs coated in a wildly flavorful marinara sauce are packed into a toasted roll. A generous portion of melted provolone picante and basil pesto make this sandwich one that we'll be going back for. Other stand outs on the new menu include the chicken salad with baby lettuces and the wood-roasted eggplant parmesan sandwich. The food is so comforting and tasty that I recommend you run, don't walk, to Fiorella.