Photo Credit: Devlin Shand for Drew Altizer
Last week an elegant crowd gathered at Mister Jiu's in Chinatown to celebrate the achievements of the board of Sutter Health's California Pacific Medical Center (CPMC). The dinner was sponsored by French house Chanel and everyone who came out to the invite-only event was decked to the nines in the latest looks by Karl Lagerfeld. Often times these sort of dinners are held in private back rooms, but this wasn't the case on Thursday evening. The restaurant was closed for the extravagant event and the space was transformed into a gorgeous setting worthy of France's most significant fashion brand. Lush potted palms and oversized ferns surrounded long rectangular tables which were set up in an U-shape in the restaurant's chic dining room. Celebrity florist Jeff Leatham, of the Four Seasons George V Paris, designed the beautiful pink arrangements—dahlias, ranunculus, and roses. The lighting was soft, creating an intimate and inviting glow on the cast of characters—SF's most stylish movers and shakers.
Photo Credit: Devlin Shand for Drew Altizer
Hosts for the evening were the CPMC Trustees: Carol Bonnie, Carolyn Chang, Jacqueline Sacks and Allison Speer and chair of the foundation board, Sloan Barnett. As the sophisticated guests took their seats, Barnett stood before the crowd and gave a quick speech, thanking the Chanel team and the guests who have donated to CPMC. "Tonight is really a celebration of all of your generosity to our beloved CPMC. We thought long and hard about how if we would even gather tonight," Barnett said in regard to the wildfires ravishing the North Bay. "You know, we're all impacted in some way or another by the very difficult situation that is going on only an hour north of here. We face it as a community, which I think is really a big thing that is extraordinary in this terrible time with incredible wild fires burning out of control. Many of us have homes up there. I do, and it's terribly scary. All of us know someone or are related to someone, have come into contact with someone, who is either been displaced, destroyed, or otherwise scared, hurt. It's all really very traumatic, and it's hard to think about anything else other than that. And so, as friends, because so many of you are close friends, if not all of you in this room, I will tell you that we spent a lot of today trying to figure out how we would address it. And what it would be in the midst of all of this beauty and fabulousness. What we came up with in the end is that it is moments like this, that as a community, we have to come together and mean everything to one another. So, maybe it's perfectly appropriate that tonight we sit together as a community, and we celebrate the community's hospital." Barnett went on to describe the wonderful doctors and programs unique to CPMC—including the fact that over 5,500 moms deliver babies at the hospital every year, more than half of all the newborns born in San Francisco.
Photo Credit: Devlin Shand for Drew Altizer
Sarah Krevans, the president and CEO of Sutter Health, and Dr. Warren Browner, the CEO of CPMC, also addressed the room, acknowledging the work that their teams are doing as first responders to the fire crisis. Browner described the new hospitals which are being rebuilt to better withstand large earthquakes. "The one down in Mission Bernal, at Valencia and Cesar Chavez, is 85 percent done. We actually have a clock up. We're less than a year away from moving in there. And then about six or seven months after that, so in the early spring of 2019, we'll be moving into the new hospital on Van Ness. So, we're very excited about both of those. We're very grateful for all of your support. They're going to be the greenest, safest, and smartest hospitals that the world knows," Browner said. "In San Francisco we lead the way in so many things, and now we're going to lead the way in showing what a hospital can be like."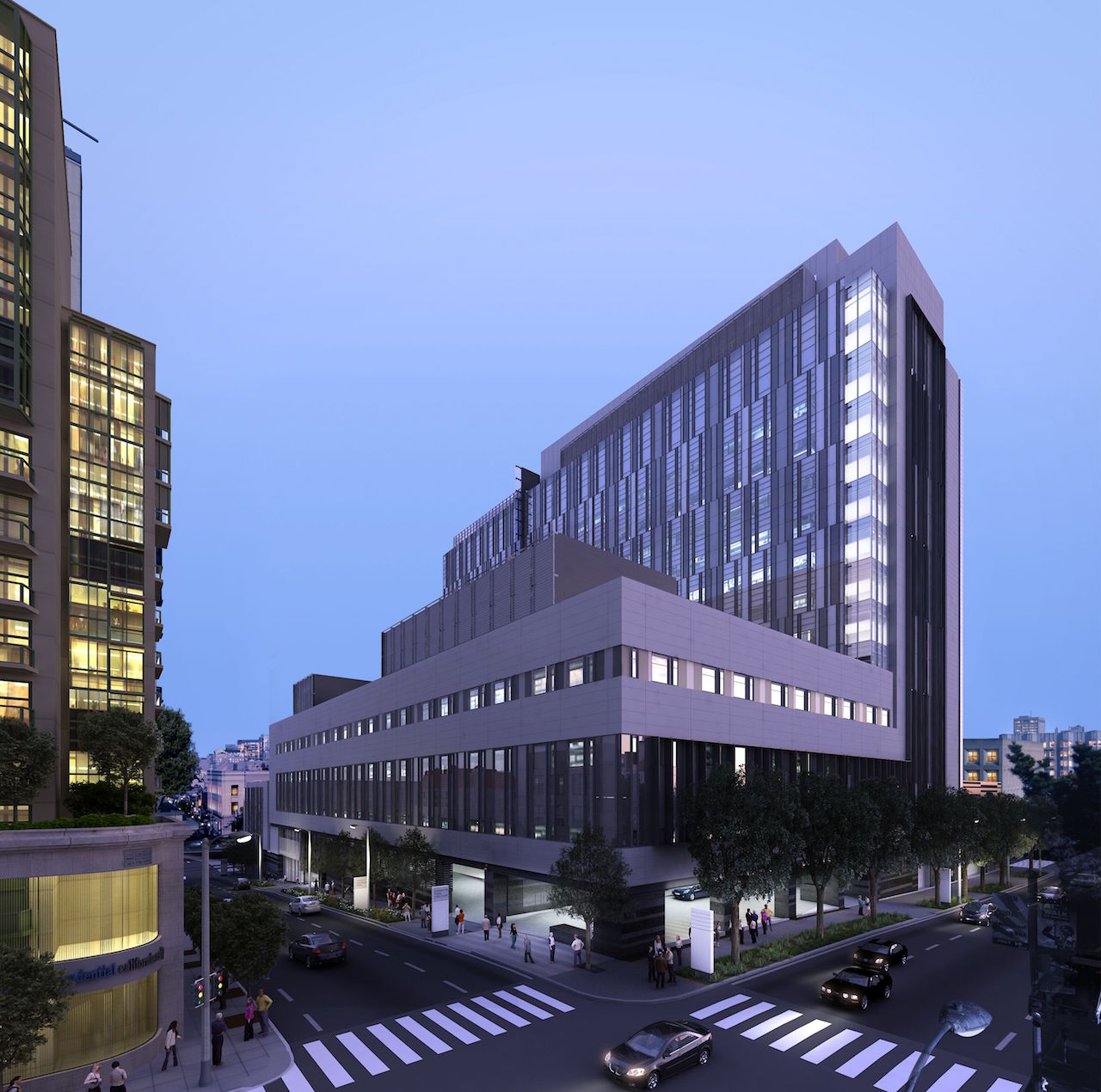 The new facilities will be outfitted with state of the art technology and provide private rooms for all patients including space for a family member to stay the night. A patient tablet system will give the sick a daily care schedule, lab results, and the ability to order meals and interact with caregivers. Heightened security, trackable pneumatic tubes, free wireless internet, rooftop gardens, and city views are more of the new hospitals's amenities. Browner concluded the program by saying "we think we are a worthy cause, we hope you agree, and we're extraordinarily grateful for all you've done to help us provide better care for our patients, and a better place for our physicians and staff to work."
Photo Credit: Devlin Shand for Drew Altizer
Next, a family-style meal was served. It consisted of several flavorful courses: oysters on the half shell with ginger mingnonette; smashed cucumber salad with crispy tofu skin; plump and chewy black vinegar pork potstickers; melt-in-your-mouth halibut with fragrant oyster broth and celtuce; Taiwanese-style eggplant; Wagyu steak fried rice with broccoli; and duck pancakes with peanut butter hoisin. Frozen raspberry mousse was a palate-cleansing dessert. The Sancerre and Margaux flowed freely. Notables in attendance were Marissa Mayer, Chrisa Pappas and Dean Sioukas, Alicia Engstrom, Marybeth Shimmons, Douglas Friendman, and JP Conte.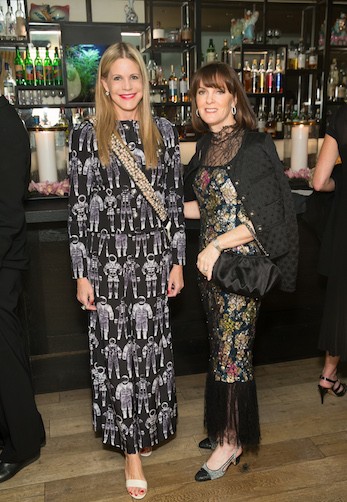 CHANEL Dinner Benefiting California Pacific Medical Center
Mary Beth Shimmon and Allison Speer
Photo Credit: Devlin Shand for Drew Altizer Photography
CHANEL Dinner Benefiting California Pacific Medical Center
Carol Bonnie
Photo Credit: Devlin Shand for Drew Altizer Photography
CHANEL Dinner Benefiting California Pacific Medical Center
Kate Harbin Clammer
Photo Credit: Devlin Shand for Drew Altizer Photography
CHANEL Dinner Benefiting California Pacific Medical Center
Emily Johnson, JP Conte and Sloan Barnett
Photo Credit: Devlin Shand for Drew Altizer Photography
CHANEL Dinner Benefiting California Pacific Medical Center
Chrisa Pappas
Photo Credit: Devlin Shand for Drew Altizer Photography
CHANEL Dinner Benefiting California Pacific Medical Center
Carolyn Chang
Photo Credit: Devlin Shand for Drew Altizer Photography
CHANEL Dinner Benefiting California Pacific Medical Center
Alicia Engstrom
Photo Credit: Devlin Shand for Drew Altizer Photography
CHANEL Dinner Benefiting California Pacific Medical Center
Abigail Turn
Photo Credit: Devlin Shand for Drew Altizer Photography
CHANEL Dinner Benefiting California Pacific Medical Center
Douglas Friedman and Victoire Reynal Brown
Photo Credit: Devlin Shand for Drew Altizer Photography
CHANEL Dinner Benefiting California Pacific Medical Center
Pamala Deikel
Photo Credit: Devlin Shand for Drew Altizer Photography
CHANEL Dinner Benefiting California Pacific Medical Center
Joyce Green and Jonathan Gans
Photo Credit: Devlin Shand for Drew Altizer Photography
CHANEL Dinner Benefiting California Pacific Medical Center
Mister Jui's
Photo Credit: Devlin Shand for Drew Altizer Photography
CHANEL Dinner Benefiting California Pacific Medical Center
Atmosphere
Photo Credit: Devlin Shand for Drew Altizer Photography
CHANEL Dinner Benefiting California Pacific Medical Center
Atmosphere
Photo Credit: Devlin Shand for Drew Altizer Photography
CHANEL Dinner Benefiting California Pacific Medical Center
Atmosphere
Photo Credit: Devlin Shand for Drew Altizer Photography
Subscribe to discover the best kept secrets in your city