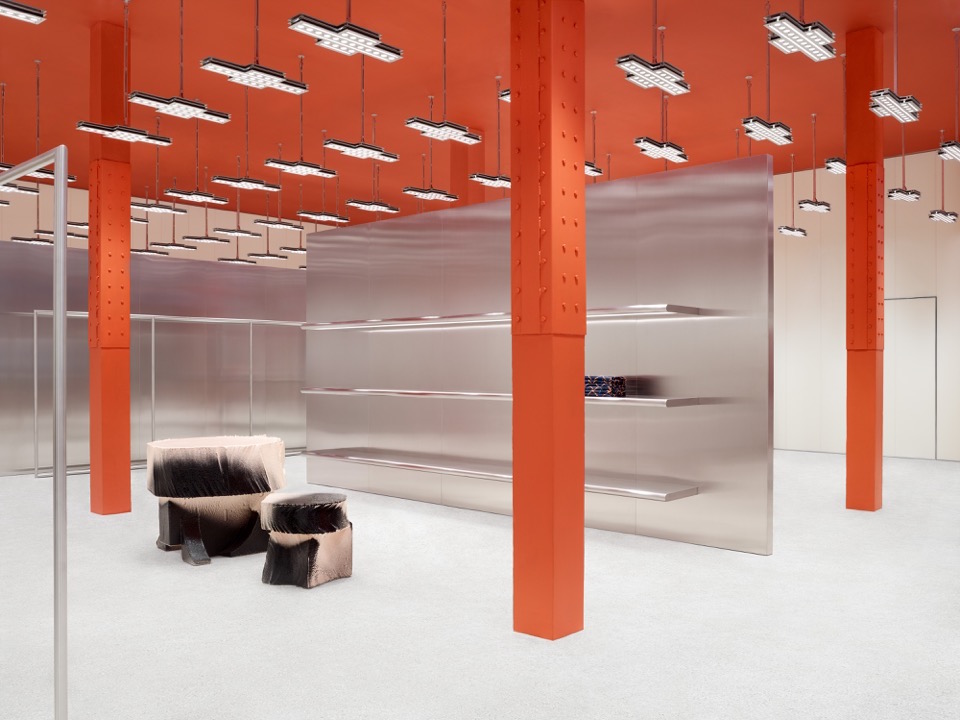 San Francisco's Union Square shopping district has become more hip—thanks to the recent opening of Acne Studios. The name of the brand has nothing to do with skincare complications, but rather stands for the acronym Ambition to Create Novel Expressions. Acne Studios was co-founded by Jonny Johannson, a Swede who makes conceptual clothing, denim, and oversized basics. There is a unisex gender fluidity to Johannson's designs—sweaters and pants can be worn by men or women. A store this fashion forward is a welcome addition to Union Square's ever-evolving storefronts.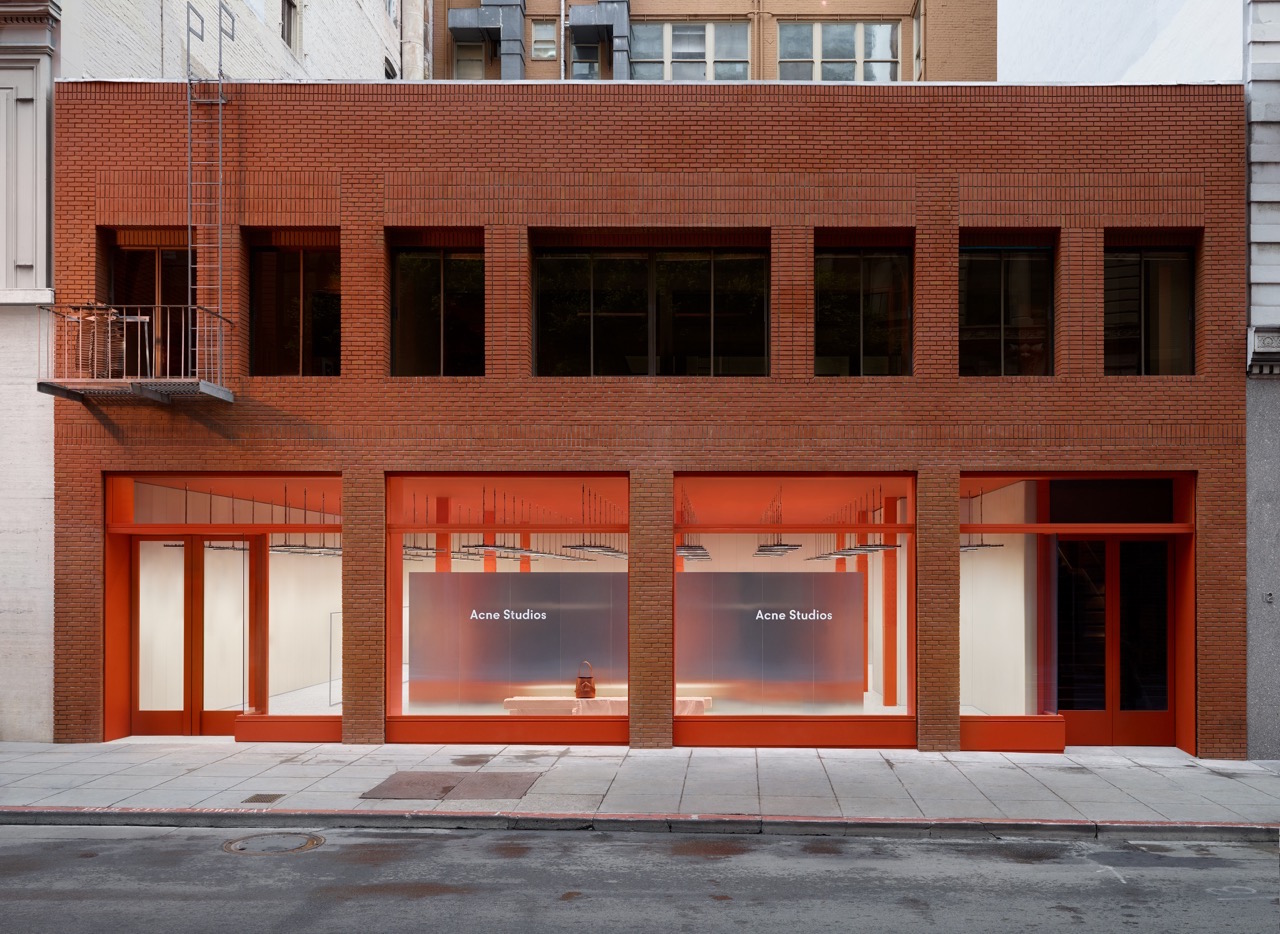 As the galleries that used to populate the area set up shop elsewhere, internationally known brands like Acne Studios can move in. The new boutique is located at Geary Street near Kearny in an old ice warehouse. The lofty, minimalist space is painted the exact same color as the Golden Gate Bridge. It's unique design is meant to mimic that of the iconic bridge. "I wanted this store to have a special mood both for the location and for San Francisco itself, taking its color from the red of the Golden Gate Bridge," Johansson said in a statement. "It is a large and beautiful space, and we have therefore kept the fixtures to a minimum." It's industrial and raw with poured concrete floor, an aluminum wall, and sparse tables and seating. The lighting, which hangs from the ceiling in a grid, resembles the fixtures you might find on the Golden Gate Bridge.
Photo Credit: Devlin Shand, Drew Alitzer Photography
The store is stocked with the entire collection of men's and women's ready-to-wear. In celebration of the new boutique, Acne Studios hosted an opening party last week, on Wednesday, September 6. It was quite the who's who of tech industry insiders in attendance: Mark Pincus (Zynga co-founder), Hosain Rahman (Jawbone CEO), Ben Silbermann (Pinterest co-founder and CEO), Julia Hartz (Eventbrite co-founder and CEO), Ruzwana Bashir (Peek.com founder and CEO), Drew Houston (Dropbox founder and CEO), Caroline Ghosn (Leevo CEO), and Natalia Brzezinski (Brilliant Minds, Symposium Stockholm CEO). Spotify's team provided the live entertainment—Lany, Jacob Banks, and DJ Pippa Brooks performed. Guests sipped sparkling wine and nibbled on mini tacos while browsing the racks of sky-blue sweaters, cream trousers, and rainbow tunics. Other notables included Jay Jeffers and Michael Purdy, Jessica Silverman and Sarah Thornton, Mary Gonsalves Kinney, Emily Holt, and Stevie Howell. After the party, everyone headed to Mission Chinese for a family-style dinner and late-night revelries.
Acne Studios celebrates the opening of Geary Street store in San Francisco with entertainment provided by Spotify Premium
Johannes Svartholm and John Swiatek
Photo Credit: Devlin Shand, Drew Alitzer Photography
Acne Studios celebrates the opening of Geary Street store in San Francisco with entertainment provided by Spotify Premium
Jessica Silverman and Sarah Thornton
Photo Credit: Devlin Shand, Drew Alitzer Photography
Acne Studios celebrates the opening of Geary Street store in San Francisco with entertainment provided by Spotify Premium
Mo Clancy and Eleanor Celinski
Photo Credit: Devlin Shand, Drew Alitzer Photography
Acne Studios celebrates the opening of Geary Street store in San Francisco with entertainment provided by Spotify Premium
Gene Chan and David Nash
Photo Credit: Devlin Shand, Drew Alitzer Photography
Acne Studios celebrates the opening of Geary Street store in San Francisco with entertainment provided by Spotify Premium
Mary Gonsalves Kinney
Photo Credit: Devlin Shand, Drew Alitzer Photography
Acne Studios celebrates the opening of Geary Street store in San Francisco with entertainment provided by Spotify Premium
Charlotte Hamilton, Christian Navarro, Dave Rocco and Drew Gleason
Photo Credit: Devlin Shand, Drew Alitzer Photography
Acne Studios celebrates the opening of Geary Street store in San Francisco with entertainment provided by Spotify Premium
Ben Silbermann and Julia Hartz
Photo Credit: Devlin Shand, Drew Alitzer Photography
Acne Studios celebrates the opening of Geary Street store in San Francisco with entertainment provided by Spotify Premium
Hosain Rahman and Mark Pincus
Photo Credit: Devlin Shand, Drew Alitzer Photography
Acne Studios celebrates the opening of Geary Street store in San Francisco with entertainment provided by Spotify Premium
Sarah Wendell, Amelia Moye and Emily Holt
Photo Credit: Devlin Shand, Drew Alitzer Photography
Acne Studios celebrates the opening of Geary Street store in San Francisco with entertainment provided by Spotify Premium
Stevie Howell
Photo Credit: Devlin Shand, Drew Alitzer Photography
Acne Studios celebrates the opening of Geary Street store in San Francisco with entertainment provided by Spotify Premium
Jacob Banks
Photo Credit: Devlin Shand, Drew Alitzer Photography
Acne Studios celebrates the opening of Geary Street store in San Francisco with entertainment provided by Spotify Premium
Pippa Brooks
Photo Credit: Devlin Shand, Drew Alitzer Photography
Acne Studios celebrates the opening of Geary Street store in San Francisco with entertainment provided by Spotify Premium
Atmosphere
Photo Credit: Devlin Shand, Drew Alitzer Photography
Acne Studios celebrates the opening of Geary Street store in San Francisco with entertainment provided by Spotify Premium
Mini tacos
Photo Credit: Devlin Shand, Drew Alitzer Photography
Acne Studios celebrates the opening of Geary Street store in San Francisco with entertainment provided by Spotify Premium
Pink cocktails
Photo Credit: Devlin Shand, Drew Alitzer Photography
Acne Studios celebrates the opening of Geary Street store in San Francisco with entertainment provided by Spotify Premium
Peter Cane and Paul Tally
Photo Credit: Devlin Shand, Drew Alitzer Photography