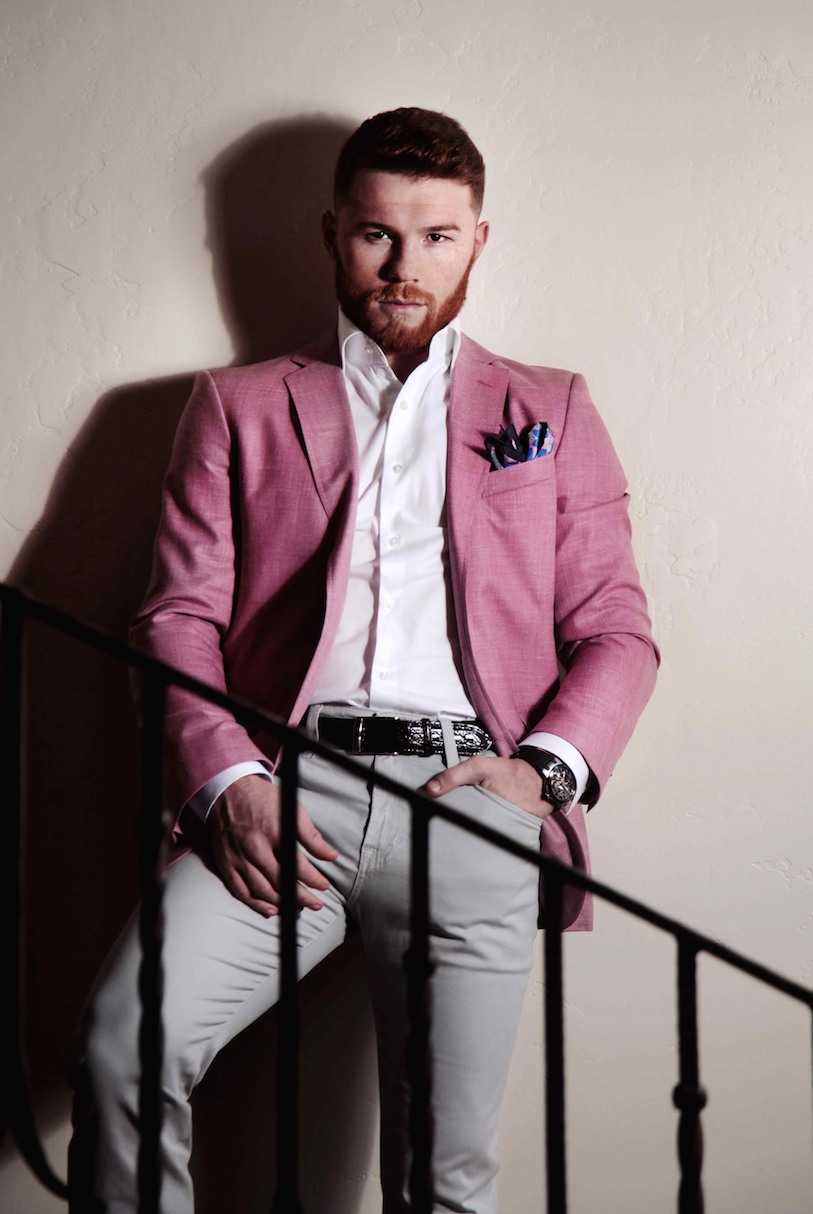 Photography by Taj 
Shot on location at Canelo's private home
Styling by Jennifer Moreno
Santos Saul "Canelo" Alvarez greets us in his San Diego home, his personal haven dedicated for training when preparing for a big fight. He is casual in a white robe at 9 a.m., leisurely finishing his breakfast as we arrive. The photo shoot and interview have been scheduled at this time in the early morning, as Saturdays are dedicated to sparring as part of his training—he diligently performs a full 10 rounds as part of his preparation for his anticipated fight with opponent Gennady "GGG" Golovkin.
Mexican-born Alvarez, a two-division champion and former junior middleweight champion, is the youngest of eight children who began his career at a very young age after watching all of his older brothers box. With a record of 49-1 (his only loss being with undefeated boxing champ Floyd Mayweather), 34 knockouts and one draw, he is the most successful in his family. Today he is quiet, stoic and serious, undertaking this interruption in his schedule with the same focus as he does with his training. Here, he sits with Haute Living and discusses his upcoming fight, the Mayweather loss and his dreams for the future.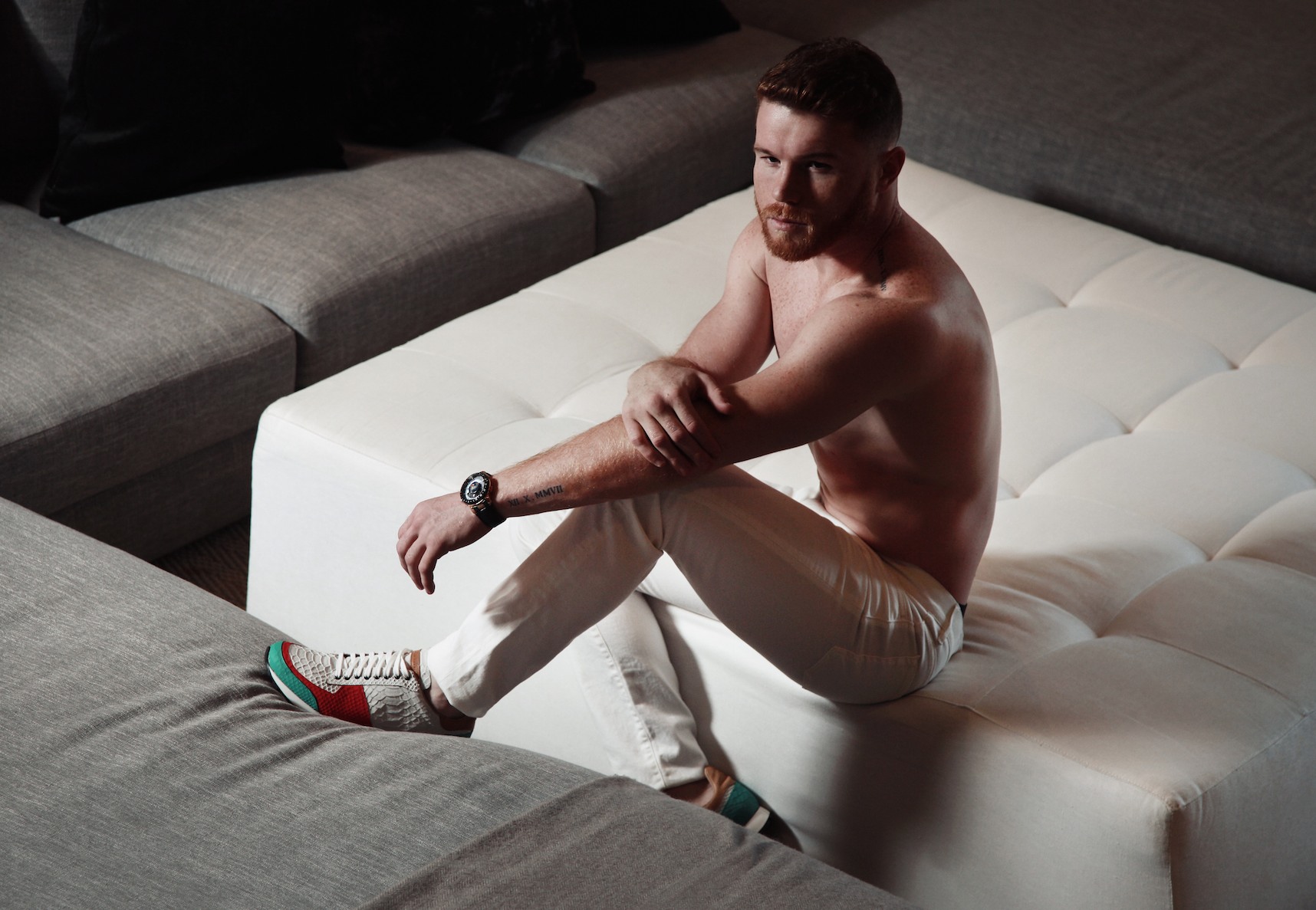 HL: You're a fighter known for never backing away from the toughest fights. Why did it take you some time to finally agree to fight Golovkin? 
CA: I think that all fights are hard, but boxing is a very difficult sport because it's a contact sport—and out of all the contact sports, I feel that boxing is the most challenging. This fight took the time it had to take because these types of fights require long negotiations to make sure that both parties are happy. A fight of this magnitude will take persistence, but finally it is here.
HL: How have you prepared for this fight unlike any other that you've fought?
CA: We always prepare differently each time because each rival's style is unique—you have to prepare specifically for what you have in front of you. But we always give 100 percent and always take much responsibility with our commitments and create different strategies and combinations because the rival always brings something new.
HL: How is this fight is going to be different for you at this point in your career? 
CA: This fight is very important for my career due to everything that has surrounded this fight and everything that has been said. It is also very important because of what has been negotiated—as a team, we agree that this fight is a culmination of 14 years of work—so it is crucial to us, and we are very focused on winning—and that's what will happen—God willing.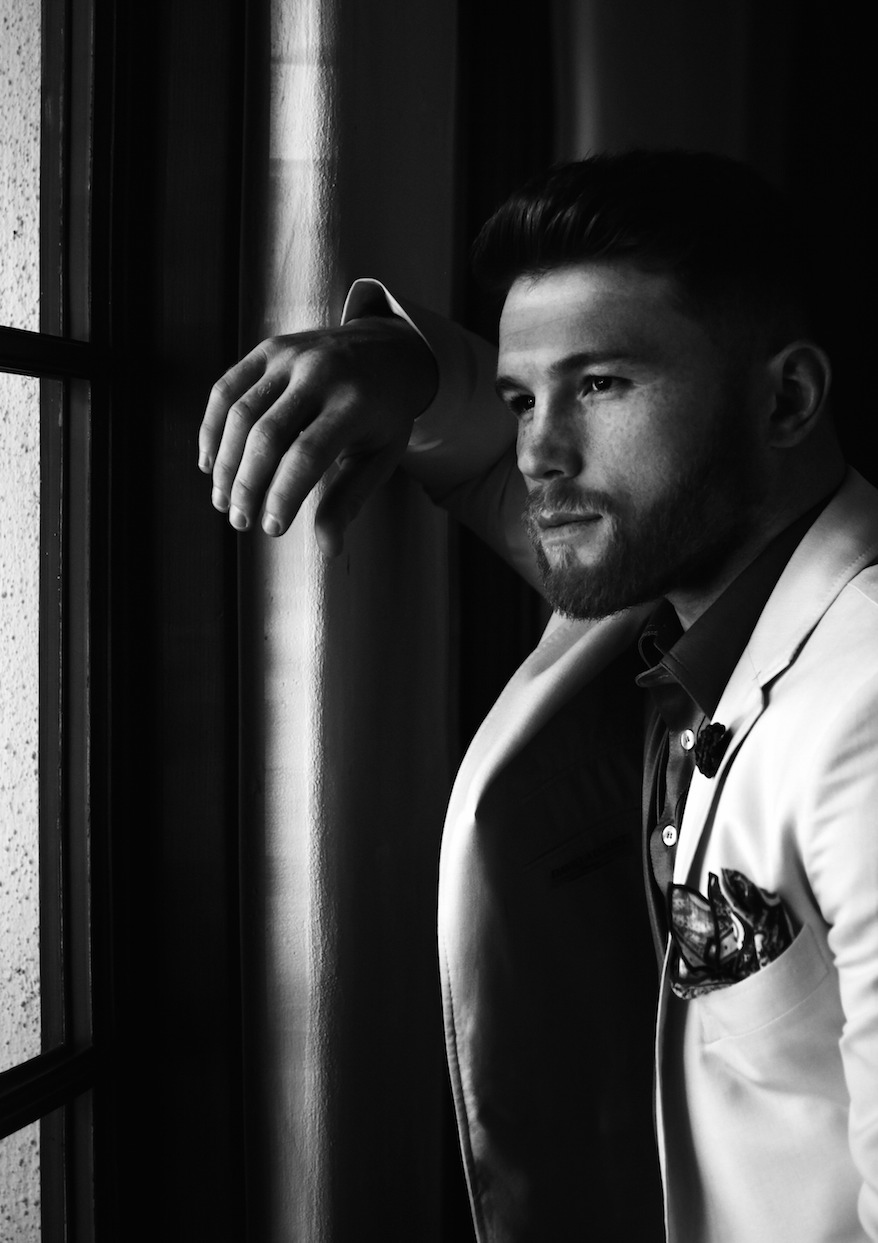 HL: How much longer do you think you have in this game, taking into account that you became a professional at such a young age?
CA: I made my professional debut at age 15. I've been in boxing a long time. Ideally, I would like to retire at 35 years old, but in boxing you never know—we'll see as the years pass. But right now I feel great.
HL: Mexico has a rich history of boxing. How much of that is on your mind as you form your path in the sport?
CA: It is a great responsibility to represent my country in boxing because there have been great fighters and iconic legends. I think boxing has contributed enormously to Mexico, and it is a great responsibility that I take with strong commitment and train hard as I contribute to awarding big fights to Mexican boxing history.
HL: GGG is a knockout artist—how do you expect this fight to go? How do you prepare for that?
CA: It will be a tough fight. He is a strong fighter—a fighter that always comes to knock out his rivals, as we know, but we are preparing. I have fought with all types of boxers, and we are ready for this.
HL: You fought Floyd Mayweather and he decisively beat you. 1. Do you think he is as good as he claims to be? 2. Do you think you fought him too early in your career? And do you think you would beat him now?
CA: He is a very intelligent fighter. One that has experience—that night, without diminishing his triumph as he is obviously a great fighter, was one of the best in recent times—he won on experience. I was very young, and he won due to the extensive experience he had over me. I learned a lot from that fight—I think that fight made me realize a lot of things about myself and my skill, and it helped me tremendously in my career. If I fought him today, it would be a very different fight. I believe that today I am a more complete and mature fighter above the ring with more confidence and with more experience.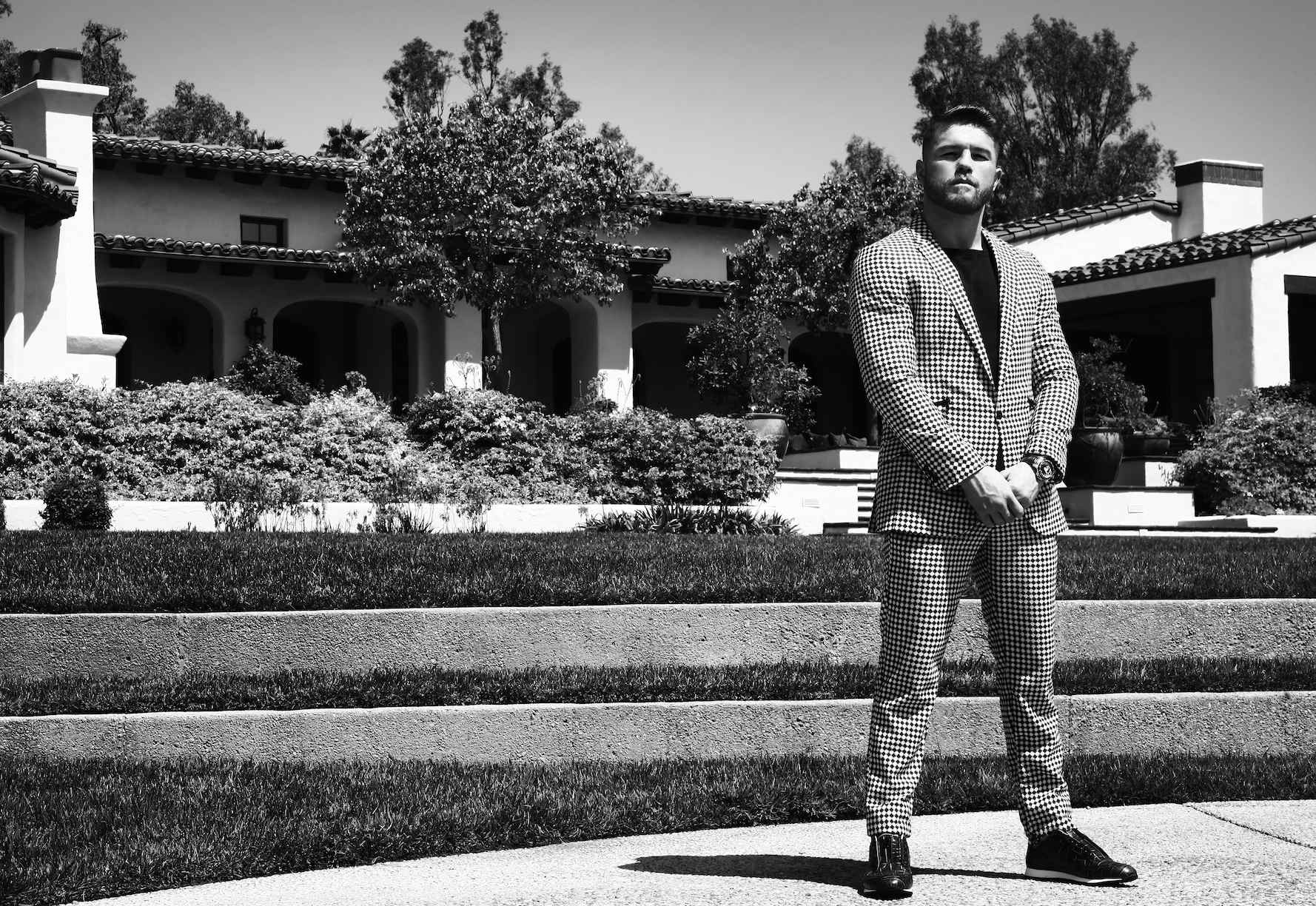 HL: Why don't you want to fight for the WBC [World Boxing Council] belt? 
CA: That is a subject of differences that we had long ago—there are more organizations—the IBF [International Boxing Federation], the WBC [World Boxing Council]; I am the world champion of Ring magazine—so, we are going to fight those titles. The WBC really doesn't interest me at all.
HL: You became a father at a very tender age. How is your relationship with your daughter? How do you balance being a father with boxing? 
CA: Yes, I became a dad when I was very young. I think that I made me a responsible man, due to having such a huge responsibility from a young age. I think there is time for everything. When it is time to train, I devote 100 percent to it, as I do when I'm free. I try to spend all my free time enjoying my daughter as well as making myself available so that she can enjoy quality time with her dad.
HL: What do you fight for outside the ring?
CA: To be a great person. To be a good example for my kids—I think that is the most important. Obviously, it's important for me to be satisfied with myself in anything I do. I think if one feels accomplished in life, everything else will flow naturally.
HL: What is your idea of luxury?
CA: For me, luxury is the ability to desire something and be able to enjoy it. To be able to attain something you love and have it and experience it—that is a true luxury.
HL: We know you like watches—tell us about your first expensive watch.
CA: My first watch was a TAG Heuer—I remember we were in Las Vegas when I won my first purse, which was worth $5,000. I already had the responsibility of supporting my daughter and I wanted to buy the watch, but I was hesitant because it was too expensive. My coach told me, "Buy it—you'll earn a lot of money in your career, so just buy it!" And so I did.
HL: What was the first big purchase? 
CA: I don't remember when it was exactly, but it was a Hublot watch.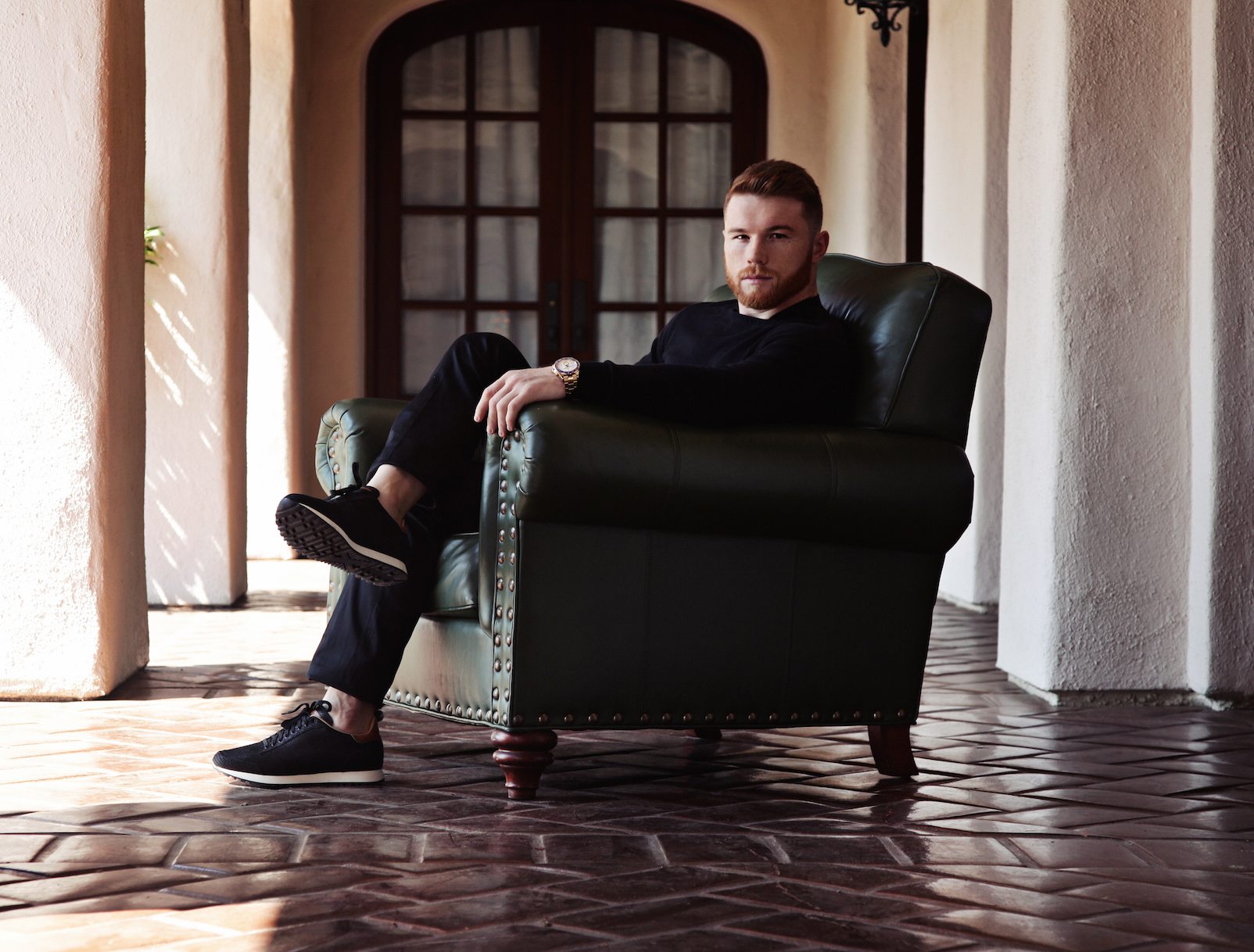 HL: What are some of your favorite watches? 
CA: In my collection I have Rolex, Hublot, Ulysse Nardin, Romain Jerome, Richard Mille and an Audemars Piguet—I buy what I like, I don't go by brand.
HL: Aside from watches, what else do you collect? 
CA: I collect cars—it's hard for me to say how many, but in my collection I have Ferraris, Lamborghinis, Porsches, Mercedes-Benz. Some of my favorite brands, McLaren and Rolls-Royce, as well, just to name a few.
HL: What is the one thing you can't live without?
CA: My daughter.
HL: When you were young growing up in Mexico did you ever dream that you would be where you are today? 
CA: I always dreamed of being a world campion and to be one of the best, but I never imagined the magnitude of it, or what I could become and am living. But I always dreamed of being one of the best.
HL: How important was the Chavez fight for your brand? 
CA: Each one of the fights I have done is important, but this was an especially pivotal fight because many people doubted or had opinions on who was a better fighter, and if we did not fight, time would pass in history with the doubt of who was better—him or me. For that reason, it was important to set the record straight and to remove the doubts, although I always knew who was better—but to let everyone else know was extremely significant for my career.
HL: How excited are you for [the fight on] September 16th? 
CA: I'm very happy and excited, and the truth is that if the fight happened today, I would be ready. I love the sport of boxing, and I love to fight. I enjoy it very much and I'm eager for this fight in particular.
HL: Outside of boxing, where do you see your future? 
CA: I want to be a great businessman—that is what I visualize when my story is complete in the boxing world.•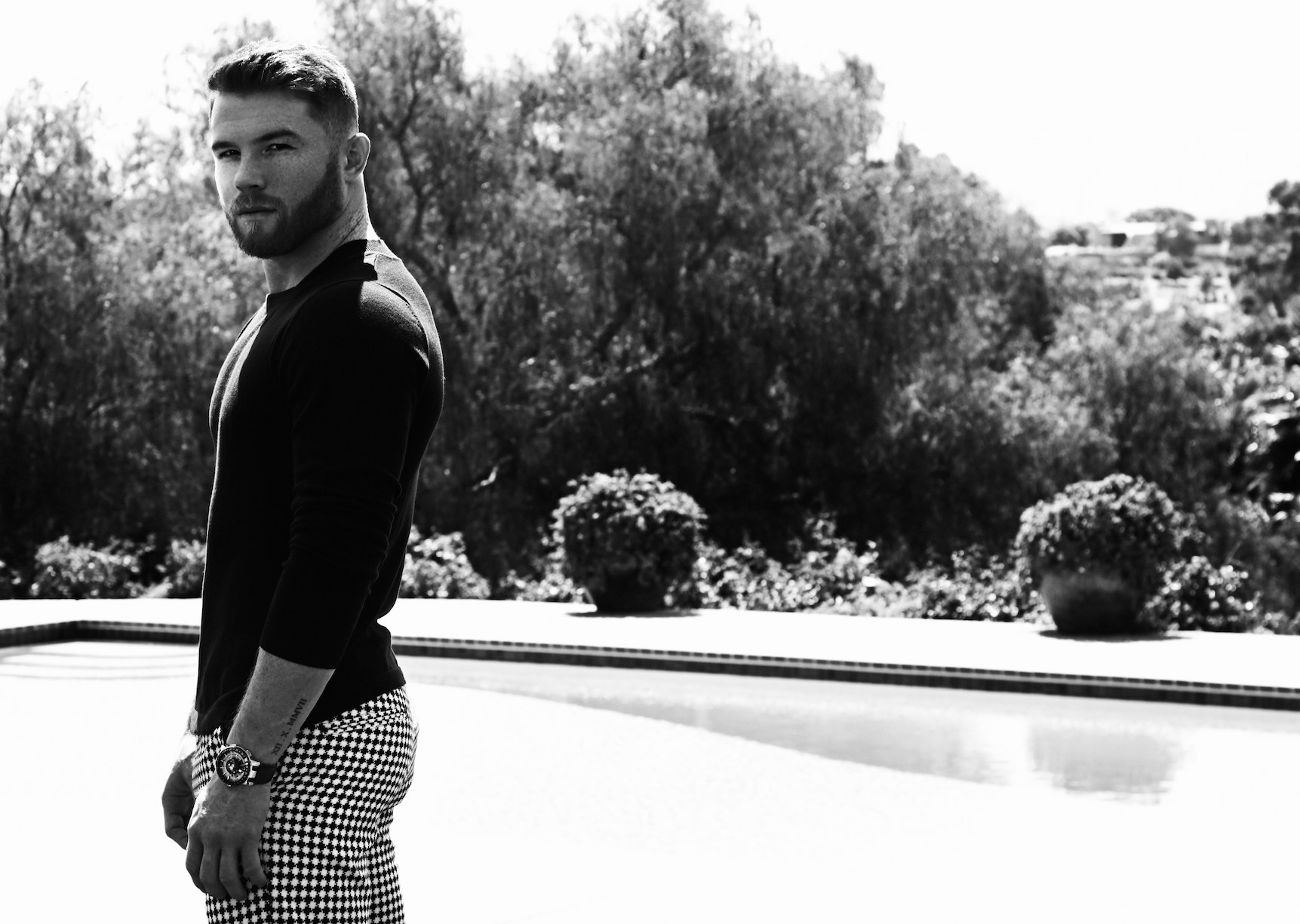 Subscribe to discover the best kept secrets in your city