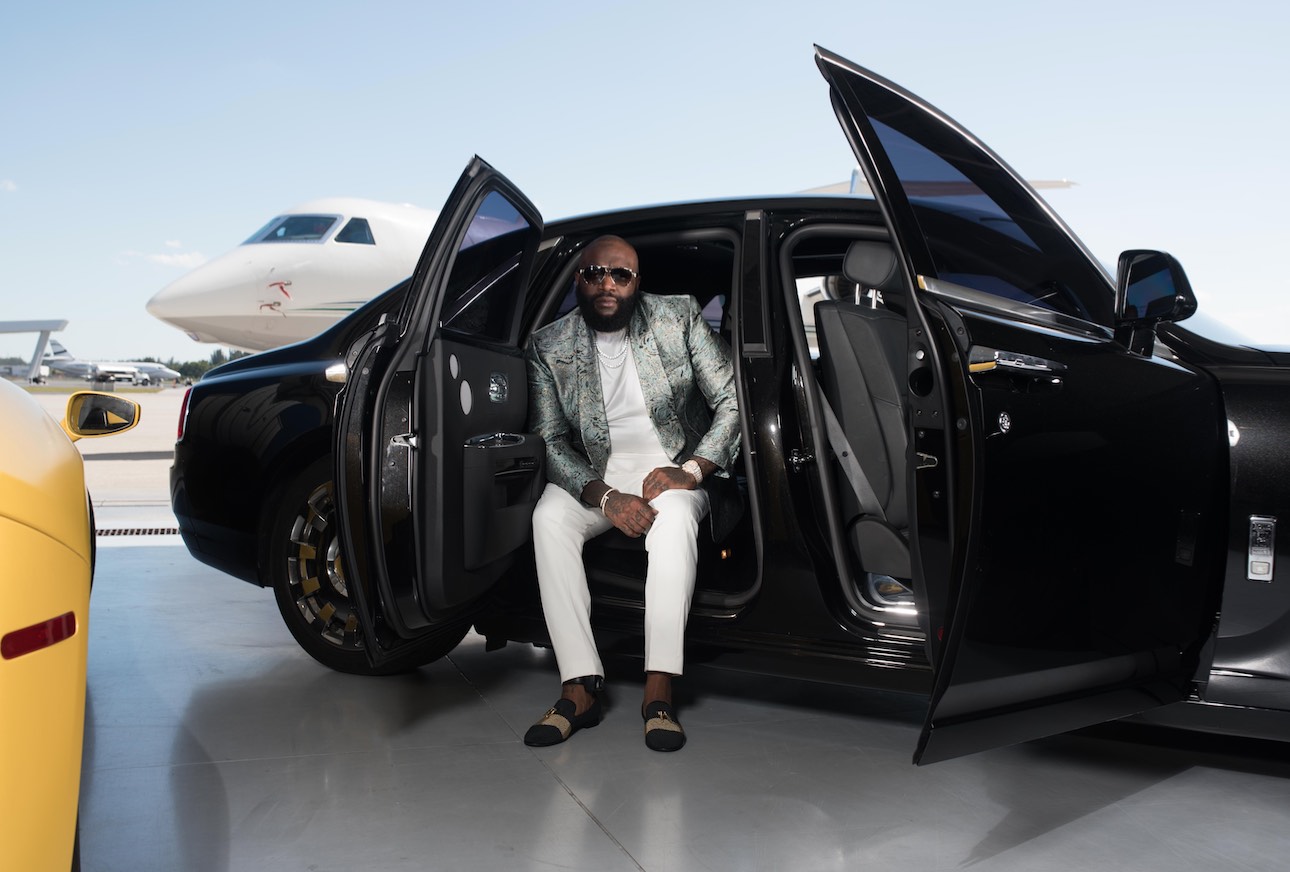 Photo Credit: Bob MetelusInterview by Violet Camacho
Shot on location at mph Club
Styling by Talia Coles 
Cover photography by Bob Metelus, additional photography by TAMZ and Bob Metelus
William Leonard Roberts II aka Rick Ross, "Rozay," "Rénzél" and most commonly—The Boss—is an undisputed legend in the rap industry. With his brand-new album, Rather You Than Me, grabbing headlines around the country for its controversial yet compelling lyrics and a growing Rolodex of successful franchises under his belt, the rapper is at the pinnacle of his epic career thriving as both a music icon and a business mogul.
He famously states, "Every boss started as a worker," affirming that his fame and success didn't come overnight. The Boss stays loyal to his roots as a self-made star, with his lyrics "Everyday I'm hustlin'" ringing true as he grinds day to day around the globe to bring his dreams to fruition, and of course, maintaining his ultimate Boss status—for himself, his family and his endless fans and admirers.
He does so with unwavering dedication and devotion to his music, which prevails through his powerful lyrics. From the debut of his first album, Port of Miami (2006), to those following including Deeper Than Rap (2009), Teflon Don (2010), God Forgives, I Don't (2012), Mastermind, Hood Billionaire (both 2014) and Black Market (2015), we've seen a progression of Ross' signature trap music that we know and love shifting toward an opus composed of much deeper, progressive and influential thinking manifested in each track. Ross is not one to shy away from controversy, but rather, makes it a forefront issue to be addressed as he introduces songs like "Idols Become Rivals" and "Dead Presidents," capturing the minds of his audience and commanding their attention. With an A-list lineup of collaborators like Jeezy, Gucci Mane, Ty Dolla $ign, Future, Yo Gotti, Nas and more, Ross' ninth solo album is an iconic, hard-hitting composition of reflection, passion and art that adds another edge of dimension to the musician's legacy.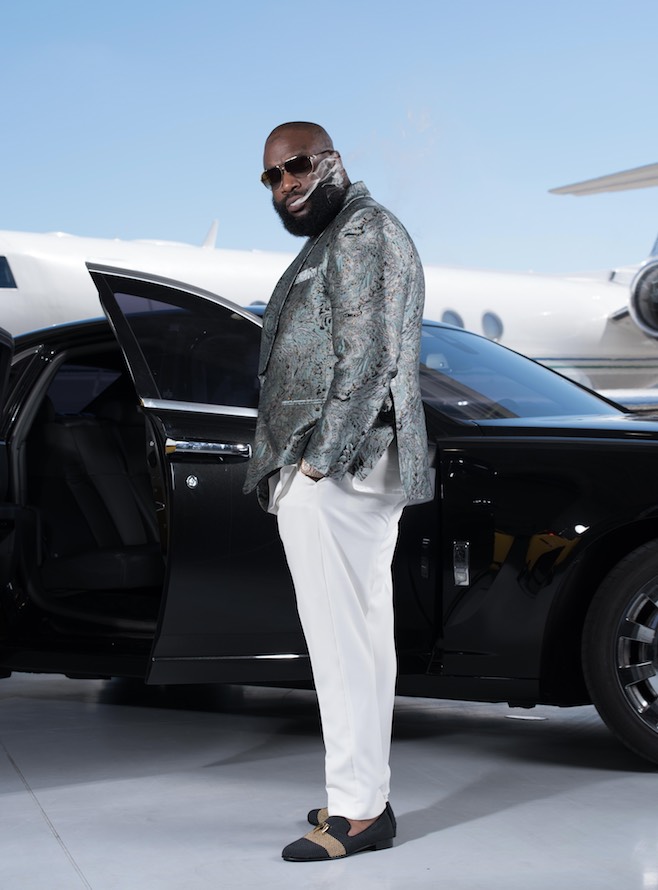 Photo Credit: Bob Metelus
Here, Haute Living's Violet Camacho sits down with the star for an exclusive interview that is only fitting for the man of all things rich: in the back of a tricked-out Rolls-Royce on set at the exclusive mph Club at Opa Locka Executive Airport. Ross poses among all of his favorite beloved toys including a private jet, a Lamborghini, a one-of-a-kind Ferrari and of course, Belaire Rosé and Wingstop lemon pepper chicken wings. We find out the exclusive on the new album, his family life, his future endeavors, finest luxuries and all of his favorite aspects of the Magic City.
HL: Everyone is talking about Rather You Than Me. You mentioned [in a recent interview with Billboard] how this is your "magnum opus" and you've stated [on Instagram] that it will "have you hearing in colors." Tell us what inspired this. How has this album evolved from your previous works? 
RR: I put more passion and time in the project, and I was a lot more open with everything. I didn't even realize it until the album was complete, but I heard how I matured as an artist with the topics I discussed, and my style, flow and skill that all contributed to the music brought everything together exactly the way I wanted it to.
HL: What do you want your listeners to feel when they listen to Rather You Than Me?  
RR: That's a complicated question, because it's so many different things and it's very dependent on the fan. If you've been following Rick Ross since Port of Miami, I want you to feel that elevation, that leap. I want you to feel that so you can have an idea of where I'm going. And if you're just getting familiar with how I rock, then that's cool too—welcome to the big-boy rap, because this is definitely big-boy rap.
HL: Do you have a favorite track? What song speaks to you the most?
RR: I haven't answered that within myself yet. I love the story of "Lamborghini Doors," a record with Meek Mill and myself—it came together when I went to visit him during his incarceration. At first, they denied me entrance. Then, I came back two weeks later and they finally let me in, and the whole cellblock went crazy. Getting to see Meek, walking in on him wearing his yellow Balenciaga sneakers, working on his music, was exactly the spirit I needed to see—he was still so connected to the music, and that's what I needed to put in a record and make it dope. Also, "Apple of My Eye" is a track that spoke to my soul.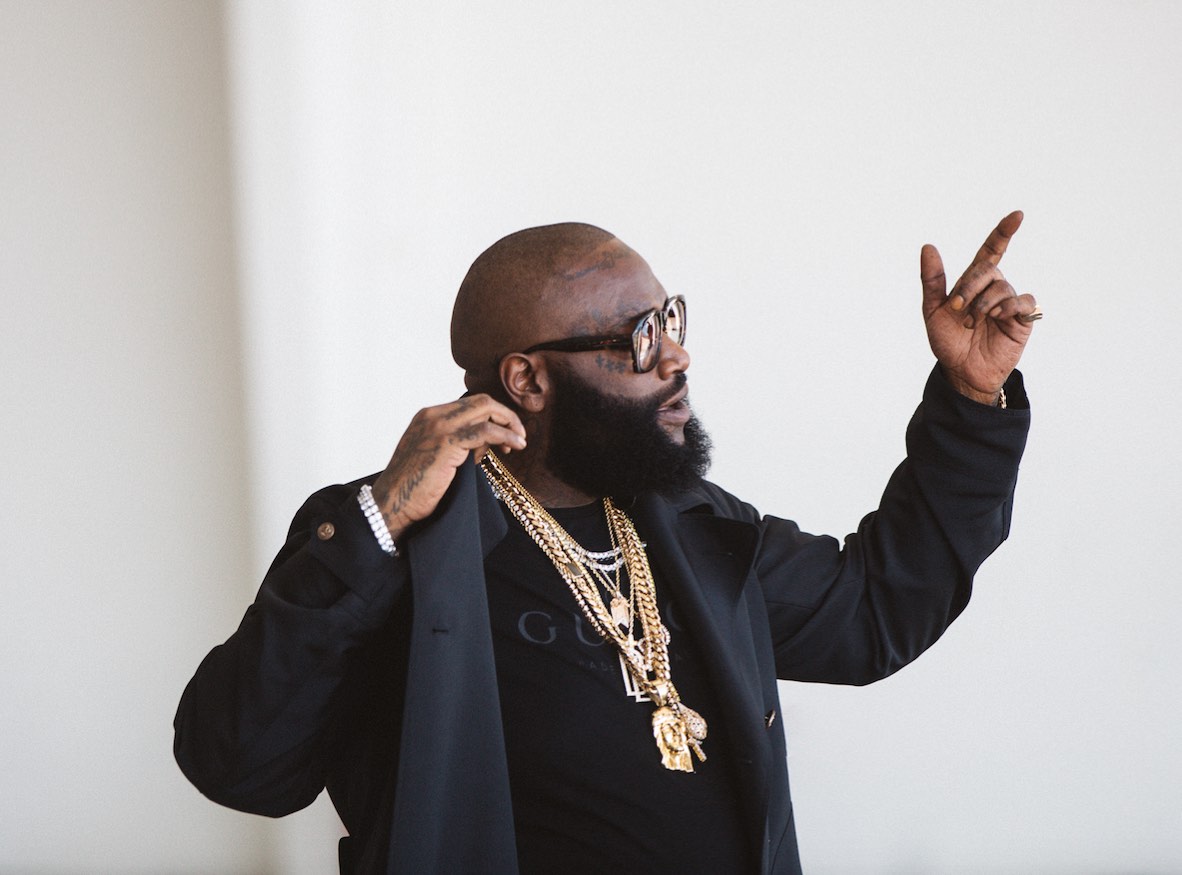 Photo Credit: TAMZ
HL: How did you feel prior to the album debut and after? Do you have any rituals you maintain before your albums drop? 
RR: Prior to the album release, I'm usually traveling all across the world promoting it. But the day of and those surrounding it, I love to be in my city. I want to be in Miami for whatever the reason, even if no one notices; it's just something I like to do.
HL: I saw your post dedicated to your daughter on the day of your album release. Was she the first person you talked to following its debut?
RR: She really is the only person I talked to that entire day. Everyone else on the business side put everything in place leading up to the release—especially Young Sav and Sam Sneak. But my daughter was like, "My friends, they're just loving this album," and what's cool about it is that she really doesn't speak on my music.
HL: You guys seem very close. Do you think she will take after your music career? 
RR: I don't. She's so headstrong and independent and has her own vision and ideas. At just 13 years old she began working hours at one of our franchises, Wingstop. She would get up and go in on days where I didn't even know. She would wipe down the tables and make sure the bathrooms were clean, and she would watch to learn how to work the cashier. This made me so proud that I told her by the time she turned 16, if she kept up the hard work she would have her own franchise.
HL: So, you are building up a young entrepreneur? It's awesome to give a young lady that kind of power early on and let her know that she can do that. 
RR: Most definitely, I have to. I'm totally confident that right now at 15 years old, she will be able to handle whatever she needs to do. She's mature enough to sit down at the round tables and listen. I keep my family involved in all business. I believe in building your foundation—if your foundation is not rich, then you are far from rich.
HL: You chose Martha Stewart to be the first to release your album artwork. What made you choose her? 
RR: I just thought it would be just so next-level for me to have Martha Stewart debut my album. You know, we shared a few laughs—she's a very great woman. I reached out to her and made it happen, so: Martha, I love you baby!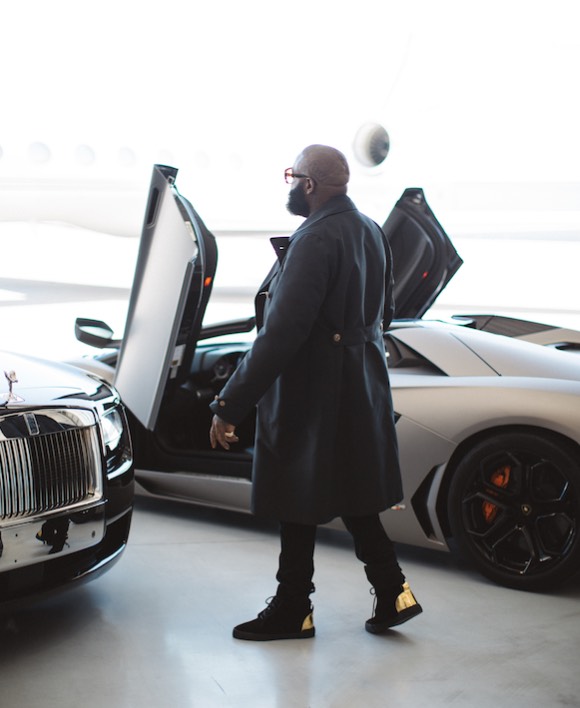 Photo Credit: TAMZ
HL: Are you guys planning to collaborate together on any projects coming up?
RR: It's a great possibility, you never know! She's having a terrific run with Snoop Dogg. You never know what types of endeavors we may partake in the near future.
HL: Did you work with Mr. Brainwash to create the artwork for this album? How do you feel it portrays the album?
RR: Yes, I did work with him on the album. Words can't describe how much I love my cover artwork. This could be my favorite album cover of all time. It could be the crown. I've worked with Mr. Brainwash in the past—he did the Mastermind cover as well, but this one is just so fly and most definitely fits the vibe. It's a great representation of how powerful the tracks were inside and how strong the statements I was going to make were.
HL: What's your future vision for Maybach Music Group?
RR: I see us going as far as we want to. I see Maybach Airlines… Imagine, Maybach Airlines! Oooh, in first class you'd get a complimentary masseuse [laughs]. But that's how big I think when it comes to records and music. This summer, Gucci Mane and I are shooting our first film as the executive producers. That's something I'm really looking forward to: reimagining creative and going further than anyone could have foreseen.
HL: What artist would you love to collaborate with that you haven't worked with before?
RR: Rihanna, most definitely. I think that would be something so sexy and powerful.
HL: Aside from music, you're also involved in a few other businesses. Do you plan on digging deeper into the food industry following your stakes in Checkers and Wingstop?
RR: If I really feel something and believe in it, then it's natural for me. I let everything take its course, and we're seeing success that way. I look forward to expanding. I have some great partners, Charlie Morrison over at Wingstop and Rick Silvo at Checkers. They understand my role in the culture and they know this isn't something I would do for anyone. Every franchise can't call me and have me be part of what they're doing. If I really don't love what you have going on, then it's not for me. Like with Belaire Rosé, it was a natural partnership because I love it. I realized that my success comes from doing the things I love most.
HL: What's your go-to meal at Checkers? 
RR: My go-to meal is that big, beautiful Combo. I'm going to get that like a boss. The big-boy fries—you know, those are the best fries in the game.
HL: At Wingstop?
RR: When I go to Wingstop, you know the Lemon Pepper 10-piece has always been my flavor, but I've bossed up and pumped that up to a 20-piece and added a 10-piece Louisiana Rub, as well.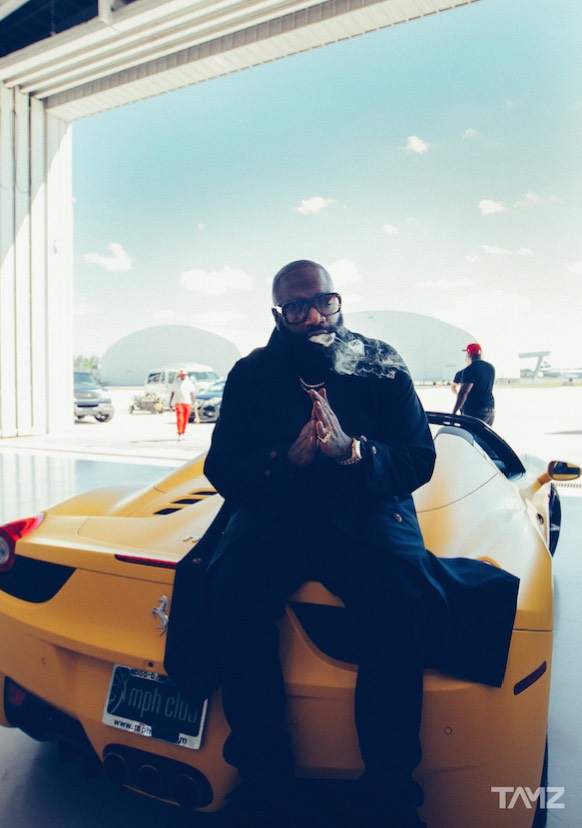 Photo Credit: TAMZ
HL: What's something you never leave home without?
RR: Other than my phone [I think everyone is on the same page with that one], I can't leave home without my confidence. I think, "Whatever we are going to get, we are going to get it"—you have to be confident.
HL: What are your favorite Miami spots? 
RR: Number one is Prime 112. Shout-out to my homie Myles who always takes care of me in the private room. Another spot I love—because you know I'm a fat boy—is Finga Licking. I also love the Wynwood area. When I have time to chill I love to hop in the Rolls-Royce and cruise, tap the breaks a little bit and take in the art, smoke a little bit, light up a cigar and pull into one of those restaurants you've never seen in your life. Every time I do that I find a new spot. Wynwood definitely has a nice little vibe for me. My favorite club is Rockwell—there's something about that club that takes you back to the '80s.
HL: What do you love most about the city? 
RR: Aside from the weather, I love what we stand for in this city. In Miami, we represent a lot of things that are highly respected that have been tradition for years. This is a reason I base a large portion of my success on the fundamentals and rules that I apply to my life every day. I love Miami, it's just my city—the ocean, the homes, our basketball team. What do I love about Miami? Everything.
HL: What's the one thing you can't live without?  
RR: My faith. Anything after that, I have no problem. If it's time to die in 15 minutes, I have no problem if that's the Lord's will.
HL: What is your ultimate luxury? 
RR: It's natural for me to say the one thing I don't have, which is my personal private jet. In real estate, I have more than 40 homes, and I own two yachts. A private jet is what's on my bucket list.
HL: What does "ultimate luxury" mean to you?
RR: I feel that it is the ultimate sense of being able to do whatever the f*** you want! If it's a private jet—let's fly the whole gang to Santorini, Greece for the weekend. It could be as simple and small as some wine and books. That's luxury—luxury is understanding that it's not about the expense, it's about the experience.
Subscribe to discover the best kept secrets in your city