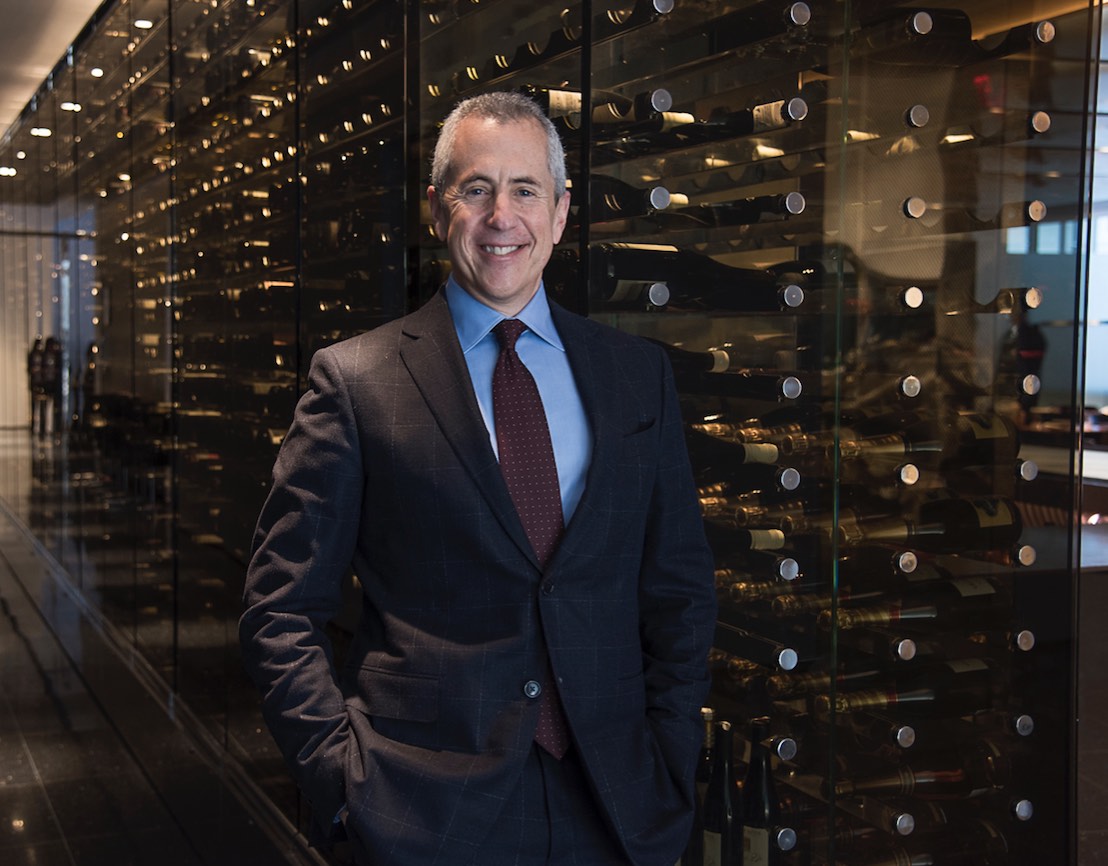 Photos: Profile images by Scott McDermott
After building a mega successful restaurant group and spearheading the billion-dollar IPO for Shake Shack, Danny Meyer, who Time Magazine ranked as one of the "100 Most Influential People in the World," is storming the culinary barricades with a full-out assault on tipping.
 ***
A photographer asks Danny Meyer to hold his position for one of several portraits, which Meyer dutifully and graciously does. But he is a busy man who doesn't like not being busy—you sense he would rather be tend ing to one of the thousand other things he needs to do to run his culinary empire rather than posing for a still. Meyer reminds me of an Academy
Award–winning actor on a photo shoot years ago, who, after the first image was staged and photographed, said: "Could someone give me a script? Just standing here is agonizing." Maybe a movie camera would be the best way to capture Meyer in his element along with his cool, calm style of busy-ness that has served him well building a mega-successful hospitality group.
Our photo shoot is taking place at The Modern on a cold winter morning. It is 9 A.M., well before city machers descend here, a favorite Midtown eating spot for dealmakers and power brokers who like to fly below the radar. (Another A-lister spot, the media haven Michael's, is on the next street. Who sits where is chronicled in online columns, but at The Modern, privacy rules.) Once freed from his photo pose, Meyer immediately begins to walk about, greeting his team as they arrive for work with personal chitchat, answering a call, placing a call, pausing only for a quick cappuccino to size up the day ahead. He is trying to pack a lot in before an upcoming trip to Israel ("my first time," he says) and Italy. His day will end about 18 hours  from now, although that's not an uncommon stop time during weeks when he isn't on the road.
Meyer has asked us to meet him at this Midtown spot rather than at the new Union Square Cafe, which seemed surprising at first, considering the latter is his latest venture (it opened at the end of 2016. as well as the restaurant that launched him and his company to culinary fame. But if any place represents what Meyer is about these days—post phenomenal Shake Shack IPO— it's The Modern, which is marking the one-year anniversary of the so-uncommonly logical-it-seems-radical concept called "Hospitality Included," otherwise known as "no tipping allowed." It's an initiative spearheaded by Meyer that promises to upend the restaurant business—not only in New York but throughout the U.S. as well.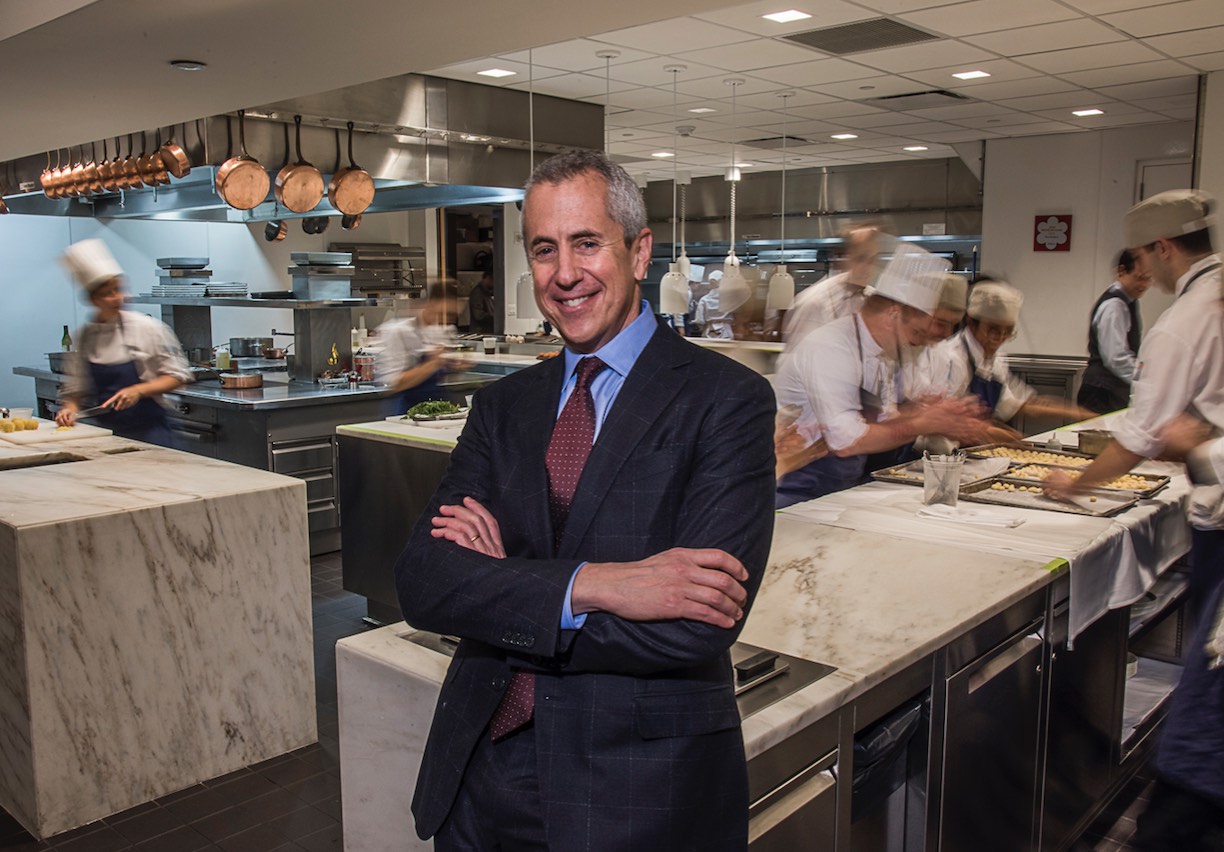 While Meyer's restaurants have always been about great food, they have also been about much more than menus and wine lists. True, he did introduce "a new era of American dining," as star chef Tom Colicchio wrote when Meyer made it onto Time magazine's "100 Most Influential People in the World" list. But from his initial forays as a restaurateur, Meyer's M.O. has been "making people on both sides of the table feel valued and cared for," explained Colicchio, who partnered with him on the innovative, rigorously seasonal hit Gramercy Tavern. While the customer might always be right, the home team matters—big-time—in Meyer's scheme of things.
"We value our employees" is a concept that can sound like a tired corporate bromide, although when seriously put into play can yield spectacular results. You have to look only at Izzy Sharp's success with the Four Seasons Hotels and Resorts Group or Brunello Cucinelli's fashion conglomerate, both multibillion-dollar concerns and places where employee satisfaction has been a management priority, to see how the success songbook can be tuned to a more equitable key. I ask Meyer about a comment he once made, saying Adam Smith's economic tenets (for the sake of brevity—that self interest is the driving force of capitalism and that capitalism works best when investors' needs rule) don't cut it for him. "I don't necessarily disagree with Smith or Friedman," says Meyer. "I just believe if you are truly self-interested, it's a mistake to put investors first among your five chief stakeholders (which in addition to investors includes customers, employees, suppliers, and the community). We think we will have the happiest investors when all four other stakeholders are thrilled we came into their lives. I believe in virtuous cycles, where one good thing keeps leading to something better. Maybe you call it enlightened hospitality; what it really is is enlightened self interest."
Whatever you want to call his approach, it has worked. Meyer, as Colicchio pointed out in Time reinvented American dining, taking rigid formality out of the luxe dining experience and bringing American cuisine to new levels of sophistication and seasonality. But he also has won kudos for helping revitalize key New York neighborhoods. When he opened Union Square Cafe, in 1985, its neighborhood was a dangerous, drug-infested zone, a netherworld best not explored at night. A clothier in the area once said it wasn't uncommon to hear shots ring out in the park after dark. Opening a restaurant a few steps from Union Square Park was a gamble at the time. "I was no expert in New York real estate, but I understood on a gut level that if I handicapped the location correctly, and could successfully play a role in transforming the neighborhood, my restaurant, with its long-term lease locked in at a low rent, could offer excellence and value," he says.
Meyer's success drew other restaurants and businesses that were able tohelp pivot the area into something so successful that roughly 30 years after signing the initial lease, he was priced out of his own space. When Meyer lined the beautiful but equally dodgy Madison Square Park with two tony new restaurants, Eleven Madison Park and Tabla, industry pros thought he might have overplayed his hand, but those restaurants caught on, too, despite the neighborhood vibe. It didn't hurt that Credit Suisse's masters of the universe worked in the same building at Eleven Madison, a limestone and marble Art Deco masterpiece, and the beautifully restored restaurant spaces soon became dealmaker havens.
Meyer also established a beachhead in the new Downtown, well before it was fashionable to do so, when he opened North End Grill. (But as with Eleven Madison Park and Tabla, there was a financial powerhouse at his doorstep—in this case, the mighty Goldman Sachs.) The geography for other ventures, like The Modern adjacent to the Museum of Modern Art, was a no-brainer.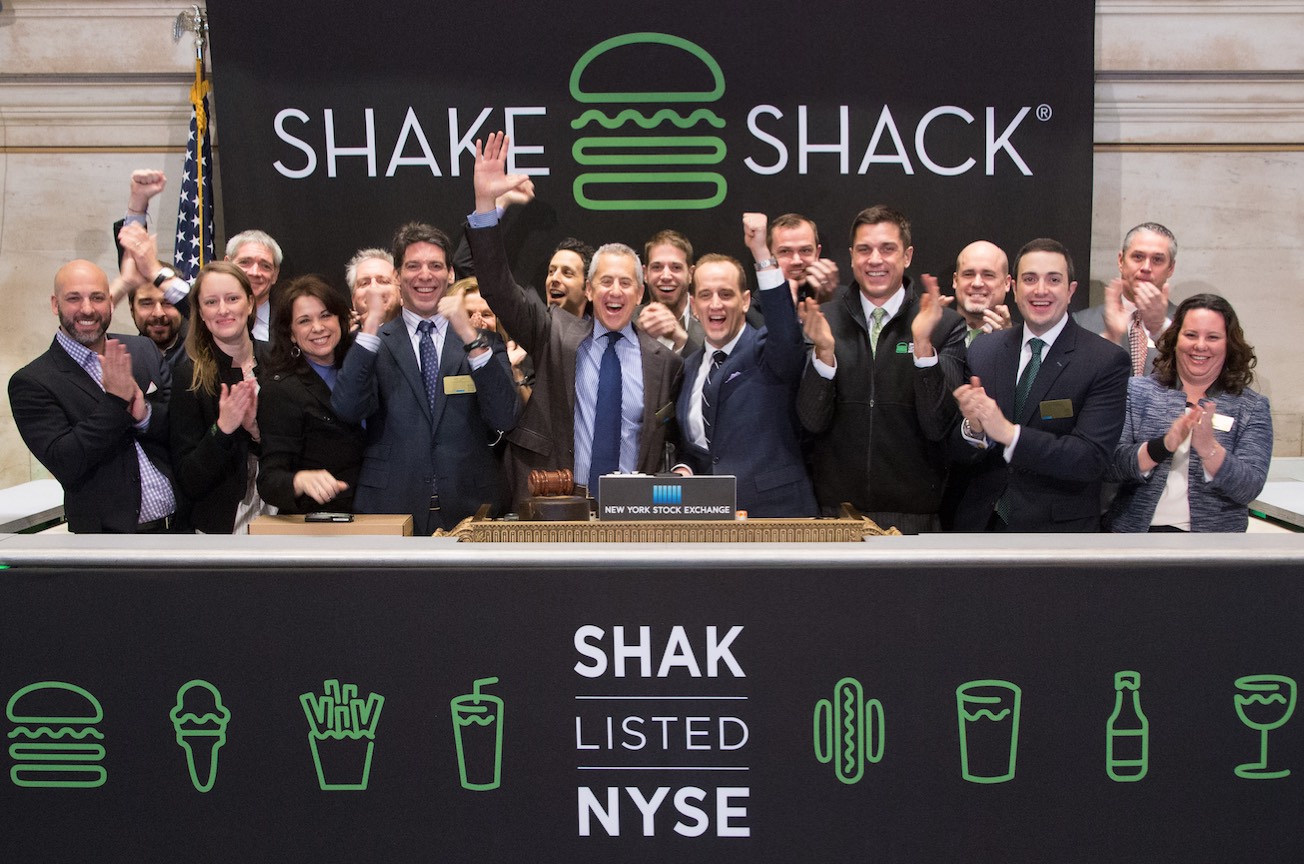 Photo Credit: Valerie Caviness
The ability to help build neighborhoods and unify community stakeholders has made Meyer, although originally from St. Louis, a beloved city son. His nickname, regardless of who is occupying Gracie Mansion, is "the mayor." In a very opinionated, fractured town like New York, where common ground is harder to find with each passing week, everyone, regardless of political persuasion, loves Meyer. But despite his steady popularity (both in and out of the food world), don't expect to see Meyer's name on a ballot any time soon—or ever. Although he toyed with a legal career in college and worked on John Anderson's presidential campaign, he says he has no interest in seeking a political position. He's simply having too much fun doing what he loves to do, and that includes nurturing the community partnerships he develops for each of his restaurants, something he sees as essential to his business as hiring the right chef. "New York is such a remarkable stage," he says. "And I love restaurants as community place-makers. Many of our restaurants are named after where they are. That's partially because I am bad at naming restaurants, but mostly because I believe as community entities, restaurants are defined by where they are and help define where they are."
Meyer comes by his civic thinking and business altruism naturally. In his book 'Setting the Table,' he describes his paternal grandfather, Morton Meyer, as a "civic visionary" and says how his mother's father, Irving Harris, who made a fortune investing in the Toni Home Permanent Company and brought a high degree of social consciousness to his companies, played a large role in shaping how he would run his own businesses. He credits his father, also named Morton, with inspiring his entrepreneurial zeal. Morton Junior ran a number of hospitality concerns—he was the first American rep for Relais and Chateaux, had a company organizing tour groups to Europe, and owned several hotels in Milan and Rome. Meyer can also thank him for the reflexive caution he brought to the expansion of his own businesses—he had watched his father go bankrupt twice. After launching Union Square Cafe it took Meyer nearly a decade to open his second restaurant. During the course of a 32-year career, he has had to close only one place, Tabla, in 2010, when the Great Recession took its toll on numerous restaurants around town.
When asked what were his three best business decisions, Meyer doesn't have to rummage through his mind for answers—they come quickly. "Decision number one was not to be a lawyer. Decision number two (despite a passion for cooking and food), not to be a chef. Decision number three: not to go it alone," he says. "I surround myself with gifted people who know how to do things better than I do, whether it's on the culinary, operations, financial, or negotiating side," he says.
"There's very little I know how to do better than the people in this company." That may well be true for niche skill sets, but no one is better than Meyer at setting a zigzag course through the foodie landscape—with a restaurant range that runs from modern luxe American cooking at Union Square Cafe and Gramercy Tavern; classic barbecue at Blue Smoke; rustic Roman at Maialino to hamburgers and hot dogs at Shake Shake—and making it all work. Although he doesn't include the decision to launch Shake Shack among his best ones—he describes it as more of a "successful accident"—that fast-casual foray ranks as his most wildly lucrative.
Shake Shack came about, in part, because Meyer was being his usual community-minded self. In 2001, an art project designed to help revitalize Madison Square Park (he helped create the park's Conservancy Group to improve it) included an installation called "I (heart) Taxi," which was made up of signature New York references, like taxi cabs and a (functioning) hot dog stand. Meyer, despite the white-tablecloth focus of his restaurants, decided to operate it. "I had to convince my team (at the nearby Eleven Madison Park) that this was a good use of their time," he says. In addition to helping the park, he argued this would be an opportunity to showcase his brand of hospitality at the most basic food level—and what could be more basic than a hot dog? Another reason was to create jobs. "We hired out-of-season coat checkers to learn how to operate the stand," he recalls.
Three years later, what began as an art installation morphed into a permanent Shake Shack, also in Madison Square Park, with burgers (100 percent Angus beef ), fries, milkshakes, and frozen custard now in the mix. It was such a success—you could never pass the original "shack" without lines as long as those at TKTS—that spin-offs opened all over the city, then—despite some early concerns as to how they would fare out of town—throughout the U.S. "Contrary to the line in the Frank Sinatra song ('If you can make it here, you can make it anywhere'), just because a restaurant plays well in New York
City doesn't mean it will translate across the country," Meyer says. Or abroad. But like the humor of early Gotham-steeped Woody Allen films transcending cultural and language barriers, Shake Shack slid easily across culinary borders and became a hit from Moscow to Seoul. Today there are 121 Shake Shacks worldwide.
Another very pleasant surprise came with the Shake Shack IPO in January 2015, which resulted in a company that today has a market cap of approximately $1.3 billion. In addition to increasing his own net worth considerably (it's been reported Meyer owned more than 7 million shares of Shake Shack stock when it was listed), the public offering provided a new revenue stream for the Union Square Hospitality Group, the parent company for all his restaurants. "It also gave us a currency to grant stock to our managers and stock options to our employees," he says.
The IPO gave Meyer more financial maneuvering room, not only to build USHG but also to put into motion a cause dear to his heart—"Hospitality Included"—an initiative that's still very much awork in progress. Meyer launched Hospitality Included at The Modern in early 2016 and has been slowly adding it to other restaurants in the group. He admits the first year of the no-tipping policy has been "an absolute challenge. It's jolting to guests," says Meyer. "We've all been conditioned to look at menu prices a certain way, and this requires a reverse engineering" of the menu math, he explains. There's initial sticker shock (item prices reflect a built-in service charge), but when the final bill is presented "with no possibility for a tip, people come to see it as a good deal." Regardless of growing pains, Meyer describes Hospitality Included as "a most noble experiment, and one we fully intend to succeed with." And while Meyer isn't talking the politics of the move, he wants to be a catalyst in creating well-paying jobs—right now, in New York and throughout the U.S. "The tipping system created a false restaurant economy; it keeps people down, particularly kitchen workers," he says
Does Meyer, who initiated a no-smoking policy at Union Square Cafe (the first restaurant in the city to do so), which led to a statewide restaurant smoking ban, think Hospitality Included will become law? "I don't see tipping or non-tipping as a legislated item," he says. "But I do believe that one day, New York state will be like every West Coast state and eliminate the adjusted minimum wage for tipped employees. Once tipped employees make the same minimum wage as everyone else,then tipping will go away." He is quick to point out that his group "pays well above minimum wage, otherwise people would have left. (This year USHG also instituted a paid maternity leave, which is rare in the restaurant industry.) We want everyone here to make a very good living."
When people do leave his company, it is often to do what Meyer has done—open a restaurant. Meyer says that when he ventures beyond his own places to dine out, it's usually to check out a former employee's eatery (such as Hearth, helmed by Marco Canora; Jonathan Benno's Lincoln; and most recently, Don Kluger's Loring Place). One of Meyer's most celebrated former staffers is Stephanie Danler, who wrote SweetBitter, an acclaimed debut novel about life in the New York restaurant world. Its setting strongly resembles Union Square Cafe. "I had no idea what a gifted writer she was," says Meyer, who remembers Danler as a "great" employee. "I didn't recognize her stories as having happened at USHG, so I'm glad she stressed to everyone that it was fiction."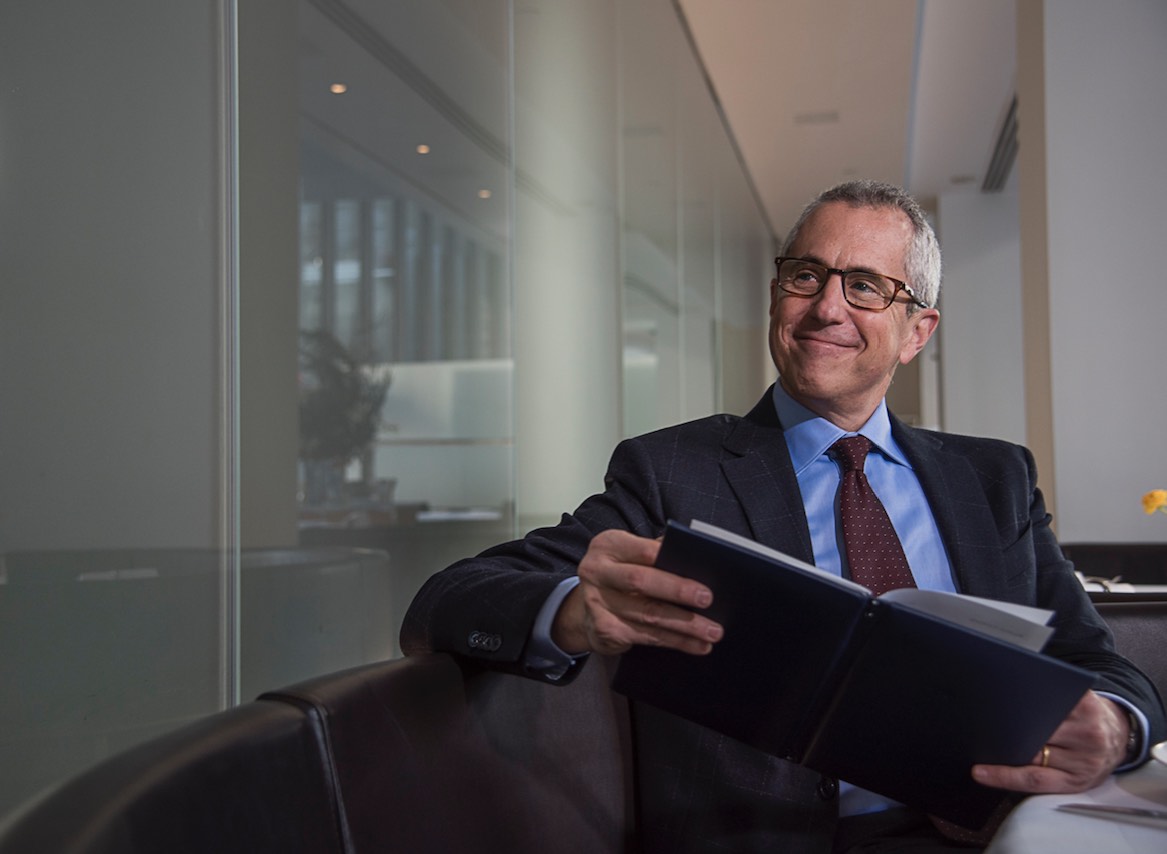 It is now 10 o'clock and there is one more photo to take: Meyer in The Modern's movie-set-perfect kitchen with executive chef Abram Bissell. They talk shop as the kitchen team buzzes about, creating the happy background blur the photographer has requested for this last portrait. I ask Meyer if he visits all his New York–based restaurants daily. He says each day is different, and that a nightly scan of reservation lists tells him where he's needed and where to go next. "A couple of mornings each week, I have breakfast at Maialino or Marta. Today I'm headed to Battery Park City (the site of North End Grill), not usually on my flight plan, then north to Blue Smoke. When we open a new restaurant, I spend a disproportionate amount of my time there—so tonight I'll be at Union Square Cafe, having a late dinner with the executive chef and general manager after most of the guests have gone."
Despite the 24/7 nature of the restaurant business (which predated the era of social media), Meyer makes time to pursue "many, many non-work" interests with his family (he is married to the actress Audrey Heffernan; they have four children). Jazz, art, baseball, and horse racing are tops among them, but Meyer isn't one to silo his passions. "It's not a mistake we have restaurants in museums, at Citi Field, in Saratoga, and at a jazz club. I have enjoyed bringing food to my pre-existing hobbies," he explains. In 2017, Meyer sees his priorities as tweaking the just-opened Union Square Cafe and making sure Hospitality Included flourishes in all his restaurants. A few smaller ventures, such as Daily Provisions (next to Union Square Cafe), an all-day bakery, sandwich, and take-out spot ("just wait till you taste the maple cruller," he says) and a more casual offshoot of Marta are in the works for the first half of the year; there are rumors he's eyeing a spot in the East Village too.
New York is always waiting to see what Meyer will do next, what new culinary path he'll take us on, or what new way in which he'll shake up the restaurant business. It's unlikely we'll have to wait long, because as we know, Danny Meyer doesn't like to stand still.
Subscribe to discover the best kept secrets in your city