When we want to send a spectacular array of flowers, we call the folks at Winston Flowers, best known for their luxe arrangements of vibrant colors that leave a lasting impression. What you may not realize is Winston's also offers a selection of gourmet gift crates filled with artisanal treats
Bob Sances, gourmet manager at Winston Flowers, is a passionate purveyor of local artisans. He personally seeks out partnerships with vendors whose products reflect Winston Flowers' commitment to excellence.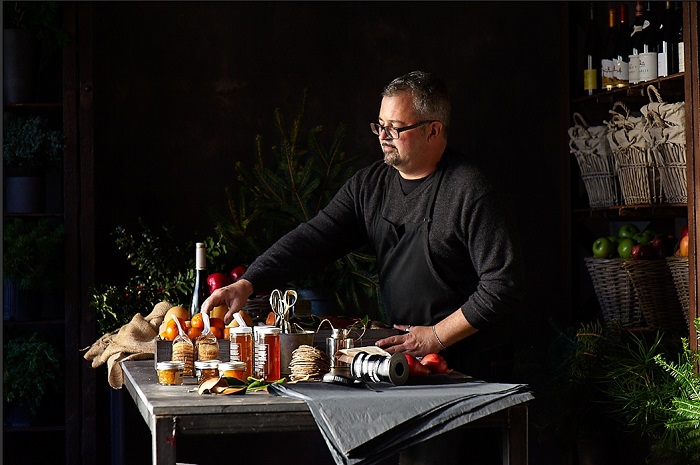 Photo Credit: Winston Flowers
His travels take him throughout New England to source the best possible items to include in Winston Flowers' Gourmet Gift Collection, such as tea blends, shortbreads, chocolates and mixed nuts. The seasonal Gourmet Collections will surely be a haute gift this Valentine's Day.
We caught up recently with Sances to find out what he loves most about Boston.
Where were you born: Dorchester, MA
How long in Boston: I grew up in Dorchester until my parents relocated us to Billerica at the age of 4. I went to Boston College for college and have been in the city ever since!
Neighborhood: I've lived in the South End, JP, and now I live in Savin Hill (Dorchester, MA).
Occupation: Gourmet Manager at Winston Flowers (designer and buyer)
Favorite Restaurant: The last restaurant where I worked: Catalyst in Cambridge. Chef/Owner William Kovel is so talented and authentically nice—and his food is amazing.
Best Sushi: Van Shabu & Bar in Dorchester
Best Italian: Tavolo Ristorante's sister restaurant, Ashmont Grille. And Giulia Cambridge—Chef/Owner Michael Pagliarini and his team are so talented. I'm very excited for their new space.
Best dessert: Oleana's Baked Alaska with coconut ice cream and passion fruit caramel
Best place for a romantic date: Bristol Lounge at the Four Seasons
Best Sunday brunch: I'm not a fan of brunch—I prefer afternoon tea at the Bristol Lounge at the Four Seasons.
Best place for a power business meeting: While I tend to avoid "power business meetings," I prefer to meet those that we are partnering with at any Tatte Bakery.
If you have out of town guests, which hotel would you recommend? Boston Harbor Hotel
Favorite shopping venue/boutique: Good on Charles Street in Beacon Hill; Abodeon in Cambridge; and Pod in Cambridge
Favorite place to buy jewelry/watches and other gifts: Black Ink and Joie De Vivre in Cambridge
Favorite place to shop for food: Sevan Bakery in Watertown; Formaggio in the South End; and Tutto Italiano
Favorite Charity Event: This year's upcoming Haley House 50th Anniversary Gala
Favorite Cultural Event: The Medicine Wheel, which takes place every December 1st at the Cyclorama.
Favorite Cultural Institution: Boston Athenaeum—I've been a member for years; and it's a great place to visit all seasons of the year.
Best Steakhouse: Grill 23, the first steakhouse I ever went to.
Best Pizza: Dudley Dough in Roxbury; Coppa in the South End; and Molinari's Pizzeria in Dorchester
Best Lunch: The Italian sub at American Provisions in the South End; Moyzilla Food Truck's Japanese Chicken Box with Noodles; the take-out banh-mi from Myers + Chang; the Lower East Side sandwich from Blunch; and any of the sandwiches from Lamberts.
Best Massage: John Davis on Boylston Street
Best Limousine/Driving Service: Uber! I'm a big fan.
Best Museum/Exhibit: Steve Locke: "there is no one else to blame" at the ICA. He's an amazing artist and thinker.
Describe Boston in three words: Wicked. Freaking. Awesome.
Favorite historic/legendary place to see or explore: Glass Flowers: The Ware Collection of Blaschka Glass Models of Plants at Harvard
All-around favorite spot in Boston: Arnold Arboretum
Best Aspect of Boston: The people!