Photo Credit: The Women's Project/Lauri Levenfeld
Lisa Sugar has always been obsessed with pop culture. She can quote lines from Say Anything, The Notebook, and Dawson's Creek. Her first concert: Michael Jackson. Her favorite book: Valley of the Dolls. And although she grew up in Potomac, Maryland, the theme of her bat mitzvah was Los Angeles. With this history, it's no wonder she founded a website based on her love of all things celebrity and entertainment.
In 2005, long after her idyllic early years, she was living in San Francisco, working in advertising at Goodby, Silverstein & Partners, and she started a little blog that chronicled the lives of celebrities. "When I was in advertising, I loved that I worked in a very creative environment, but my job itself was not creative. It was all balancing budgets and not necessarily working on stuff that made me feel like I was part of the creative process," she told Haute Living on a recent wintry afternoon.
What she did like about her job was the early access to television shows, movies, and magazines. "I got every magazine for free. I got to see every show before it was on the air. I would write reviews to my friends and tell them which ones to look out for. That was the stuff that I liked. I was like, How do I take that with me? How do I take this knowledge, which I thought was a lot of useless information, into my next job? I didn't know what that was going to be until I actually started writing."
She started writing around the clock and understood that speed had to be a top priority if she were going to post stories faster than all those other writers out there in the blogosphere. So when Brad Pitt and Jennifer Aniston broke up or Paris Hilton and Nicole Richie got into a fight or Brittany Spears gave birth, Sugar made sure she was one of the first to report that news. But she also had an idea that gave her reports a twist. Unlike other websites that reported celebrity news, she presented the stars in a positive light without the snark so prevalent at the time. She quickly built a quiet following of devoted readers who loved her friendly gal-pal style.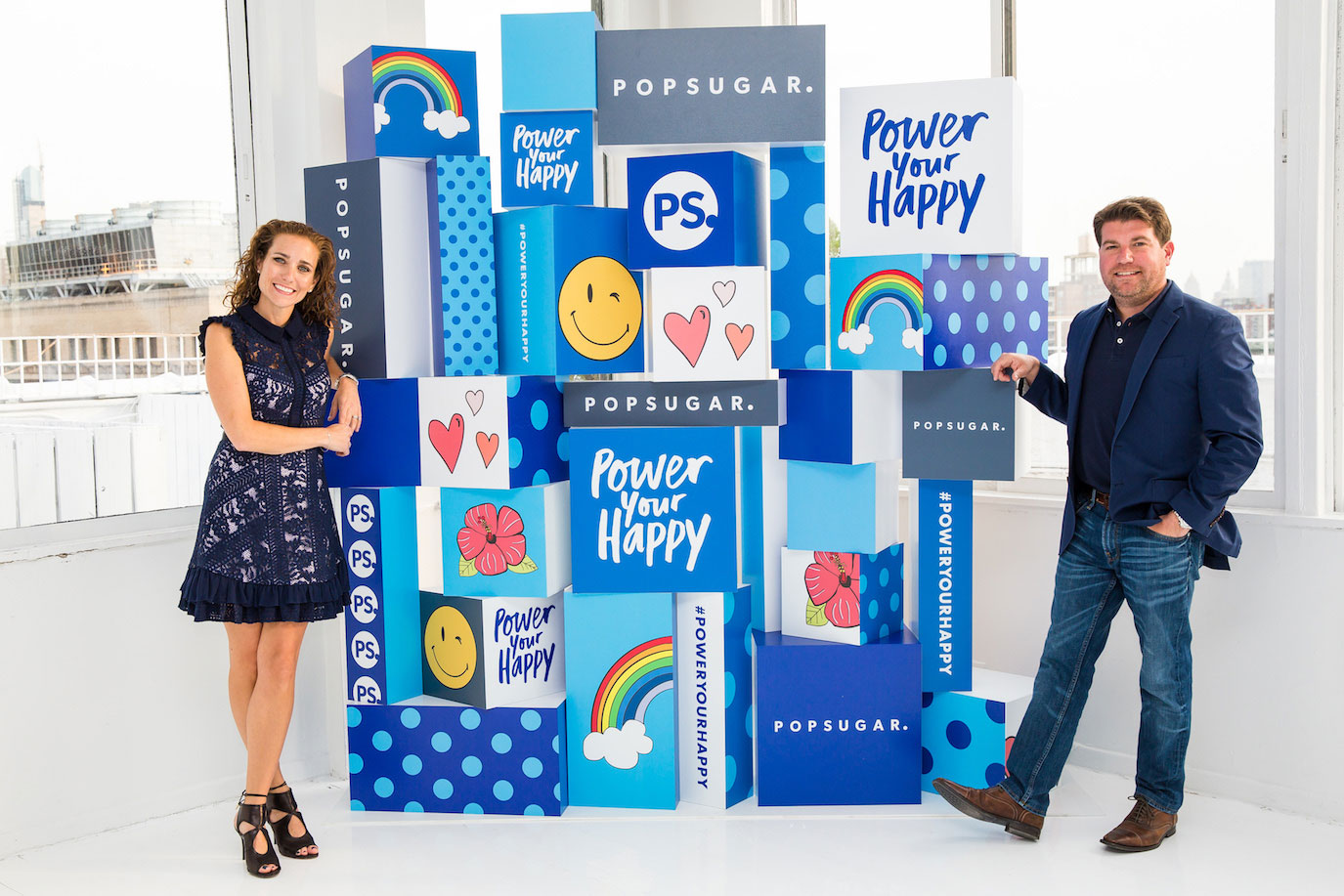 Photo Credit: Will Ragozzino
PopSugar is born
In June 2006, with the help of her husband, Brian, (and a few months later funding from Sequoia Capital with Michael Moritz joining their board)—who had just given birth to her first daughter, Katie—launched PopSugar. "When I was able to start PopSugar and really see the audience coming, which was really quickly—like in the first few months of starting to write—I felt a newfound happiness," Sugar says, "and that kind of fueled the fire for me to keep writing and then eventually start PopSugar, where we hired other writers."
In the early days, PopSugar was a startup and employees wore many hats and did everything. Sugar and her team of female editors worked hard  to create a never-ending stream of content. A series of verticals were launched—FabSugar focused on fashion, BellaSugar featured beauty, and YumSugar was about food. PopSugar is one of only a handful of San Francisco-based media publishing companies, but Sugar was able to find incredible employees across all fields, from editorial to engineering. "People questioned us when we started it here," Sugar says, "but we've been able to find some wonderful talent in this city. San Francisco has a different vibe. We like being headquartered here, and I think it does help the culture and the vibe of the company in that we really want passionate, smart people who also love their lives in other ways outside the office."
In the 10 years since it launched, PopSugar has grown to become an internationally recognized brand and the leading lifestyle website for women—100 million people devour PopSugar's addictive content on a monthly basis. Understand that there is much more to PopSugar than just top 10 lists and shirtless actor photos—although you can find both at any given moment across what are now 11 verticals that also include news and info for Latinas. What's more, the company owns Shopstyle, an incredible digital shopping platform, has its own L.A.-based video studio, and operates a monthly subscription-based gift box, PopSugar Must Haves.
At the center of all this is Sugar, a blue-eyed beauty with a bushel of curly hair. Now 40 and the mother of three girls, Sugar has just released her first book, Power Your Happy. Part memoir, part career guide, the book shares Sugar's positive outlook on life. "I typically am an optimistic person, always have been," she says. In the book, she answers questions that PopSugar readers have been asking her for years. "Writing the book was kind of answering the questions that I felt like we had been getting asked the most from our audience," she explains, "whether it was them personally trying to figure out their life and needing help, or wanting to know how PopSugar started and how I was able to create the company and have a family and work-life balance and all that kind of stuff. So it was a process of putting all that into one place." She encourages her audience to figure out what they are passionate about through a series of questions like, Is now the time for a career change? If not, how can I start just doing it on the side? What do you stay up late doing? Are you one of the first ones in the office and/or the last to leave?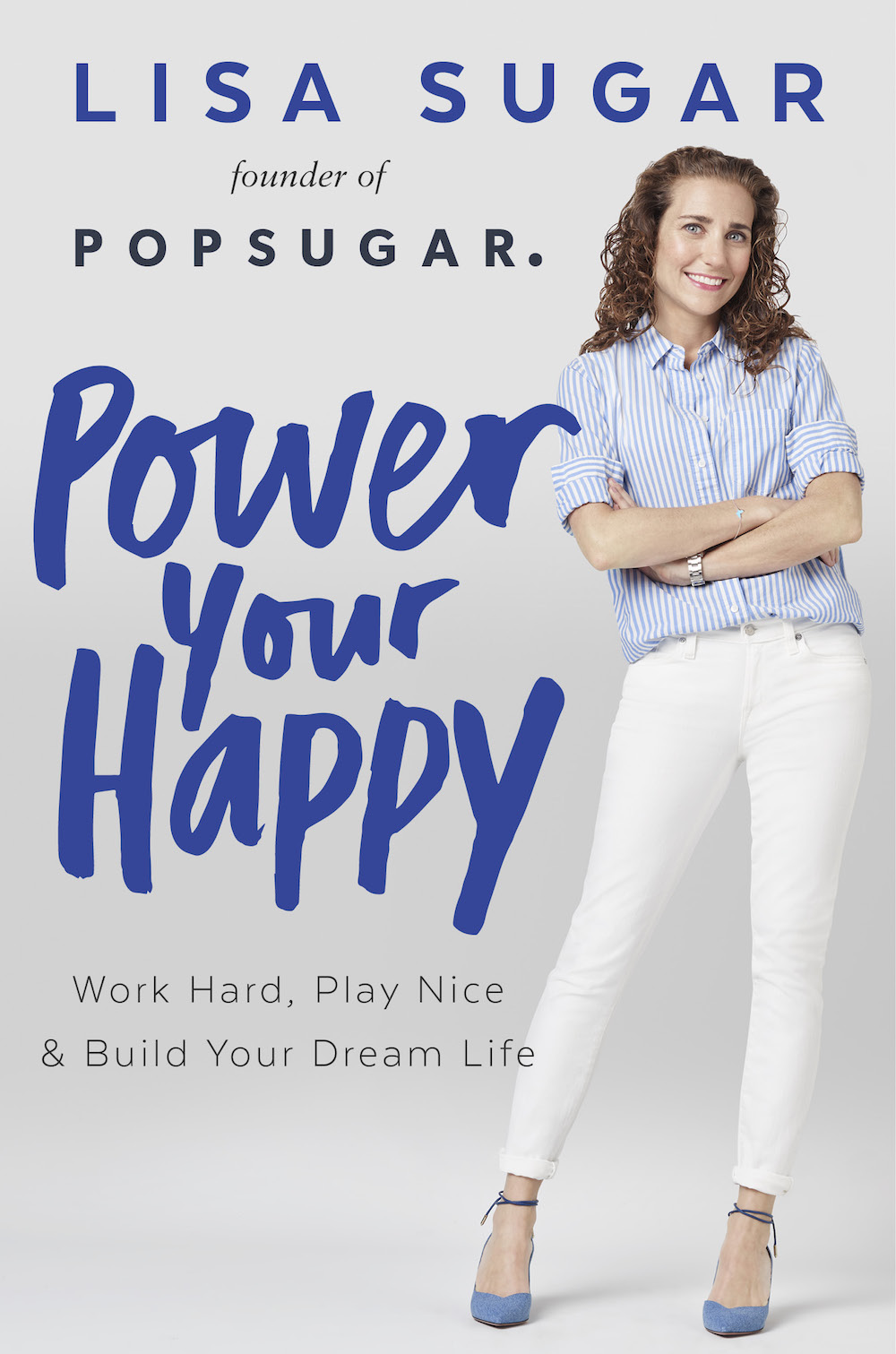 A driven workaholic who's nice
Sugar happens to be both—she's incredibly driven and something of a workaholic. When she started PopSugar, she worked around the clock, brought her baby to the office, and even spent most of a trip to Paris working on her computer in her hotel room. A typical 9-to-5 day doesn't exist in Sugar's world; it's more like whenever to whenever—just get the job done. Although she's indefatigable, Sugar is not cutthroat or intimidating. Her motto is, "Work hard. Play nice." She just doesn't believe in being mean or bitchy.
This outgoing, all-inclusive vibe has translated across all aspects of her brand. "PopSugar is always a friendly site. We're really excited to share advice with our audience. We're in the know, but we're not know-it-alls," she says. "We want to make sure somebody who's brand-new isn't intimidated by the content but somebody who is a connoisseur can feel like they're learning something as well." She believes this all-encompassing perspective is a key contributor to PopSugar's success. "Online media is saturated right now, but the other voices are different than PopSugar's," she says. "Continuing to remain optimistic and informative is the key to keeping our audience happy and coming back and growing. It really is like an 'everyone's invited to the party' type of positive approach."
While she emphasizes being nice, she's quick to define her version of nice. "When I talk about playing nice, I don't want it to be like saccharine-sweet nice," she explains. "I can still be fiercely competitive. You can still be a good girl but be a badass at the same time." She's also focusing on instilling her "Work hard. Play nice" motto in her three girls: Katie, Juliet, and Elle. "I really want the girls to learn how to be nice," Sugar says. "Whether it's with their friends or with their parents or with a babysitter, they should always learn to be nice. I think it's important for them to also see that I work really hard at my day job."
Photo Credit: Maria del Rio
Adapt and adjust
How does she find work-life balance and do it all? She doesn't. Instead, she practices what she calls a "work-life blend." This means she never travels without her phone or laptop and she has always brought her girls into the office. "My kids are over three years apart, so I think the time in between each one allowed me to sort of get my ground again," she says. "I was able to spend time with each of them and to really figure out what was important to me, then to make sure that I made time for it. I really try hard to plan my calendar way more in advance than I ever did before."
Sugar values employees who can wear many different hats and aren't afraid to do the dirty jobs. She also appreciates people who are willing to start at the bottom and work their way up. "A lot of people will be like, 'Oh, I want to go work in fashion,' but they don't even really know what that means or which job in fashion they like, so it's important to go work in a retail store," she says. "Yes, that might be crappier hours or folding jeans all day long, but you will learn how a store works."
Moving fast and embracing change are two more secrets to Sugar's success. "There were so many things that were different five and 10 years ago, so it's really important to keep adapting and adjusting. One of our company mottos is 'We like to build really fast, and we like change,' " she says. "We embrace it, and we want to learn from it, even though we may fail at some things that we try. But being fast has been something that Brian has always prided us on."
She has surrounded herself with a team of like-minded people who have can-do attitudes, and she's determined to overcome any challenges that may come her way. The biggest one she faces at PopSugar today? "It's definitely the fact that content is distributed on a variety of platforms that you don't necessarily have control over," she sighs. "We love that our audience comes to us on Snapchat, on Facebook, on Instagram, on YouTube. They love devouring our content in all these different places, but I don't necessarily have control over where I fit into the algorithm on Facebook."
What she does control is one of the most successful modern media companies—and her own happiness. It's something she may not have realized when she was younger. "I know that I'm in a place where I'm extremely fortunate to have this job that I love," she smiles, "to have these three amazing and healthy children, a husband who is an amazing partner. So 40, to me, really looks great." For Sugar, life is definitely sweet.