Photo Credit: Connie Perez-Wong
All 90th birthdays deserve a grand celebration where friends and family fete the honoree. A hotel is no exception. For nine decades now, the InterContinental Mark Hopkins Hotel has held court atop tony Nob Hill, serving as a 'must-stop' for Hollywood stars, political dignitaries, royalty, artists, and others in search of impeccable hospitality and pristine San Francisco skyline views. One of only three local hotels to witness nearly a century of San Francisco history (the Fairmont and the Palace being the other two), the Mark opened in December 1926 and immediately became a West Coast landmark and a symbol of elegance and refinement within the local hotel landscape – a role it graciously continues to play to this day.
To celebrate its historic 90th birthday, the Mark Hopkins recently rolled-out the red carpet to some of its most loyal fans and longtime supporters. With a theme of "Dining Through the Decades," guests were led through time-period motif drinks and dishes typical of society's culinary aspirations of each era. A 1920's themed reception celebrated the Roaring Twenties, when the majority of the U.S.'s cocktail drinks were first concocted and finger foods originated. Guests enjoyed mini 'foggy martinis' from the Top of the Mark's lengthy martini menu. The dinner's first course represented the 1930's and Americans' need to conserve. While Oxtail Osso Buco typified the type of humble meal enjoyed by a great majority, executive chef Michael Wong turned the dish into a gourmet delicacy.
Representing the rationing necessitated by the war, the 1940's course of roasted organic fall vegetables was inspired by the popularity of victory gardens. On to the 1950's, and Chef Wong's take on the popular TV dinner – while the war was over at this time, women's roles were changing, and freezer-to-oven meals gained popularity. (But Swanson never featured a TV dinner like this: California Petrale sole and spiny lobster.) The 1960's saw Julia Child making her mark in American kitchens; Chef Wong paid homage to the icon with this course of Jidori chicken a la Julia Child's coq au vin. A coconut ice cream palate cleanser served as the 1970's offering – representing the exotic new flavors imported to the US as a result of Asian immigration.
The 1980's brought many chefs into the celebrity limelight: Wolfgang Puck, Paul Prudhomme, and Charlie Trotter became household names. Chef Wong paid homage with his Liberty Farms duck breast with sweet potato Dauphine. Fusion cuisine and a desire for healthy eating defined the 1990's dining scene; Chef Wong's sea bass with French peas, and bacon crusted heirloom carrots would make Roy Yamaguchi proud. At the turn of the century, the elevation and re-invention of common foods was popular, and the farm-to-table movement took root. Chef Wong repped the 2000's with a beet and goat cheese offering. And finally to the 2010's – each diner was presented with a gold, white chocolate sphere filled with apple butterscotch – a perfect emblem for the 21st century and diners' interest in molecular gastronomy.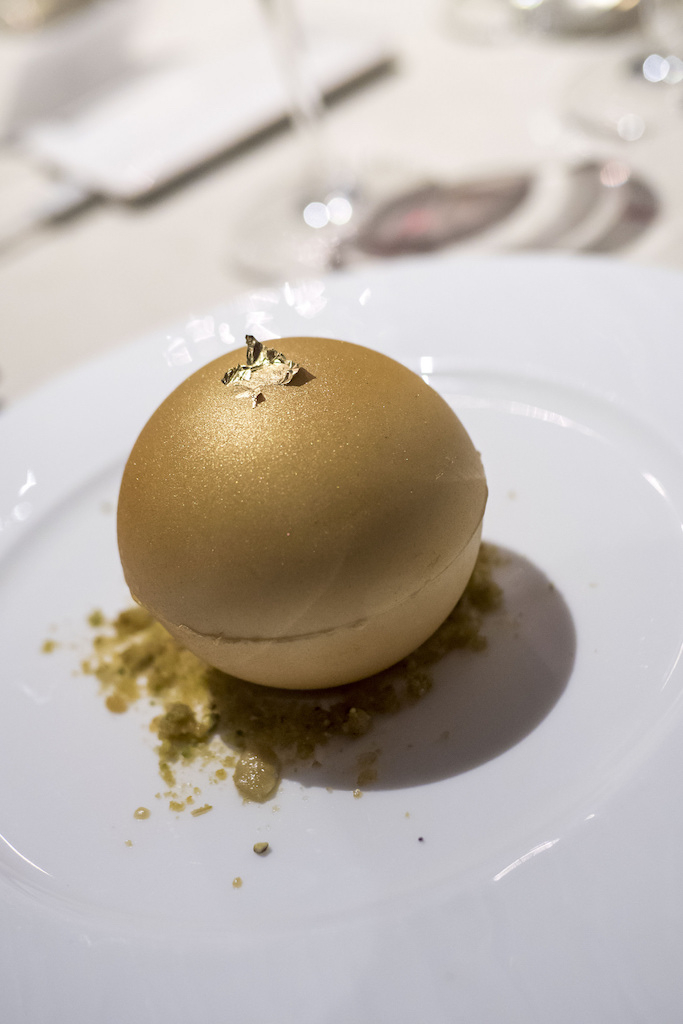 Photo Credit: Connie Perez-Wong

Guests enjoyed wine pairings from Buena Vista Winery, one of California's first wineries, chosen for its heritage – as rich as that of the Mark Hopkins. The Klipptones provided live, decade-themed music as guests took-in the ambiance of the hotel's Nob Hill Club, San Francisco's newest lounge that combines the hotel's French Chateau and Spanish Renaissance design with a cosmopolitan vibe. Walnut floors, crimson-hued walls, and plush banquettes provided a posh, intimate atmosphere worthy of a 90th anniversary celebration and befitting the iconic Intercontinental Mark Hopkins Hotel and its indelible imprint on San Francisco's hospitality industry.
Subscribe to discover the best kept secrets in your city