A hot trend in celebrity travel goes far and beyond your average trip to St. Barts or St. Tropez. Why visit when you can buy? Just prior to the announcement of his divorce from Angelina Jolie, Brad Pitt was reportedly checking out the coastal Croatian town of Zablace to open a $1.5 billion modern, ecologically-minded luxury resort. Heiress-turned-mogul Paris Hilton is also getting into the business but, then again, her family name kind of demands it. In the coming years, she'll launch beach-themed hotels bearing her name in Dubai, New York and Las Vegas, to start, with Philippines-based developer Century Properties. Meanwhile, Michael Douglas and Catherine Zeta-Jones are working on renovating their Bahamian hotel Ariel Sands, which will begin 36 months of construction in January. Last but not least is Leonardo DiCaprio, who is planning on opening the world's most sustainable island resort in 2018. The island of Blackadore Caye, Belize will feature 68 villas, 48 estate homes and a private clubhouse when all is said and done. Luxurious amenities will be centered on The Blackadore Village, comprised of three world-class restaurants, a spa and wellness center, and the Deepak Chopra Center for Renewal and Anti-Aging. While these properties are all in development, there are already many amazing celebrity-owned hotels around the globe. Just think: You could be golfing beside Andy Murray, doing yoga next to Hugh Jackman or horseback riding behind Clint Eastwood during your next getaway!
SUNDANCE MOUNTAIN RESORT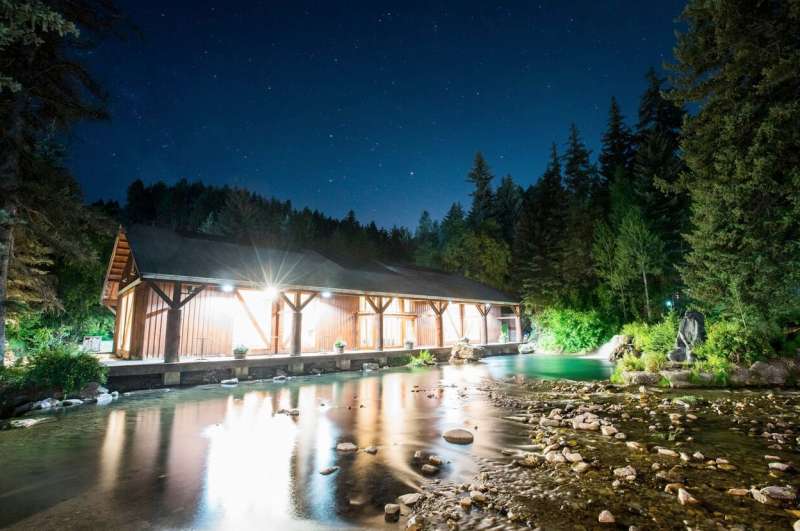 Photo Credit: Sundance Mountain Resort
8841 N. Alpine Loop Road
Sundance, UT 84604
Phone: (801) 225-4107
OWNER: ROBERT REDFORD
Robert Redford bought the land now known as Sundance back in 1969 and, over the course of the last 40+ years, has turned it into a hub for art, culture and film. The Sundance Mountain Resort is a perfect place to stay while viewing the newest and most promising independent films during his Sundance Film Festival. You'll love the rustic feel to this high-end property, whose cottages and cabins are discreetly tucked into a mountainside setting above Sundance Village and a perfect place to hole up during the winter months. Expect rough-hewn woods, warm tones and Native American accents, a spa with a plethora of healing and wellness-inspired treatments, an award-winning ambient eatery in the Tree Room and an art studio—with glassblowing, photography, journaling, pottery-making, jewelry-making and drawing—for additional Sundance-worthy inspiration.
THE CLARENCE 
Photo Credit: The Clarence
6-8 Wellington Quay, Dublin 2,
D02 HT44, Ireland
Phone: +353 1 407 0800
OWNERS: BONO AND THE EDGE
Like its owners, Bono and The Edge of iconic rock band U2, the 51-room boutique hotel, The Clarence, is all about understated cool. The furnishings are simple: classic shaker oak beds dressed in sophisticated white linen and leather seating—primarily custom-made by Irish artisans—sitting elegantly in contrast to a palate of cardinal colors, rich drapes and plush carpeting. Its location in the Temple Bar area, a cultural and social hub for haute Dubliners, is also pretty prime and boasts awesome views of the River Liffey, which runs through the city's center. Make sure to book a reservation at the hotel's Cleaver East restaurant, run by Michelin-star chef Oliver Dunne, and try new onsite drinking dens, The Octagon Bar and The Liquor Rooms. Trust us: This haute hotel is a great place to have a "Beautiful Day."
BEDFORD POST INN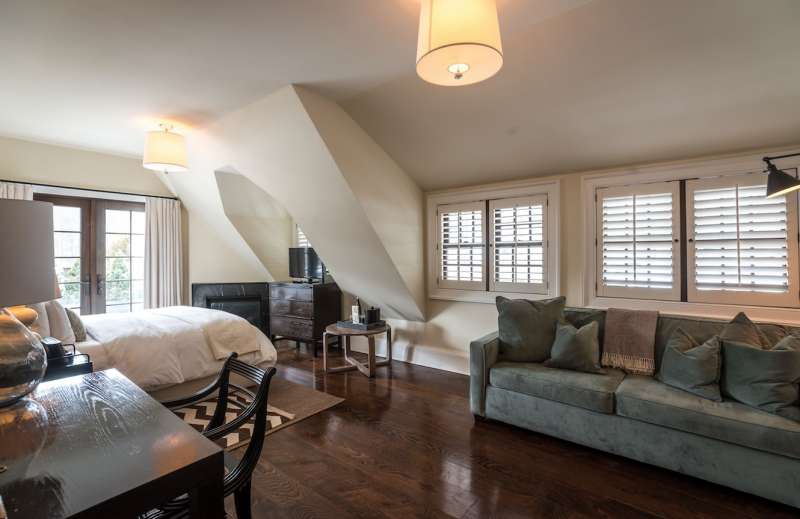 Photo Credit: Bedford Post Inn
954 Old Post Rd., Bedford, NY 10506
Phone: (914) 234-7800
OWNER: RICHARD GERE
Richard Gere, the star of box office smashes like Pretty Woman and An Officer and a Gentleman, is one of the most-hands on celebrity owners we've encountered. You'll find the low-key actor onsite more often than not at his Bedford Post Inn, located in the affluent New York suburb of Westchester and, if you're lucky, you might even find yourself doing downward dog next to him in the eight-room inn's yoga studio. Gere and his staff work hard to make this Relais & Châteaux property as inviting as possible for guests: In addition to a welcome champagne toast and complimentary breakfasts and snacks, there are free-use bicycles, a bocce court and croquet sets at your disposal. With additional touches like rooms with working fireplaces and terraces that overlook the wooded property, you might even feel like you're on a movie set… and isn't that kind of the point?
THE GREENWICH HOTEL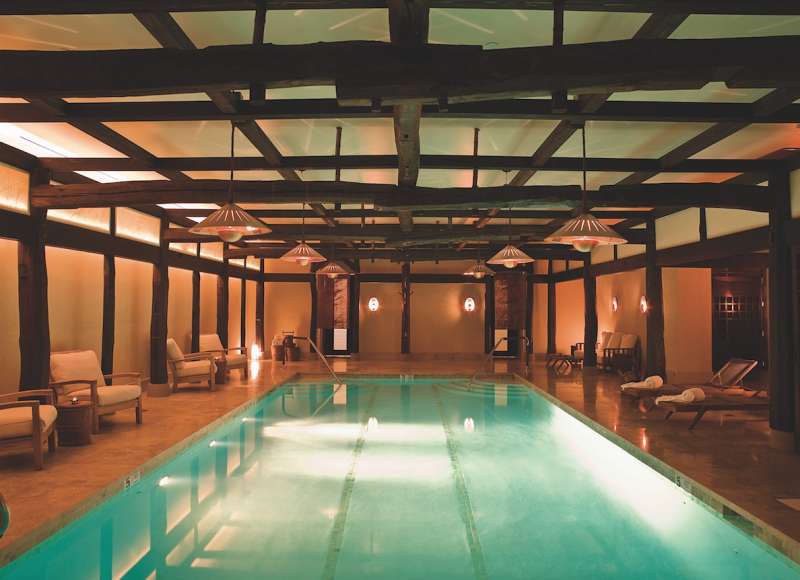 Photo Credit: The Greenwich Hotel  
377 Greenwich St., New York, NY 10013
Phone: (212) 941-8900
OWNER: ROBERT DE NIRO
At the elegant Greenwich Hotel in Lower Manhattan, you'll find a property that's as much of a class act as De Niro himself. There are 88 guest rooms onsite and no two are alike: the décor draws from a wide range of cultural influences, from hand-loomed Tibetan silk rugs and Moroccan tile patterns to handmade Italian terracotta floors and reclaimed pine, oak, chestnut and hemlock wood details. Any luxury lover will want to check out the hotel's two duplex suites: Greenwich and N. Moore. Conceived as artist ateliers, both have 30-foot skylights, chef's kitchens, two master bedrooms with two bathrooms, stone fireplaces, and offices with separate entrances. Make sure to also visit the hotel's Japanese-inspired Shibui Spa and Italian restaurant Locanda Verde—your chances of spotting De Niro dining at this casual neighborhood Italian eatery are high. You might even find he could be "talkin' to you."
GWINGANNA LIFESTYLE RETREAT
Photo Credit: Gwinganna Health Retreat
192 Syndicate Rd., Tallebudgera Valley 4228,
Queensland, Australia
Phone: +61 7 5589 5000
OWNER: HUGH JACKMAN 
Hugh Jackman fell in love with Gwinganna, a health and wellness retreat on Australia's Gold Coast, while getting in shape to play Wolverine in 2012. He loved it so much that he stayed for two months… and then decided to become a co-owner. This award-winning eco-retreat and spa sanctuary is the largest in the Southern Hemisphere with 33 treatment rooms, environmentally-sensitive architecture, and expert levels of service and care. It has all the wellness options you could possibly dream of, including equine therapy, Ayurvedic massage, tarot readings, Eastern therapies, reiki, a live blood analysis, an ageing analysis, kinesiology and meditation. The fare here is organic and comes completely from the onsite gardens and orchards, offering a gluten- and dairy-free menu that's designed to decrease systemic inflammation, improve liver detoxification, balance blood sugar levels, improve insulin resistance and, most essentially, support and improve digestion. Additionally, there are two infinity-edge heated pools, a personal training center, tennis courts, bush-walking treks, cricket classes and a yoga studio, which also doubles as a meditation and Pilates studio. We're not surprised that Wolverine has made Gwinganna his second home!
MISSION RANCH HOTEL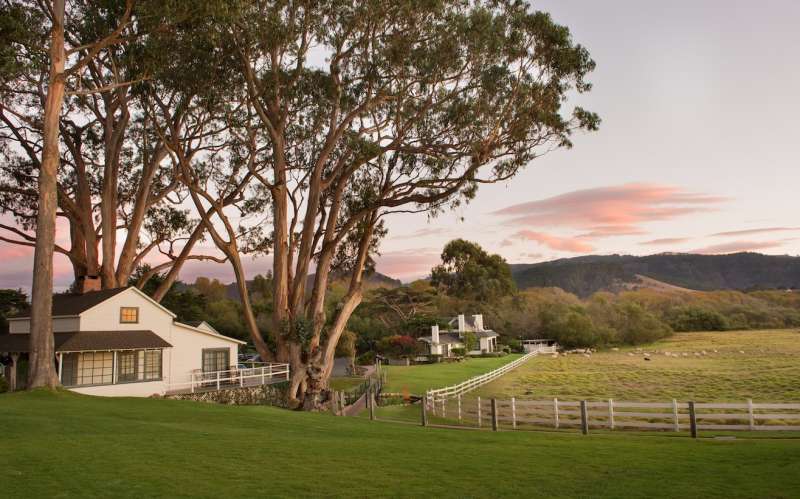 Photo Credit: Scott Campbell
26270 Dolores St., Carmel-by-the-Sea, CA 93923
Phone: (831) 624-6436
OWNER: CLINT EASTWOOD
It's no secret that director Clint Eastwood has had an immense love affair with the picture-perfect northern California seaside town of Carmel-by-the-Sea; the longtime resident is even its former mayor. His Mission Ranch Hotel is, in effect, a love letter to the town. He saved the historical property in 1986—which first operated as a private club, then as an officers' club for the US Army and US Navy during World War II—before it could be turned into a condominium development, and both Carmel natives and the ranch's visitors are thankful. This is a place where you dine while watching sheep graze on its 22 acres of land, and enjoy a truly awesome, luxe, rustic stay in a variety of different rooms. Our pick is the super-private Hayloft, as much for its potbelly gas fireplace and whirlpool tub as for the complete privacy it offers.
PALAZZO MARGHERITA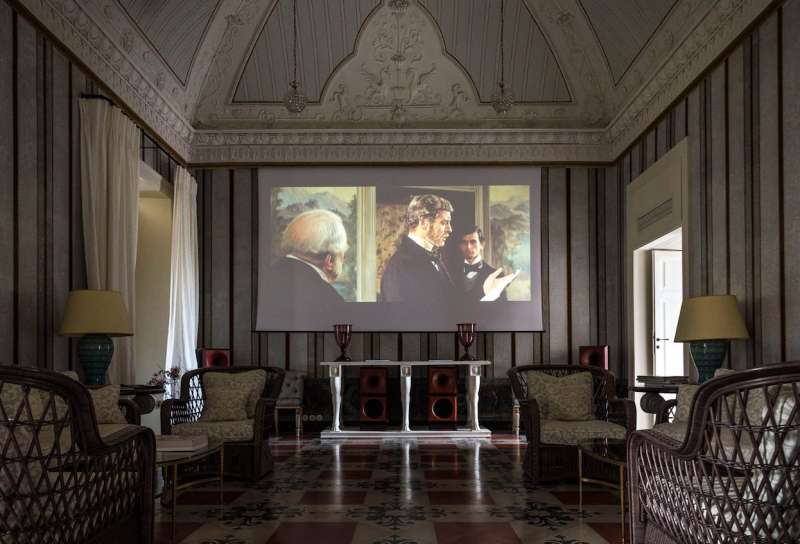 Photo Credit: Coppola Hotels
Corso Umberto I, 64, 75012, Bernalda (MT), Italy
Phone: +39 0835 549060
OWNER: FRANCIS FORD COPPOLA 
Francis Ford Coppola is 'the godfather' of Hollywood (coincidentally, he directed the film, too), but he's also as well-known in the tourism and wine industries. Though the director currently owns five hotels (including Blancaneaux Lodge and the Turtle Inn in Belize, La Lancha in Guatemala and Jardin Escondido in Argentina), we simply had to focus on Palazzo Margherita—his hotel in Bernalda, a small hilltop town in the Basilicata region of Southern Italy, especially given that he's also a vintner. Palazzo Margherita, a true 19th century palazzo with seven large suites and two garden rooms, offers a luxurious yet authentic Italian experience, with large bedrooms, ornate reception rooms and an inner courtyard opening onto a world of private gardens and a swimming pool. Guests can have meals served to them or, uniquely, experience the traditional cooking of Basilicata firsthand by taking culinary classes and enjoying the fare they've prepared. As you'd expect, there is also a screening room equipped with professional-quality sound and projection, as well as a vast database of movies, including Coppola's personally-curated collection of Italian classics.
HONORABLE MENTION: 
THE CROMLIX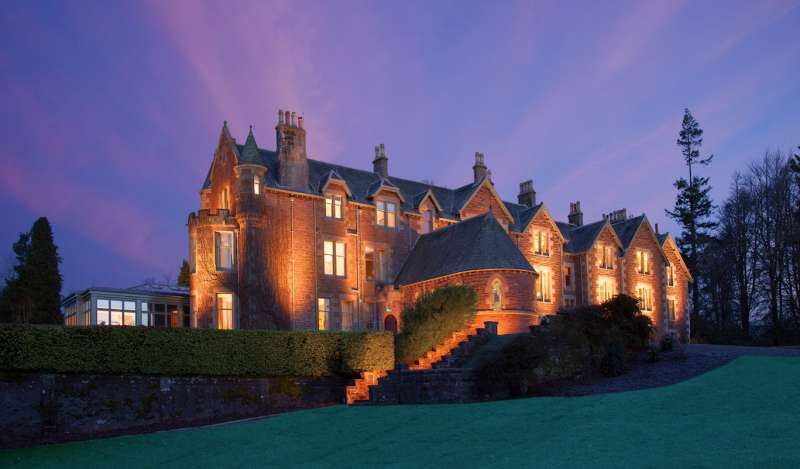 Photo Credit: The Cromlix
OWNER: ANDY MURRAY 
Kinbuck FK15 9JT, United Kingdom
(PHONE): +44 1786 822125
Although he is technically an athlete and not, like our other picks, involved in the Hollywood community, it would be a mistake not to include Scottish Wimbledon champion Andy Murray's U.K. property on our 'best of' list. Murray, who is currently ranked No. 2 in men's singles, has created a formula for his U.K. hotel, Cromlix, that's as winning as he is himself. Since purchasing the Victorian mansion in 2013, he's turned it into an award-winning, five-star property. It is set on 34 acres of secluded woodland, boasting ten bedroom and, five stunning suites—many of which feature hand-painted, freestanding baths in gold, silver and copper—as well as a gate lodge. The grounds also include a tennis court (natch!) and a practice wall finished in the famous colors of Wimbledon: dark green and purple.