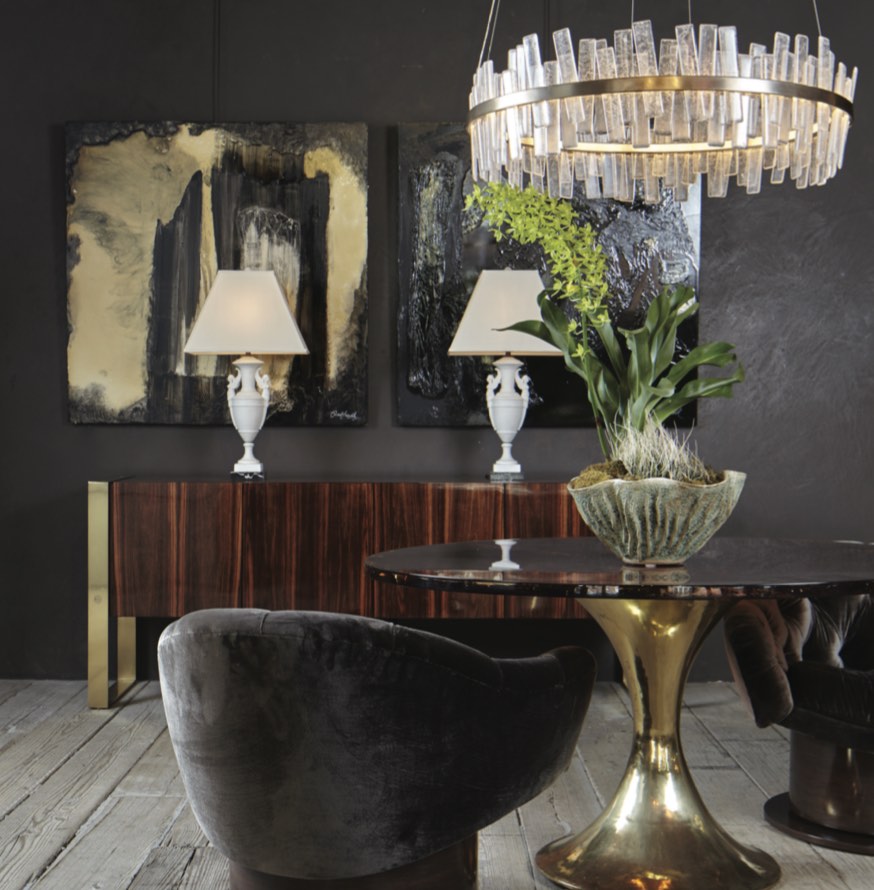 Photo Credit: Coup D'etat
Darin Geise is constantly in motion. Take Coup D'etat, his prodigiously high-end design gallery, which, as he puts it, operates above and beyond the traditional showroom model. Every 10 weeks, Geise and his team completely transform their massive space. Each sofa, mirror, and light fixture, every antique or rare designer object in the 8,000-square-foot space is removed and replaced with new chairs, chandeliers, credenzas, and other carefully curated goods meant for high-octane interiors. Geise has overhauled Coup d'Etat's look five times a year for the past dozen years. While it's a huge undertaking to source, create, and arrange a collage of exquisite new, vintage, remodeled, and antique goods from all over the world, Geise thrives on the pursuit and the evolution. His international perspective and Coup d'Etat's revolving door of items has redefined the concept of a modern showroom. Every big name in the design industry—among them, Kelly Wearstler, Ken Fulk, Suzy Kellems Dominik, and Jay Jeffers—flock to Coup d'Etat for luxurious, one-of-a-kind finds.
Lately, Geise has turned his attention to art, and on October 19, Coup d'Etat launches its third art show, for which Haute Living is the media sponsor, at a party that's shaping up to be one of fall's most talked-about soirées. The show itself will feature the fantastical paintings of New Mexico-based painter Peter Opheim and the surreal creations of sculptor Harry Siter, who works from his studio in the East Bay. The show follows two previous Coup d'Etat art presentations, in 2013 and 2014, introducing the U.S. art market to the photo-realistic work of celebrated Italian hand painter Paolo Troilo.
For the October event, Coup d'Etat will showcase about 25 new pieces from each artist. "We're not a gallery," Geise told Haute Living in his showroom's airy office one recent afternoon. "We don't rep these people. We just found these artists that are so incredible we have to share them."
Jenny Boyle, interior designer and friend of Coup d'Etat, introduced Geise to Opheim's work. Earlier this year, she invited Geise to a four-story building—a privately owned entertaining and office space that she designed—on Bryant Street in the city's SoMA district. "When we showed up, we had no idea what to expect," Geise said, a huge smile spreading across his face. "There were very chic women smoking outside and a guy checking us in on an iPad. We thought, What is this place?!" It turned out to be an incredible indoor-outdoor living space outfitted with the latest technology and an interesting collection of contemporary art. One piece, Opheim's Big Boy, immediately caught Geise's eye. "I saw this painting and couldn't stop talking about it. It's happy, it's colorful, it's big, it's bold. The color to me is incredible." A smitten Geise contacted Opheim's gallery in New York but heard nothing. Only after he reached out to Opheim himself on Facebook did the two finally connect. "I am very excited to be showing with Darin Geise," Opheim said of his first SF venue. "It's fantastic to be having an exhibition in San Francisco, a place that loves art and painting. The group of paintings I am showing is meant to reflect on concepts of personal transformation and diversity of thought."
As for Siter, he and Geise formed a partnership several years ago when Geise started selling his bronze bobblehead sculptures with changeable heads and gemstone details. "We're introducing people to two very unique artists. Siter's work is out of the box, which has you wondering, as so many incredible artists do, What's happening up there? Or what's not happening?" Geise laughs. "The level of his work and craftsmanship is amazing. You really have to look at the fine details of what he does. It's almost like precious jewelry!"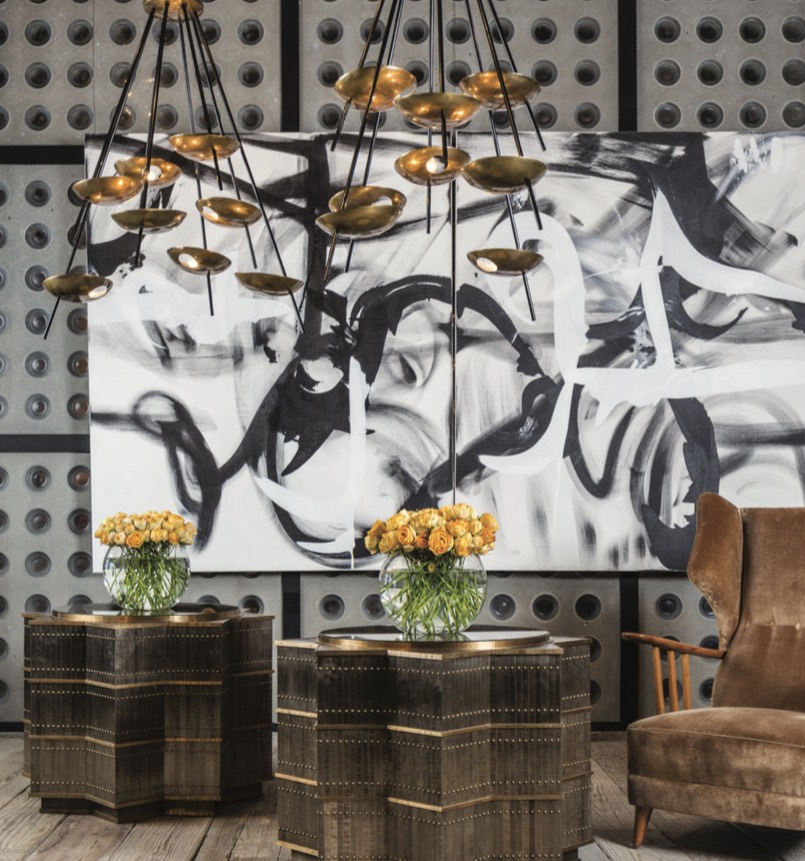 Photo Credit: Coup D'etat
Coup d'Etat's fall focus on art comes at a transformative time in the San Francisco design scene. "SF is really changing right now," Geise explained. "The aesthetic is changing. It has recently become much more modern, edgier, technical—the tech voice here is this massive influence. Being around all the technology, all the people who are working for these technology firms, I think it's very cool and very forward thinking. For so long, San Francisco was a traditional town with the Pacific Heights set following the example set by their parents. Now my clients are younger and their parents didn't have a perfectly designed house. They can be creative and find pieces that speak to them and tell a story."
It's this hunger for individualistic, uncommon goods that propels Geise as well. The Coup d'Etat showroom doesn't just sell furniture. It invites consumers into an interactive experience that titillates all the senses. From the joyous house music playing in the background to the aroma of cedar in the air, walk into the shop and you'll quickly realize that Geise has thought of everything. Coup is once again changing the game by realizing that SF's nouveaux riches are looking for something more artistic. "Art didn't used to play such an important role," Geise said. "My eyes are just now being opened to it. I've always seen furniture and accessories as art, but I realized that people weren't coming here to buy or see art. Now we're changing what we offer in this industry. Coup is opening that next level and showcasing what it's like when you can curate the whole home. It's simply offering a little more on a different level."
Following the launch party, the new works of Opheim and Siter will remain in a gallery-style display from October 20 through October 22. On October 23, Coup will shift back to its normal—if it can be described as normal—configuration with the two artists' paintings and sculptures placed organically, beautifully amid the plush sofas and statement tables. Boyle recommended keeping an eye on the progression of Geise's brand: "Galleries curate in a way that is more expected," she said. "Darin's ability to create the way you see an object in a different light is a very unique talent. He has always been a trendsetter and now he is a curator on a different level and to a higher degree. I'm excited to see how Darin will use the space to curate."
Does Geise plan to incorporate art installations into the Coup d'Etat landscape on a more regular basis? Pondering for a moment how to reply, Geise paused for the first time in our conversation. "I would go crazy if things did not change and evolve," he responded. "I hope Coup always pushes the limits and is changing. I can honestly say I don't know how Coup is going to look in two years. We may be a little avant-garde at times, [but this means] things are happening. There is a pulse—I thrive on that—and we're moving."
Subscribe to discover the best kept secrets in your city