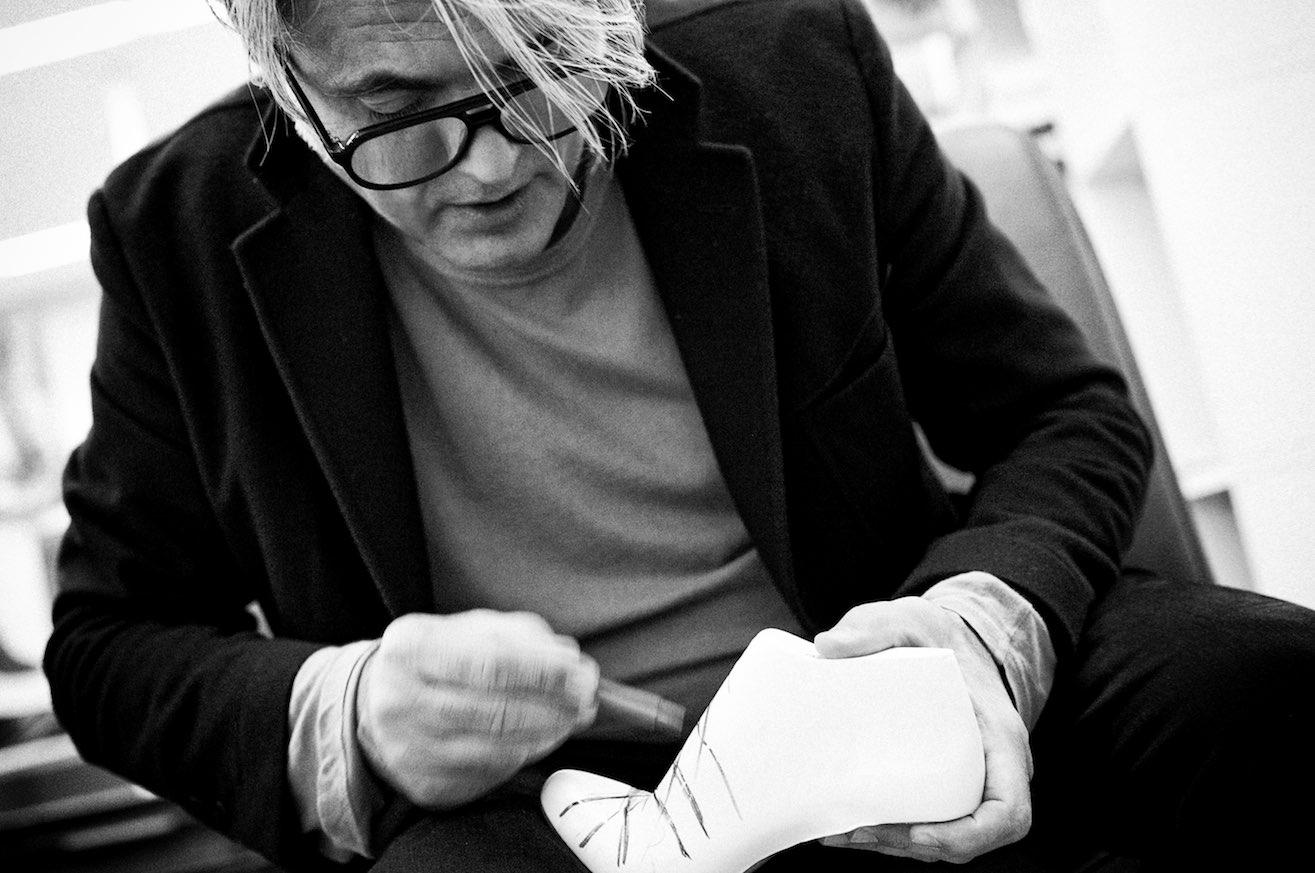 Photo Credit: Marco Onofri
In the pantheon of shoe greats, Manolo Blank, Christian Louboutin and Jimmy Choo have long reigned supreme, their designs collected and cherished by celebrities around the world. But the footwear label today with the greatest celebrity buzz is undisputedly Giuseppe Zanotti, the Italian designer who turned shoes into bold, sexy works of art.
The email blasts alone are proof of how Zanotti has come to dominate the ultra-glam footwear scene. Fashion houses typically share their news with journalists—the latest launch, or a celebrity snapped wearing the label—once or twice a week. From Team Zanotti, you can count on an almost daily missive highlighting who has been spotted in one of the label's fabulous shoes. In recent weeks (and this is just from a cursory glance through my own email file) that has included Rihanna, Dwyane Wade, Jaimie Alexander, Karolina Kurkova, Gigi Hadid…the list is as long as a red carpet, where Zanotti's shoes constantly appear. In fact, the Grammy Awards earlier this year was an absolute Zanotti shoe-in with Taylor Swift, Alessandra Ambrosio, Miranda Kerr, Ariana Grande, Carrie Underwood and Zendaya all in Zanotti. And if that weren't enough of a glam factor, the brand just announced an exclusive partnership with Jennifer Lopez for a capsule footwear and accessories collection. Not bad for a designer who says about his early days: "I wasn't thinking of a real business at all. When I began, my dream was to create shoes for celebrities and musicians; shoes to wear for special occasions, something unique and extremely beautiful. But then people started to like what I was doing."
Indeed they did. And have continued to like— no, make that love—what the designer has been doing ever since. Zanotti not only shods the global entertainment elite, he is widely regarded as the most innovative shoe stylist to come out of Italy since Salvatore Ferragamo, a revolutionary designer in the first half of the 20th century, who also maintained strong ties to Hollywood. "People were ready for a change," he says modestly of why his pieces caught on. But if you point out that it often takes a disruptor to make people aware they are ready for a change, he admits, "My creations were pretty groundbreaking at the time."
And have been ever since. In 2004 his Ring and Slim sandals made waves, the latter in a play on notions of preciousness with a fishbone-inspired design. Kim Cattrall as Samantha wore the Slim Sandal to a nude sushi buffet in Sex and the City, the series that of course immortalized Manolos as the required footwear for chic urbanistas everywhere. His Bloc Sandal design in 2008 with its edgy open-structured heel combined the comfort of a wedge with the lightness of a stiletto, a shoe Kylie Minogue wore in her video for "All I See." In 2012 Zanotti pushed the boundaries between balance and stability to the max with his gravity- defying Adele Wedge. Despite its name the shoe was created when he worked with Lady Gaga for her "Born this Way Ball" tour. The following year Kanye West so fell in love with Zanotti's Cruel Sandal he asked the designer to make an all-white model to match the cover version of his Cruel Summer album.
Zanotti, who spent a number of years as a DJ, has long drawn inspiration from the music scene, which is perhaps one of the reasons his collections resonate so deeply with its elite. One of his earliest goals as a designer was to find a stylish nexus for "two unexplored worlds—rock 'n' roll and evening," and to do that he had to come up with an aesthetic that mixed "the attitudinal with the elegant," he points out.
Photo Credit: Giuseppe Zanotti
Music may have helped make his label, but as with many Italian designers, geography factored into his destiny, too. Zanotti was raised in San Mauro Pascoli in Emilia-Romagna, not far from Rimini, where Fellini grew up. It is an area with a long tradition of shoemaking. "I was born in a town where everyone was used to the smell of leather," he says. In addition to music, Zanotti adored design, an interest easier to pursue by mastering the local craft than by spinning sets. He was soon freelancing shoe design for top brands like Valentino and Dior. But music consumed his evenings, and many an early morning, too. He played for top clubs, taking in not only the music, but also nightlife dress codes, which fed into his evolving design sensibility. With strong ideas about what footwear should and shouldn't look like—"I can't stand ugly shoes" he says—Zanotti bought a small factory in town. "I had a dream and nobody wanted to produce my shoes, so I started to produce myself."
With an early focus on special-occasion dressing, he viewed his factory more as a couture atelier than as a place for mass shoe production. He quickly established special departments to develop embroideries, jewel treatments and experimental heels. "I hired specialized artisans and decided to base the whole operation on creativity and the highest-caliber workmanship," he says.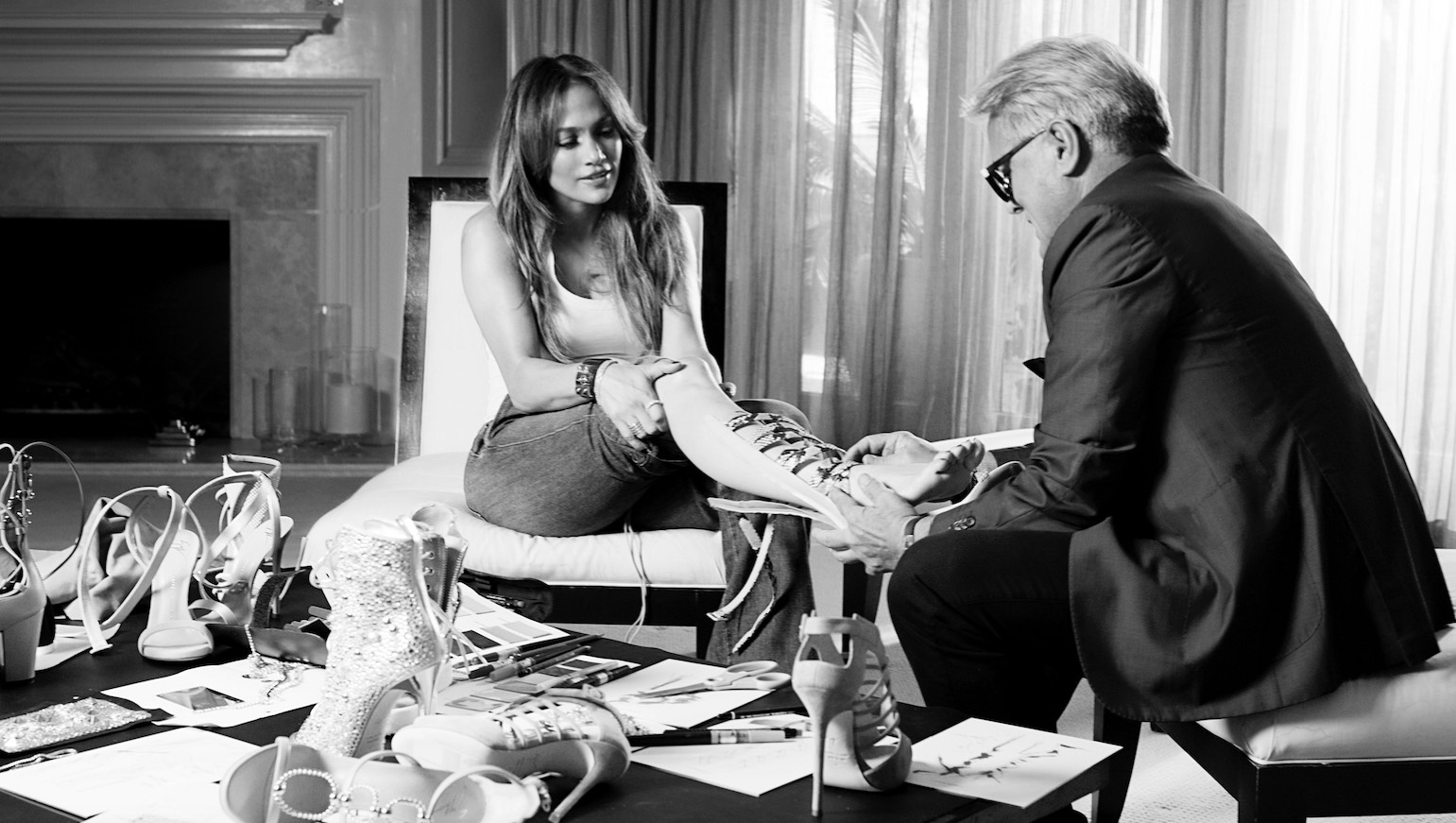 Photo Credit: Giuseppe Zanotti
In 1994 Zanotti felt ready to show his wares—a small collection of jewel-embellished shoes—at the Plaza Hotel in New York. Why the Big Apple for a debut? "I'm Italian, but I was too shy to show my collection in Italy," he says. Buyers took note, and soon after celebrities did, too. His first boldface customer was Madonna, who was followed by Beyoncé, Jennifer Lopez, Penelope Cruz and Charlize Theron. The company grew quickly, but carefully. Zanotti opened his first store in Milan in 2000 on Via Montenapoleone, the epicenter for all the Italian fashion greats. Retail outposts followed in other fashion capitals like New York, Paris, London and Dubai (there are now 100 flagships around the world), then jewelry and men's shoes (with the uber-popular luxury sneakers) and rock-star ready-to-wear collections for both men and women. In 2014 L Capital, a private equity concern sponsored by the LVMH Group and Groupe Arnault, came calling and bought a 30 percent share of the business.
The atelier ethos that shaped the company's early identity drives the business today. When not traveling Zanotti spends most of his days in the San Mauro Pascoli factory (he now has five) next to his creative team and artisans. "Shoes are my babies, and I really obsess over every single detail to make a Wow shoe," he says. Despite the company's growth, Zanotti still sketches his designs. "No matter where I am, I always have my notebook and pens," he says. "I can't live without them. "
Zanotti's more-is-more approach to design has him constantly on the lookout for new ornamentation and treatments. "Crystals, embroideries and all types of embellishment have always been part of our DNA," he explains. For his Spring/Summer 2017 line he's excited about "a tri-dimensional flower embroidery," for "a show-stopping pair of booties." While he likes to work with precious gems, he saves them for special projects, often for celebrities. As for celebrity input, he says he welcomes it. "Sometimes their requests are impossible, but impossible requests are part of their world, aren't they?" he asks. No answer required. Stars are so into Zanotti shoes that some, like Kanye West, have even visited him in San Mauro Pascoli. And now there's the Jennifer Lopez collaboration, with shoes and accessories debuting in January 2017.
While Zanotti looks to various visual disciplines for inspiration, he returns again and again to his beloved world of music to shape the collections. He says his designs often arise from "poignant moments of feeling, prompted by songs and sounds." For Spring/Summer 2017, music is very much at the forefront, as he turned to the "world's most iconic nightspots from Le Palace Club de Paris to New York's Dance-teria" to serve as muse.
With collections running the gamut from shoes to ready-to-wear and a far-flung, thriving retail network, there would seem to be little le for Zanotti to conquer. But he remains endlessly fascinated by the challenges and possibilities inherent in the design of a shoe, with new sculptural forms to devise and new ways to craft more user-friendly, vertiginous heels. "I spend hours with my design team to try to make the perfect wearable silhouette," he says. Even after more than two decades of designing shoes, finding the balance between proportion and comfort remains the biggest challenge. "The stiletto is the most complicated silhouette," he says.
As to how he will keep his fast-track label on the fast track in the future Zanotti won't speculate, "In more than 20 years of business, I have learned that the market is so unpredictable, you never know where it takes you, and that's probably the best part of it," he says. But wherever the future takes Giuseppe Zanotti, you can be sure a trail of A-listers in dazzling, glittery heels will be following in his very stylish wake.
Subscribe to discover the best kept secrets in your city