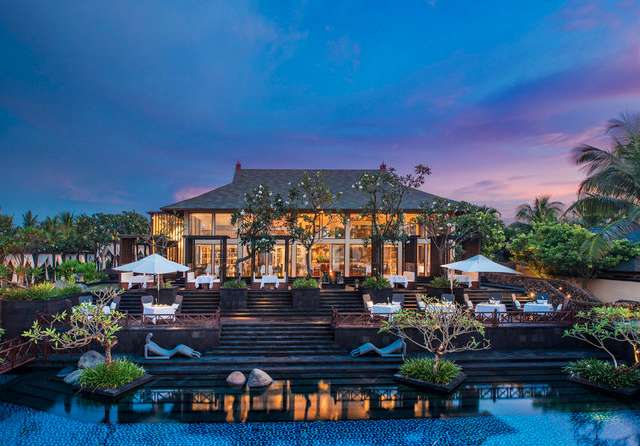 As Eid approaches, luxe travel experiences are the talk of the UAE. This curated list of resorts is certain to delight even the most discerning of travelers.
Waldorf Astoria's Rome Cavalieri
Rome Cavalieri, a Waldorf Astoria property in the heart of the Eternal City, is offering 30% off, just in time for Eid Al Adha.
Set high above the magical city of Rome, offering panoramic views of the city, Rome Cavalieri is set amidst 15 acres of enchanting, Mediterranean Park, 3km from the Vatican City and 5km from the historic city centre. Rome's leading, multi-award winning resort is a true luxury, home to some incredible works of art, including rare sculptures paintings and interiors.
Rome Cavalieri also boasts the prestigious Grand Spa Club with two glittering outdoor pools, an indoor pool, and separate childrens pool. Guests are invited to relax and indulge from wide selection of La Prairie's exclusive Swiss Spa Treatments, or unwind in the amethyst Turkish Bath. Additional experiences encourage guests to sign up for a thrilling supercar experience, explore Rome with the City Navigator tour guide or challenge themselves to some 'Gladiator training.'
With 345 guest rooms, 25 luxury suites and further family suites, imperial rooms and Penthouses, Rome Cavalieri offers everything from a complimentary shuttle to the city centre, pillow and soap menus and limousine services, to pet accommodation, doggy spa and dog sitting, and a special doggy menu.
St. Regis Hotels
Gulf residents in search of luxury Eid Al Adha during the holiday can find haute relaxation in the classic St. Regis style.
Gulf-based guests' demands are discerning, says Fay-Linn Yeoh, Director at St. Regis Hotels and Resorts – Asia Pacific, with personalized service and luxurious accommodation only the beginning of the guest experience. Enjoying excellent non-stop air connectivity from key GCC flag carriers, Southeast Asian destinations offer guests a wide variety of Halal food options of the very highest standard, as well as family-friendly entertainment.
But it is the warm familiarity of the St. Regis 'rituals' that bring guests back again and again, among them the Afternoon Tea, the elegant Midnight Supper events, and Sunset Mocktail. Perhaps the most enduring legacy of the St. Regis brand is its signature butler service, complimentary for all guests, irrespective of room specification.
St. Regis butler service is discreet, personalized attention that offers signature packing, unpacking, and pressing; and it affords the rarest of all luxuries – time.
Malaysia
Malaysia holds sway as one of the most popular Southeast Asian destinations for Middle East travelers. The brand's first Malaysian location, The St. Regis Langkawi, was opened on the idyllic Langkawi islands, as is the first new luxury resort to open its doors in the past decade in the renowned archipelago. Its second location, The St. Regis Kuala Lumpur, is a destination of choice for both leisure and business.
The variety of natural wealth and beauty, culture and world-class tourist facilities that the Indonesian tourism industry offers to holiday-makers have become special attractions for Gulf travelers.
Bali
Located on the beachfront at the secluded enclave of Nusa Dua, The St. Regis Bali Resort is the captivating dream of a mythic tropical paradise: lush gardens, inviting pools, a private beach and a swimmable lagoon of clear blue saltwater, with water activities ranging from snorkeling to kite surfing – or simply strolling along the soft white sand on a seductive starlit night, the waves gently lapping against the shore.
Bangkok
The most prestigious address in Thailand's capital, The St. Regis Bangkok, is celebrating its fifth anniversary this year and is proving special room packages to include – the 'Royal Five Year Anniversary' and the 'Five Year Anniversary' package, complemented by signature St. Regis rituals and traditions.
Singapore
Over the past few years, Singapore has attracted strong influx of tourists coming from wealthy Gulf states, thanks to its world-class shopping variety and ultramodern cityscape. Situated at the heart of the city's premier shopping district, with the world-class shopping of Orchard Road and the UNESCO World Heritage Site of Singapore Botanic Gardens, The St. Regis Singapore is the ideal residence for the discerning luxury traveler, offering the highest expression of personalization, refined elegance and uncompromised guest experiences.
Eid Getaways With Taj
The Taj Lake Palace
Known as the Venice of the East, the city of Udaipur, with its elaborate palaces, serene lakes, exotic temples and resplendent gardens, has a lot to offer. The Taj Lake Palace, located in the middle of Lake Pichola, is a dream of white marble and mosaic glistening on the moonlit waters of Lake Pichola.
A short trip to this spectacular land would be no less than a grand experience that will leave a lasting impression and memories for a lifetime.
Rambagh Palace, Jaipur
Jaipur ensures that travelers witness the royal city of Rajasthan with complete delight. This Eid, guests can live like royalty and experience luxury fit for a king at Rambagh Palace, Jaipur. On a visit to this state, guests can indulge in the opulence of a royal suite once belonging to the royal family, feast on delicacies that leave the senses tingling and sink into the intricate details of exquisite objects d'art.
Taj Exotica, Goa
Overlooking the Arabian Sea, with stunning beaches, coastal climate to revel in, culture boasting of a strong Portuguese influence and gazillion varieties of local fare and street food, Goa makes the perfect destination for a short getaway this Eid. Those seeking a combination of adventure and luxury, what better place than at Taj Exotica, Goa. Located on the south-west coast, this hotel is one of the best five star hotels offering guests, not only a guaranteed serene and tranquil experience away from the hustle and bustle of daily life, but also exciting activities to keep one entertained.
Visit Taj resorts and palaces online at https://taj.tajhotels.com.
OZO Chaweng Samui
Located on Chaweng Beach Road, just close enough to feel the buzz of this lively beachfront destination, yet far enough to get away, OZO Chaweng Samui is only 15-minutes from Samui International Airport or a short walk to central Chaweng; the ideal base from which to explore the island of Samui.
Thailand's third largest island, Samui boasts a mountain ridge running from east to west, forested hills and coconut plantations, as well as an idyllic coastline dotted with palm-fringed beaches and quiet coves. Away from the beach, visitors can explore Na Mueang Waterfall, Angthong National Park, Magic Buddha Garden, butterfly parks, a variety of cultural attractions, and local villages.
OZO Chaweng Samui's 'Snooze Zone' consists of 208 sleep inducing guest rooms, including the idyllic ocean facing 'Dream Beach' rooms giving direct access to the white sand of Chaweng beach. Superb bedding and cleverly designed spaces give guests just what they need for the perfect night's sleep. And of course, all the up-to- date amenities to keep you connected, including IPTV, a multimedia connectivity panel and free Wi-Fi internet access throughout.