Photo Credit: Jean Hangarter
It was a great privilege and pleasure to attend the Boston Landmarks Orchestra performance called Landmarks Lollapalooza last Thursday night, August 11, 2016 at the DCR's Hatch Shell!! Their summer shows are usually scheduled every Wednesday night starting at 7PM but because of the rainy weather, last Wednesday night's show had been rescheduled.
And what a spectacular evening it was. The music was brilliant. For any readers curious to know more about who and what is the Boston Landmarks Orchestra then we know it is best to introduce you to the woman who has helped make it all happen and that is Jo Frances Meyer, executive director of the Boston Landmarks Orchestra who is a beautiful and brilliant, and elegant and phenomenal woman.
Photo Credit: JEAN HANGARTER
Where were you born?
Norfolk, Virginia
When is your birthday?
August 22, 1954. I am most definitely a Leo!
What inspires you?
So many things! My family, especially my daughters Elizabeth and Jacquelyn, and my husband John. Music – of course! Young people overcoming great odds to succeed in life, a beautiful sunset, a great book, friends who have given me their love and support over the years, colleagues who work passionately in causes that they believe in, loved ones who face adversity with grace and grit, and all the women – past and present – who have been trailblazers in our world.
Are you a spiritual or religious person?
I consider myself to be a spiritual person. I am in awe of the beauty of nature, the basic goodness of our fellow humans, the wonder and power of art and music to move us, and I love discovering and learning about the common threads that run through all the great religions of the world and that bind us together with more beliefs that we have in common than those we have that are different.
Photo Credit: JEAN HANGARTER
What is your favorite color?
Impossible to decide between green and blue, and all shades thereof!
If you could have lunch with anyone in the world, then who would it be?
Hillary Clinton!
What is your favorite music?
Live orchestral music. I also adore music from the Great American Songbook, and Broadway musicals. Most recently, like so many people, I have fallen in love with the soundtrack from "Hamilton". It is brilliant! I was blessed to be able to see the show back in February. Wow! Finally, I also love bagpipe music.
Favorite song?
I could never pick just one. My favorites range from Amazing Grace (Judy Collins version) to the old Irish song Ragland Road, to the Rolling Stones' Gimme Shelter and 'I've Had the Time of My Life' from the movie Dirty Dancing ! From the classical repertoire, I adore J.S. Bach's Cantata No. 106. It is profoundly moving.
Photo Credit: JEAN HANGARTER
Who inspires you?
See above! In addition, public figures who inspire me include Hillary Clinton, Dr. Paula Johnson (the new President of Wellesley College and a fierce champion for women's health and women's equality); Malala Yousafzai, all the courageous Civil Rights leaders of my generation; Eleanor Roosevelt; and the great American contralto Marian Anderson, whose grace, courage and talent – in my opinión – remain singular and unmatched.
What inspires you?
Honesty, courage, creativity, and passion. Art in any form that transcends our differences and allows us to experience beauty, wonder, the mysteries of our existence, and our common humanity. And the generosity of all the philanthropists in our community, including so many who give to our Orchestra.
What inspired you to join the BOSTON LANDMARKS ORCHESTRA as EXECUTIVE DIRECTOR?
I have loved music my entire life, and after working for our great Boston Symphony Orchestra for seven years, I fell more in love with orchestral music than ever. Though I practiced law for many years, and have worked in other fields, including public relations and health care, I am happiest when I am surrounded by music, by the people who make music, and by those who love music. The previous Executive Director of Boston Landmarks Orchestra, my predecessor Harron Ellenson, reached out to me when she was thinking about retiring. At first I was intrigued thinking about the opportunity, and then I became more and more excited as I realized how great this organization is, and what an extraordinary gift the Boston Landmarks Orchestra is to our community. The Boston Landmarks Orchestra carries on the great tradition of free orchestral concerts at the Hatch Shell started by the legendary Boston Pops Conductor Arthur Fiedler in 1929, and carried forward today by the vision of our late founder, Maestro Charles Ansbacher. Playing a role in keeping this great tradition alive, and doing everything I can to bring music to our many diverse communities, are labors of love for me.
Photo Credit: JEAN HANGARTER
And what precisely is your role as EXECUTIVE DIRECTOR?
All of us on the staff wear many different hats, and it's no different for me. I am ultimately responsible for making sure that we carry out our artistic and educational mission, and that we balance our budget. I work closely with our Board of Trustees to enable them to carry out their fiduciary duties, and I engage in all kinds of outreach efforts to help our organization continue building a large and diverse family of donors and participants who will help us achieve our mission for many years to come. I also stuff envelopes, plan parties, worry a lot about the weather forecast for Wednesdays!
What is your favorite part about being the EXECUTIVE DIRECTOR for the BOSTON LANDMARKS ORCHESTRA?
As usual, I have trouble narrowing my answer down to just one thing. I guess I would have to say my favorite part is – after almost a year of planning – standing at the edge of the Oval in front of the Hatch Shell on a beautiful evening, being a witness to the joy that our diverse audience members experience as the music begins, and watching/hearing the magic that our musicians create while performing with each other and with our community partners on stage. It's very emotional for me, and often brings me to tears. The other part of my job that I love is working with our talented and dedicated leadership team, and that team is made up of our wonderful Board of Trustees, the members of our Board of Overseers, our brilliant Music Director Christopher Wilkins, and our incredible staff. My colleagues are so capable, talented, determined, and conscientious about their work. They inspire me every day, and they enable me to do my work as Executive Director. I love working with them all. They make it possible for Boston Landmarks Orchestra to bring free orchestral music to our audiences throughout our summer season.
Tell us about how one can attend a performance this summer.
Just bring your picnic blanket, friends, family, and even your dog, and head to the Hatch Shell on the Esplanade by the banks of the Charles River in Boston on any Wednesday night this summer! Concerts begin at 7 p.m. and everything we do is free to the public! We have three more concerts in our 2016 season, including an amazing dance-themed program this Wednesday (August 17), featuring kids from Camp Harbor View in Boston, and the Yawkey Boys and Girls Club in Roxbury performing with our orchestra; our presentation of the Longwood Symphony Orchestra on August 24th; and our season finale – an exciting collaboration with Commonwealth Shakespeare Company to present the great Rodgers and Hart musical, The Boys From Syracuse, based on Shakespeare's Comedy of Errors. It will happen on August 31st and it's going to be an amazing night!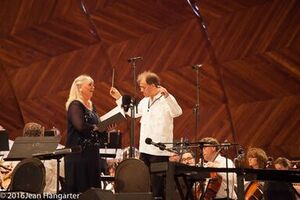 Photo Credit: JEAN HANGARTER
What are you looking for in terms of fundraising to help benefit and support the BOSTON LANDMARKS ORCHESTRA?
We have a budget of about $1.3 million annually. We need to inspire our donors to continue giving and to increase their giving when they can, so that we can continue giving the gift of music to our community. Every gift – large or small – means a great deal to us.
The BOSTON LANDMARKS ORCHESTRA gala is October 1, 2016? What is the donation and how much are the tickets per person? Individual tickets are available for $500 each; benefactor tickets are $1,000 each, and we have individual and corporate sponsorships available from $5,000 to $25,000.
Where will your gala be held this year?
At the Mandarin Oriental Hotel in Boston. We are honoring Ambassador Swanee Hunt, whose late husband Charles Ansbacher was the visionary founder of our Orchestra, and our Music Director Christopher Wilkins. We are celebrating our 15th anniversary and Chris's fifth anniversary as our Maestro! David Gergen is our guest speaker, and our emcee is the wonderful Liz Walker. There will be great food, great wine, and – of course – great music! It's going to be a very special celebration.
What is your one-year goal with the orchestra?
To inspire our friends and donors to contribute more than ever so that our Orchestra can continue making great art and collaborating with all of our wonderful community partners! That means we will have the resources necessary to hire the best musicians in Boston, allow them the rehearsal time that they need – and deserve – in order to play at their highest level of artistry, commission great new works of orchestral music, continue our composer-in-residence programs with our amazing youth and education partners, and continue giving the gift of free orchestral music to everyone in Boston, and even beyond!
What is your five-year goal?
My 5 year goal for the orchestra is to double the size of the our Board of Trustees, to achieve a level of visibility and respect such that no one ever says "Who is the Boston Landmarks Orchestra?" again, and to make it possible for our Music Director Christopher Wilkins to create the most dynamic, inclusive, and exciting musical programs he can dream of!
What is the most important message you want me to communicate to the readers?
We are Boston's summer orchestra, everything we do is free to the public (but not free to produce), and we add immeasurably to the quality of life in our city. We also work hard to welcome every member of our community, including those with disabilities through our Breaking Down Barriers program. Tell all your friends, come on down to the Hatch Shell on a Wednesday night and experience the magic, and do what you can to help us keep this great tradition alive!