Museum; a building in which objects of historical, scientific, artistic, or cultural interest are stored and exhibited. Lucky for us, it just so happens that ice cream has enough historical, scientific, artistic and cultural significance to get it's very own museum in New York City this summer. The city's first ever Museum Of Ice Cream will open on Gansevoort Street from July 29 through August 31.
So what exactly does a Museum Of Ice Cream entail? Think Willy Wonka, except if Willy Wonka specialized in ice cream. Inside the pop-up you will find an immersive chocolate room, edible balloons, and the much anticipated life-size pool filled with rainbow sprinkles. This is real life. On top of these dream-like installations, your favorite dating app Tinder decided this opportunity was too sweet to pass up. The beloved dating app will be sponsoring an interactive exhibit called Tinder Land. In this section, visitors will use a custom app to find their true ice cream flavor match.
Another fascinating aspect to the Museum Of Ice Cream will be the Future Food Studio. Here, visitors will indulge in an ice-cream lead tasting by "food futurist" and scientist Dr. Irwin Adam. The Future Food Studio will also be where you can sample the "Scoop of the Week" from New York City's best ice-cream connoisseurs including like the popular Blacktap.
The project is the brainchild of Maryellis Bunn and co-founder Manish Vora. According to a release the two want the museum to be "a lick-able, likable, shareable ice cream-centric experience. We're creating this for people to really draw and embrace this idea of delight and indulgence."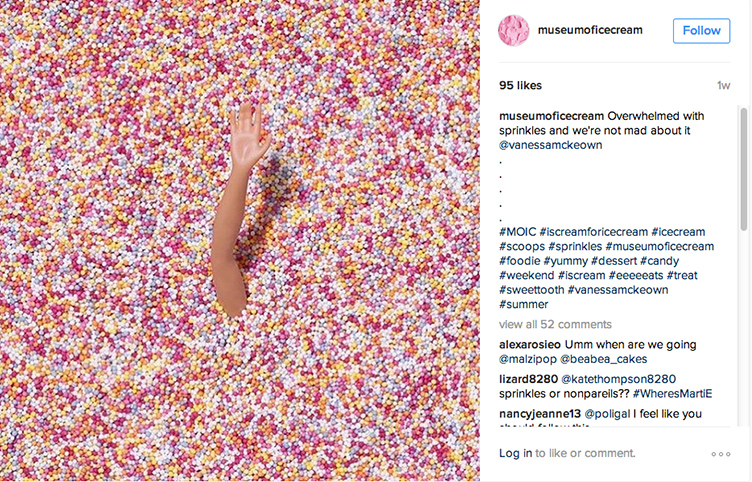 The museum will be open from July 29th to August 31st, find out more here.