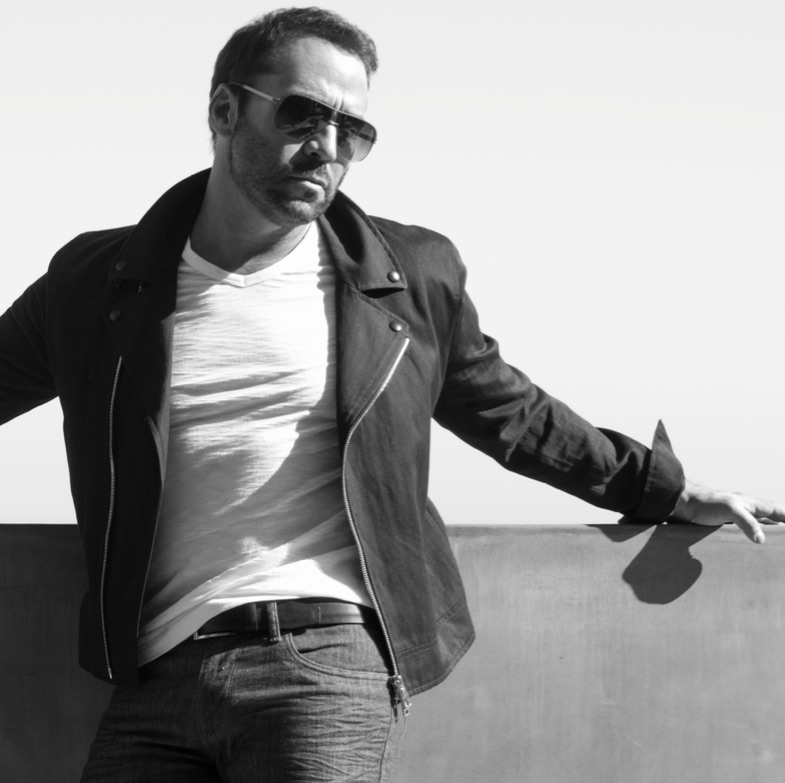 Photography by Stephen Busken
Styling by Joleen Garnett
Grooming by Helen Robertson
Who is the real Jeremy Piven? That's not such an easy question to answer. After spending eight years perfectly capturing the loud, manic and whip-smart Hollywood agent on the hit HBO series Entourage, you might think you have an idea, but it would most certainly be wrong.
In real life, devoid of sets, scripts, directors and multiple takes, Piven couldn't be further removed from his Entourage character, Ari Gold, the role that launched his acting career into the stratosphere, netted him three Emmy awards, a Golden Globe and planted the phrase "hug it out" firmly into the pop culture lexicon. In fact, the actor contends that none of his previous roles have really zeroed in on who he really is when he isn't busy being someone else.
"[Ari Gold] was so high-energy, so overly emotionally invested, and that's not who I am," says Piven.
In essence, the true Jeremy Piven is a craftsman, a thoughtful and introspective Chicago thespian that relishes in taking a screenplay and molding his characters into existence. And in Entourage, the actor did the near-impossible and turned the nigh-insufferable Ari Gold into television's most likable Hollywood agent.
Now, with his latest series, Mr. Selfridge, Piven is once again creating one of television's most memorable characters. The show, which launched its fourth and final season on PBS March 27th, follows Harry Gordon Selfridge, an American retail giant who attempts to open one of the world's finest department stores in early 20th century London. The lavishly produced period drama, which is a co-production between PBS and Britain's ITV, has garnered considerable acclaim from critics and audiences on both sides of the pond. Piven, especially, has received praise for his complex portrait of the show's main character. Selfridge, a genial showman with dark secrets hidden behind his friendly exterior, is worlds away from Ari Gold, but Piven still manages to give the role its due complexity.
"When you play a character, you have to remember that no one is the devil in their own story," he remarks. "The fact that he [Selfridge] had that duality, that during working hours, he was filled with love and was so professional, and then after hours, he went off the rails a bit. I thought that was fascinating and would be fun to play, but also be challenging."
In the series, Harry Selfridge manages his store, Selfridges, over several decades in the early 20th century. The American businessman steadily climbs Britain's social ladder, rubbing shoulders with London's elite. Unfortunately, underneath the expertly groomed goatee and bespoke suits lies a man that suffers from three very familiar vices: gambling, alcohol and infidelity. The upcoming fourth season finds Harry in the middle of the Roaring Twenties and at the peak of his success and celebrity. Sadly, his lingering demons still stand to jeopardize the incredible empire he has built. "Instead of going inward and figuring out what he [Selfridge] wants to do in this life, he decides to go even deeper into the extermination of his life," says Piven.
Thanks to some deep character work from Piven and an amazing cast of British actors, Mr. Selfridge manages to rise above the average period drama, and Piven hopes that more Americans take notice and learn about the fascinating legacy of Harry Selfridge.
"I couldn't be more proud of it. It's unique and definitely not what you think," he insists, adding, "He was the guy that created the culture of modern shopping and created the idea of 'the customer is always right.' The windows that you see outside of all of our favorite department stores, those big windows, that was his creation. All of these things that he came up with are part of our lives to this day. And he wasn't a saint, so it's a fun, wild ride."
For Piven, his love and appreciation for the craft of acting lives deep in his bones: it's ancestral. "I come from a family of theater actors," says Piven, "from parents that found no greater joy than teaching young people how to act."
In his hometown of Evanston, Illinois, a suburban city north of Chicago, Jeremy's parents, Byrne and Joyce Piven, founded the historic Piven Theatre, a critical cultural institution that has trained actors of all ages for more than 40 years and has produced some of the region's most highly acclaimed productions. Piven's education in the family craft began early and in earnest.
His parents took an 8-year-old Jeremy by the hand and led him through daunting material by playwrights like Chekov and Shakespeare, but distilled its themes into terms even a child could understand. "I remember watching my mother on stage. She was doing Chekov and making it accessible to an 8-year-old," Piven recalls. "I think that's the mark of a good actor. If you're watching tricky dialogue, Shakespeare or whatever, and the actors make it accessible for you, then they've really done their job. So I was lucky. I climbed on stage with my parents and probably butchered Chekov terribly."
Piven has found that those early lessons on stage have transferred to life outside of the theater, as well. "My parents weren't didactic with their messages. They lived by example," he reflects, adding, "My father was a very passionate man. I think about him often." Jeremy's mother continues to teach new generations of students the same way she taught him. "My mom is still very active; she's out here now [Los Angeles], and she's teaching her class," notes Piven.
From tender beginnings with Chekov and Shakespeare, Piven began to study many schools of acting, including one of his favorites, Commedia dell'arte. This form of theater originated in 16th century Italy and focuses on performing in one of four states: happiness, sadness, fear or anger. Without these lessons from his parents and years of training at his family's theater workshop, Piven contends that he wouldn't have been able to play characters like Ari Gold and Harry Selfridge with the same amount of authenticity and energy. "The way that I played him [Ari Gold], if I hadn't been doing Commedia dell'arte in my theater company in Chicago, I don't know if I would have been able to play him in the way that he deserves to be played."
Other members of Piven's family have also enjoyed time in the Hollywood limelight. Last year, Jeremy's sister, Shira Piven, directed Welcome to Me starring Saturday Night Live alum and future Ghostbusters star Kristen Wiig. And just a few short weeks ago, Piven's brother-in-law, writer-director Adam McKay, was honored with an Academy Award for Best Adapted Screenplay for his 2015 film, The Big Short. The film was also nominated for Best Picture, Best Director and Best Supporting actor.
Additional alumni from the Piven Theatre Workshop include film actor John Cusack, who recently received acclaim for his portrayal as The Beach Boys front man Brian Wilson in the Toronto Film Festival hit Love & Mercy. Cusack's sisters and fellow actors, Joan and Ann, also attended the Piven theatre Workshop. The Cusack family grew up in Evanston alongside the Pivens, and John and Jeremy are frequent collaborators. The duo has appeared together in films like The Grifters, Serendipity, Grosse Pointe Blank, Runaway Jury and The Player. Actors Jeff Garlin, Lara Flynn Boyle, Aidan Quinn and Lili Taylor also attended the Piven Theatre Workshop.
Years of experience in the theatre also gave the actor the experience necessary to perform on Broadway. In 2008, Piven graced the stage of the Ethel Barrymore Theatre in New York for the lead role of Bobby Gould in a revival of David Mamet's Speed-the-Plow. The actor starred opposite Mad Men's Elisabeth Moss in a play that, like Entourage, aimed to take an inside look at the American film business. Unfortunately, Piven was forced to drop out of the production early after a serious case of mercury poisoning.
If you asked him, Piven would tell you that he's never worked a day in his life on stage or in Hollywood. "That old cliché is true— you want to find a job that never feels like work. I'm butchering the quote, but it's true," he says. When the actor talks about acting, he exudes incredible amounts of near-tangible passion. "That's the great thing about acting: You take on these roles, and you don't judge them," contends Piven. "You never judge your character, and you give them all the love and integrity that you possibly can, and the rest is out of your hands."
Thanks to Mr. Selfridge, which shoots on location in London, Jeremy Piven has not only gotten the opportunity to take on another meaty television role, but also explore a city with which he shares an interesting personal history. In his 20s, Piven was given the opportunity to hone his craft while basking in the cobbled streets, Victorian architecture and wry charm of London. "I was lucky enough to go to school and study at the National Theatre in Great Britain, and while I was over there, I fell in love with the culture," he remembers fondly. Being given the opportunity to see all-time acting greats like Anthony Hopkins and Helen Mirren perform live onstage gave the actor an ambition to one day return to the city. "I'm like a 22-year-old kid, and I remember thinking, 'Well, I'll never be a star, but I gotta figure out a way to come back here and work.'"
Nearly 30 years later, through staring in Mr. Selfridge, Piven found his pathway back to London, and living in one of the grandest cities in the world has considerable perks. The city's litany of cultural sites, like London's many museums and theaters are huge draws. "The theater was amazing. I saw Othello and Hamlet with Benedict Cumberbatch, I took my mother and my sister while they were in town visiting me. It was just an incredibly memorable time," he says. Piven has an apartment within walking distance of Regis Park, which he finds is a welcome respite from London's busy streets, which can sometimes feel a little too claustrophobic for comfort."There's not a lot of space in London, that's why everything's so expensive, and to have these big, open spaces where you can go free, it's beautiful," enthuses Piven.
London also enjoys a storied tradition of fine menswear, one that could, in part, be attributed to the real Mr. Selfridge. Piven has a deep reverence for designers like Tom Ford and Ralph Lauren, whose boutiques line some of London's most ritzy avenues, including Oxford Street, Bond Street and Savile Row. Ralph Lauren, in particular, has captured a quality that Piven values in clothing. "I feel like Ralph Lauren has done such a beautiful job. His clothes have always been so well-made and elegant. He's made different lines so he has a very good range," he says. Life in London is not a complete paradise, however. The architecture, culture and menswear are all huge boons, but the city's perpetually damp weather can be a bit too much to bear, especially for a man that has spent much of his acting career basking in the L.A. sunshine. "London gets gray and depressing," jokes the actor, with a quick chuckle.
Even while spending time in more classically metropolitan, faster-paced cities like New York, Los Angeles and London, and enjoying their unique charms, Piven will always remain a devoted son of Chicago. While the Windy City might not enjoy the same lavish reputation as some of those other cities, it still provides an incredible amount of culture. "Chicago is much different. Chicago is slower-paced, and it has those things that New York and London have," says Piven. "The theater is brilliant, and they have the Art Institute and a community that supports the theater. I think that's why so many actors come out of Chicago." Piven is also a diehard fan of Chicago's many professional sports teams, including the Bears, Blackhawks and Bulls.
In fact, Piven's connection to Chicago is a heritage he shares with the real Harry Selfridge. Before opening his landmark store in London, Selfridge learned the department store business from Marshall Field, the founder of the department store that would eventually become the world-famous Marshall Field and Company. Selfridge started as a stock boy, but he slowly moved up the company ladder until he became a junior partner. Piven immediately felt a connection to Selfridge's journey through playing him onscreen. "It [playing Harry Selfridge] was one of the greatest experiences of my life. Knowing that Harry Selfridge existed and that he made his bones in Chicago, in Marshall Field's, a place that I would go to as a kid, and my mom did, and her mom before her. I felt like I touched a little bit of his past and history, like I knew where he came from," comments Piven. "The frame of Marshall Field's, its architecture and philosophy he brought [them] with him to London."
Time in London and with Mr. Selfridge has also given Jeremy Piven ample time to reflect on his hit show, Entourage. The HBO series, which wrapped its eight season run in 2011, became a surprise cultural phenomenon. It was a series that deftly stepped behind the celluloid veil and simultaneously celebrated and skewered life in Hollywood. Piven's role as Hollywood agent Ari Gold made the actor a household name for his high-energy antics. Unsurprisingly, playing a character like Ari was just as fun as it looked onscreen. "Every moment he's breaking the space and taking up all the oxygen. He's a verbal stunt pilot. He's so fun to play," notes the actor. In 2015, Piven got the opportunity to reprise the role in the Entourage movie, which catches up with the cast: Vince (Adrian Grenier), E (Kevin Connolly), Johnny (Kevin Dillon) and Turtle (Jerry Ferrara) a few years later, but not necessarily a few years wiser. In the film, Ari Gold has transformed from agent to a full-fledged studio head, but his trademark bad behavior has hardly changed. The film's successful run at the box-office showed that the property's eccentric characters, particularly Ari, still strike a chord with audiences.
One of the many highlights of making a show like Entourage was acting alongside the incredible number of celebrities, sports figures and acting legends that stopped by the show for a cameo, including director Martin Scorsese, 50 Cent, Matt Damon, Tom Brady, Kanye West and a litany of others. Surprisingly, Piven's two favorite celebrity cameos are as different as can be. "My favorite Entourage moments are many, yet when guys like Jeffery Tambor joined us, it was really special. His performances are effortlessly funny and always rooted in sincerity. He's therapeutic to work with. Also, Mike Tyson was like Buddha. [He's] a sweet man who has transformed into his second act," he says.
Funnily enough, while we were sitting down with Piven for this interview, Mark Wahlberg, who produced the series and served as its inspiration, swung by unannounced to look at the location. Even after the show's final episode, Piven and Wahlberg remain good friends. The absurdity of the coincidence almost feels like something ripped right out of the show.
Besides friends and stories, Piven's time as Ari Gold on Entourage has also left him with a few other mementos. Some of Ari's bold, bespoke suits, finely crafted creations of famed Italian suit maker Domenico Vacca, have found their way into the actor's closet. "[Vacca] is a guy who's from the east coast of Italy, a little place called Bari, and he comes from that brilliant Italian tradition of suit-making. I really respect him," he notes. The eight years as the character also left Piven with a bourgeoning love of luxury timepieces, specifically the Audemars Piguet Royal Oak, a piece that can often be found on Gold's wrist during the series. The Swiss watchmaker's classic timepiece quickly became associated with Entourage and its themes of success and luxury. Some even credit the show with introducing the Royal Oak and the brand at large to a new market of potential buyers that want to emulate the characters.
"I think the creator of Entourage, Doug Ellin, was a real big fan of that brand, and he went to lengths to showcase that watch. He's definitely a fan of the finer things. I'm a guy that didn't have a reference for watches and stuff like that. It's definitely the nicest thing I've ever had on my wrist, and I would just have it on during working hours. After the show, I became more of a fan of the brand," he explains. Audemars Piguet left such an impression with Piven that the actor went on to purchase an AP for himself. "I was never really a watch guy growing up, [but] I recently purchased an AP, and that was a birthday present for myself," says Piven.
If you're wondering what's going to happen in the final season of Mr. Selfridge, Piven is pretty tight-lipped, but he ensures that the finale will deliver a satisfying end to the series while also remaining true to the show's real-life inspiration. "I would never tell you the end, but the goal is to be as true to his journey as possible, but at the same time not make it so dark that it's unwatchable. That balance is really intriguing to me," says Piven, later adding, "I think it's the best season of Mr. Selfridge and the best season of anything that I've ever done of any series."
So what's next for our favorite Chicago thespian? In the short-term, nothing much. After long stints in the frenzied headspaces of Ari Gold and Harry Selfridge, Piven is hoping to take a break from acting for a while. He is also prepping for a turn in the director's chair. We have a feeling he won't stay away from acting for too long. "I'm developing a project that I love, and I'm taking the time make it happen," he says. Take your time, Jeremy. We will all be waiting.