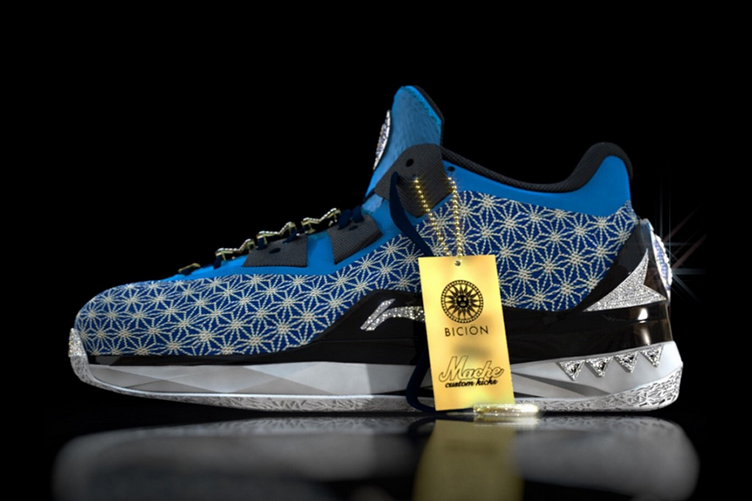 Would you wear $1 million on your feet? How about $4 million? New York's haute couture brand Bicion and designer Dan Gamache think you would, and have released the world's most expensive sneaker at $4 million. So what is it like to walk a mile in multi-million dollar shoes?
First of all, your feet will be surrounded by tailor-made white diamond pieces and blue sapphires set in 18k gold. These pieces are produced exclusively by Bicion's in-house jewelry engineers, naturally. The kicks will also be equipped with a solid gold tag with the Bicion and Mache Customs (house of designer Dan Gamache) logos. All of this will embellish Dwayne Wade's Li-Ning Way of Wade shoes. They have been named "The Fire Monkey," in honor of the Chinese New Year and to celebrate of the Year of the Monkey.
While $4million might still seem excessive, the proceeds will actually go to an incredible cause. The lucky owner of "The Fire Monkey" sneakers will have donated an extremely generous amount to Soles4Souls. The US-based charity collects new and used shoes and redistributes them to those in need.
The brand's mission states that "Soles4Souls is a not for profit global social enterprise committed to fighting poverty through the collection and distribution of shoes and clothing." The auctioning of these pricey sneakers not only will help them get shoes to countless underserved people, but it also helps raise awareness for the cause.
Subscribe to discover the best kept secrets in your city