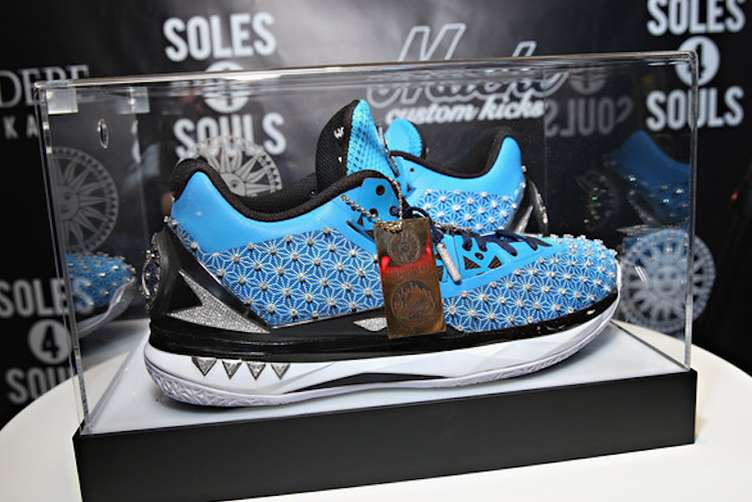 We recently wrote about Bicion's philanthropic $4 million sneaker. The brand collaborated with Soles4Soul, a US-based charity that collects new and used shoes and redistributes them to those in need. We simply had to find more about the brains behind this incredible collaboration. Haute Living got some inside information from founders Chris Kelly and Gurps Rai as well as designer Dan Gamache to find out more.
How did the three of you get together, and where did the concept for Bicion come from?
Chris Kelly: We at Bicion identified Dan Gamache as, if not the best, most definitely one of the best in the sneaker customizing game. In anything you do, you must surround yourself with the best and that's why we chose to collaborate with Mache Custom Kicks.
Bicion stands for Be, See, Own the concept was born from the diverse background of Gurps Singh Rai. He is the Chairman of our international holding company which is predominantly commodities mining based. He also has a deep rooted connection in hip-hop and pop culture. He saw the cross synergy between pop culture and the commodities business and wanted to showcase this with a luxury lifestyle brand. The idea is to use the diamonds and gold SDKA mines and wholesales to support a group of young talented creatives to create high quality luxury fashion goods from jewelry to sneakers and beyond.
We all know the $4million sneaker created for Soles4Souls, tell us about the broader collection?
Chris Kelly: Bicion has line of sneaker jewelry being released summer 16. Diamond aglets, dubbed AG Series 1-4, which are being called the Urban Cufflinks and then diamond lace bars that compliment the growing culture of high end custom laces. In the forthcoming winter Bicion plans to launch a premium duffel bag line and minimum runs of apparel.
What went into designing the $4 million sneaker?
Chris Kelly: We as a group we generally answer this question with the same opening statement, a year of blood, sweat and the occasional tears when a significant diamond piece went onto the sneaker lol. It was truly a global effort spanning our offices in Johannesburg, South Africa for sourcing the diamonds to Tel Aviv, Israel for manufacturing and engineering the diamond pieces to all the way back to our Bicion office in New York. Oh and not mention Dans work shop in Connecticut!
Dan Gamache:  When the guys reached out to me to be a part of this project they had the main ideas together already and I think just needed my touch and eye to details to bridge the gap between the sneaker culture and fine jewelry to make a great art piece. It took weeks and weeks of trips back and forth from NYC to CT to fit pieces, apply the pieces and ultimately make the end result live up to our high expectations.
What is your brand aesthetic? Name a few things you keep in mind every time you create a new pair of shoes.
Gurps Rai has an ideology that 'street culture' creates the trends and the fashion industry makes them famous. That way of thinking is embodied in Bicion. Everything we do is inspired by our global foot print, taking pieces of different cultures and then creating an urban deco aesthetic. The Fire Monkey project wasn't really a staple Bicion product so the world will get to see this summer the brands real look and feel.
Dan Gamache: Every time I make a custom pair my goal is to make it look to make it an organic design, make it flow with not only with the theme but also with the design lines on the actual shoe I'm using. It's very easy to try and force a theme or do too much on a shoe. it's a fine line to walk between not doing enough and overdoing it and I believe one of my strengths in my designs is that I straddle that line very well.
Describe the partnership with Soles4Souls and what your goal is.
Chris Kelly:  The partnership with S4S is born by the mission statement of our VC fund that incubates Bicion which is 'Human Elevation.' Gurps is a big philanthropist and wants to educate the consumers of all our VC fund companies about the issues around the world. After the sale of the sneaker we don't just plan on cutting a cheque and walking away from S4S. We actually have a 6 continent footwear give away planned with celebrity influencers who have cultural roots with each region to maximize the brand recognition for S4S and the impact of the donation.  
While sneakers and street-style is very on trend right now, what do you see for the future of luxury kicks? (How will you keep relevant)
Gurps Singh Rai: The luxury sneaker market is fairly new and has a lot of maturing and growing to do. We are in the process of creating a retail diamond sneaker product to raise the bar further in the luxury footwear industry. Bicion will for the foreseeable future push the bar of luxury sneakers like no other brand.
Who are some of your favorite celebrity clients?
Dan Gamache: Over the years I have had so many great opportunities to not only work with notable clients but also create friendships with many over time. I've done shoes for athletes like Lebron James, steph curry, Justin tuck, Damian lillard, CC Sabathia, Robinson cano, Dwyane Wade as well as entertainers like Wale, 50 cent, Kanye west, meek mill, a bunch of WWE superstars including the Bella Twins and Seth Rollins.
What do you think draws them to your brand?
Dan Gamache: I think word of mouth is a very huge component of my business, there's no better promotion than genuine co-signs from your peers. I can't tell you how many times an athlete will start a conversation by  "I got your info from my teammate and he says you do great work." I don't really promote myself except for showing my work on social media, everything else is very organic and I'm proud of that. Over 10 years of refining my craft and improving everyday shows in the work. It's not just that I do shoes for so and so, I'm also known for doing awesome work.
5 tips for how to take care of your luxury sneakers, how to make them last?
1. Definitely don't wear them to do yard work
2. Make sure you lightly clean them after wearing them, you can use a cleaner like Jason marrk or angelus for the midsoles and for the diamonds and gold a little polishing will go a long way!
3. It sounds funny but I avoid the grass like the plague, i try to stay on the pavement.
4. Also you need to know the weather conditions the day you plan to wear them, I always have pairs designated for foul weather days and a diamond encrusted pair definitely would not be in that rotation!
5. Lastly remember that you are wearing hand crafted wearable art! Just be very aware of your surroundings, avoid scuffing your shoes against curbs or anything abrasive…the shoes are meant to be worn but you also don't go off-tossing in your Bugatti!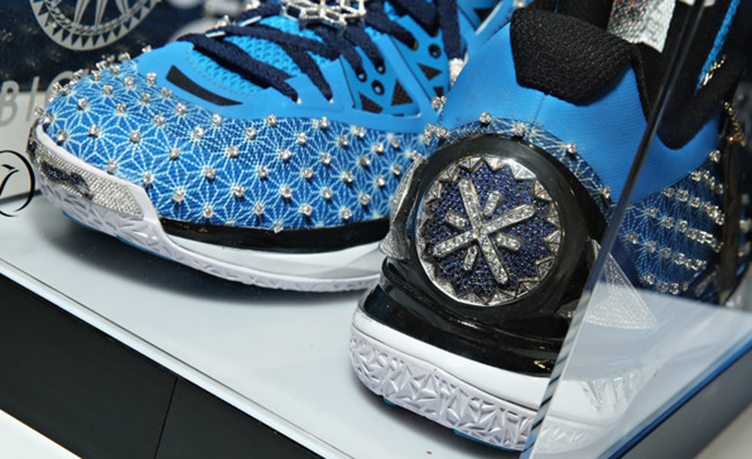 Subscribe to discover the best kept secrets in your city