Sports Illustrated made history with three different covers, including plus size model (and rugby league player in case you didn't know) Ashley Graham, high fashion model Hailey Clauson and UFC Bantamweight champ Ronda Rousey.
Haute Living caught up with the girls as their three covers were unveiled at the VIP SI red carpet launch in Downtown Miami.
The cover ladies were joined for a sunset SeaFair cruise by Gigi Hadid, Chrissy Teigen, Chanel Iman, Nina Agdal, Lily Aldridge, Rose Bertram, Hannah Davis, Emily DiDonato, Hannah Ferguson, Erin Heatherton, Samantha Hoopes, Robyn Lawley, Tanya Mityushina and Barbara Palvin.
"Every single woman that is booked for this magazine is cover worthy," said Managing Editor MJ Day. What HL loves about this issue is the collective beauty – in the pictures you don't just see a model, you see a pure celebration of women and their body." Beauty for SI is not a "one size fits all," and that is the cultural vital phenomenon of this issue. When casting each model, MJ and her team were looking for more than just beauty; they wanted girls that exuded brains, humility, strength, confidence and spirit—they wanted masterpieces and the girls delivered.
On deck, we got exclusive revelations from the top ranked models of the moment
Hannah Davis on wedding details, favorite shoot of the issue, her cheat meals, favorite bikini brand and her secret chill spot in Miami 
"My favorite shoot has to be the underwater pictures in the island of Tahiti. Yu Tsai is a genius and he really makes us feel comfortable on set. Being a part of SI another year is just as special. It's my absolute favorite of the year, my favorite client, just the most amazing group to work with. I also got to wear one of my favorite brands Mikoh swimwear. You know I get sent all these intricate bikinis from Instagram swim companies and I feel bad but I just don't wear them! When it comes to swim styles I just go for the simple, minimal ones that are going to leave me no tan lines."
"When it comes to cheat meals I'm definitely a chicken wings girl. Wait! And desserts, oh my god desserts, cookies, ice cream, Coldstone every chance I get. If I'm going to have something salty and savory I need desserts (don't tell my booker that!).
I've been good though, with the wedding coming up I have to be. If not Ms. Wang will kill me. You know, its funny, because when you don't give any wedding details people think it's not going to happen but Derek <Jeter> and I just chose to be private about it."
Rose Bertram on how to not be too sexy, fashion tips, when she's the most confident, and her thoughts on going full nude for SI!
"Last year I got bodypainted by Joanne Gair when we shot in the Virgin Islands and it definitely prepared me for this year. I realized I'm the most confident when, as simple as it sounds, I feel the most comfortable both inside and outside. I really put myself out there when it comes to social media. I'm on snapchat and Instagram from the moment I wake up, so I have to learn to be comfortable in my bare skin."
"I think it's really important to feel good on the inside because it truly shows in my pictures. When it comes to my style, I have to be careful because you know I have curves, so if I want to go for a sexy look one night, I make sure I'm not showing too much in both top and bottom. You have to pick one."
Hannah Ferguson on go-to items, beauty tips, booking her dream job, favorite Instagram accounts and much more
"Sports Illustrated is the main reason I started modeling in the first place. I went to the casting call and they were asking me how come they hadn't seen me before, so they gave me such a good feeling from the beginning. I got lucky.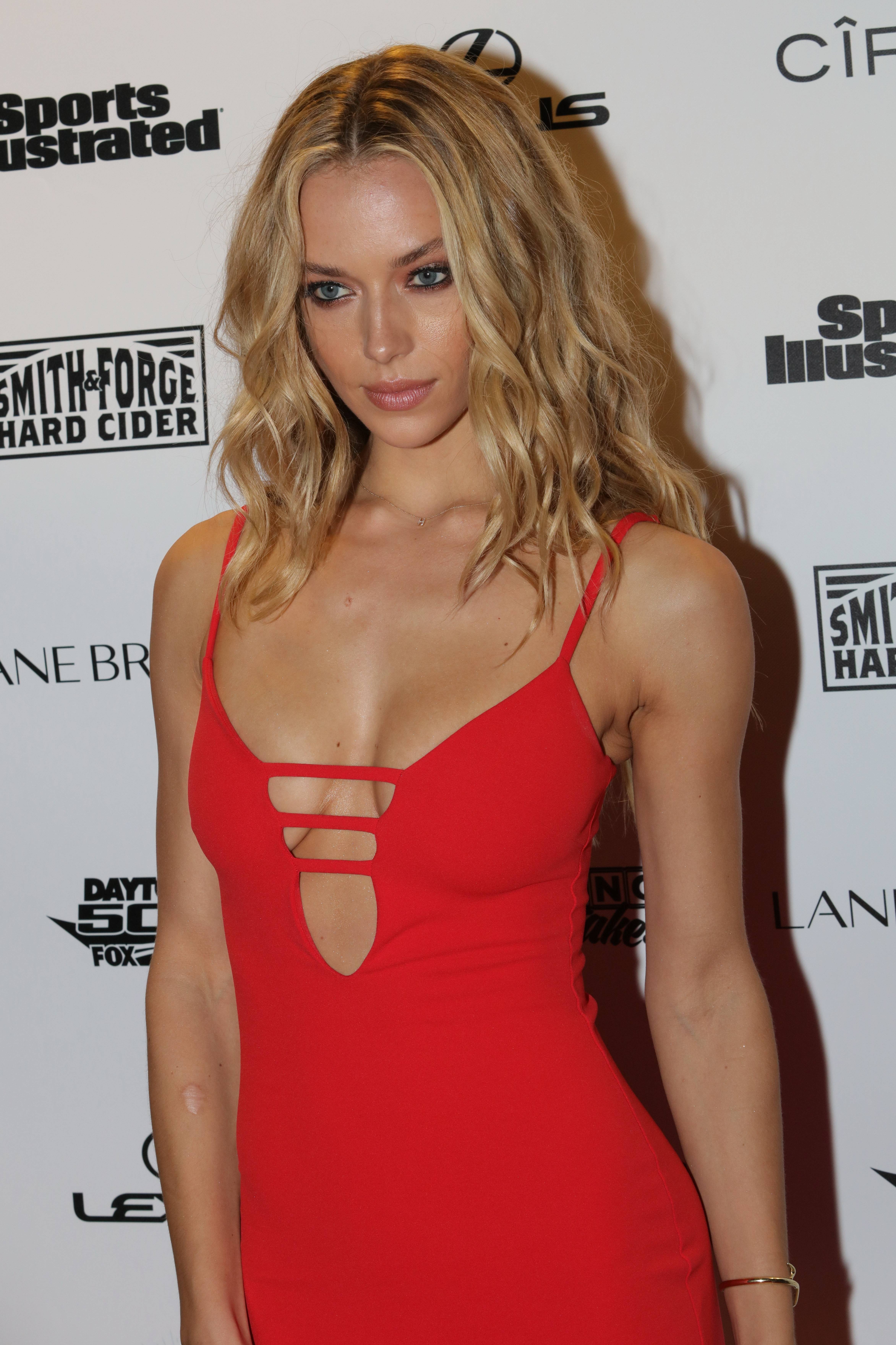 The best beauty tips I've gotten from the many makeup artists I've worked with have been about blending, contouring and layering. When you use eye shadow, many think that you have to use just one color, but if you do layers and layers it will give you so much depth and make your eyes stand out. Also, I just got in the mail the best "NAKED" bronzer. I love gold, deep brown shiny bronzers- definitely my go-to item at the moment.
"It's funny because I actually try to stay away from the spotlight. I'm not "the center of attention" kind of girl. I'm more of an introvert. After my castings I literally like to sit down in my couch and just look at fitness accounts where they post girls in bikinis with crazy bodies. @WhyModels, @Fitness and @90ssupermodelsdaily are my favorites- it really motivates me."
Chrissy Teigen made her debut with SI in 2010, got the cover in 2014 and this year she had a lot more to talk about than just her favorite bikini. We talked on why she wanted to give her hubby a little girl, ultimate family goals, baby names and how being pregnant has actually given her more energy than she could ever imagine!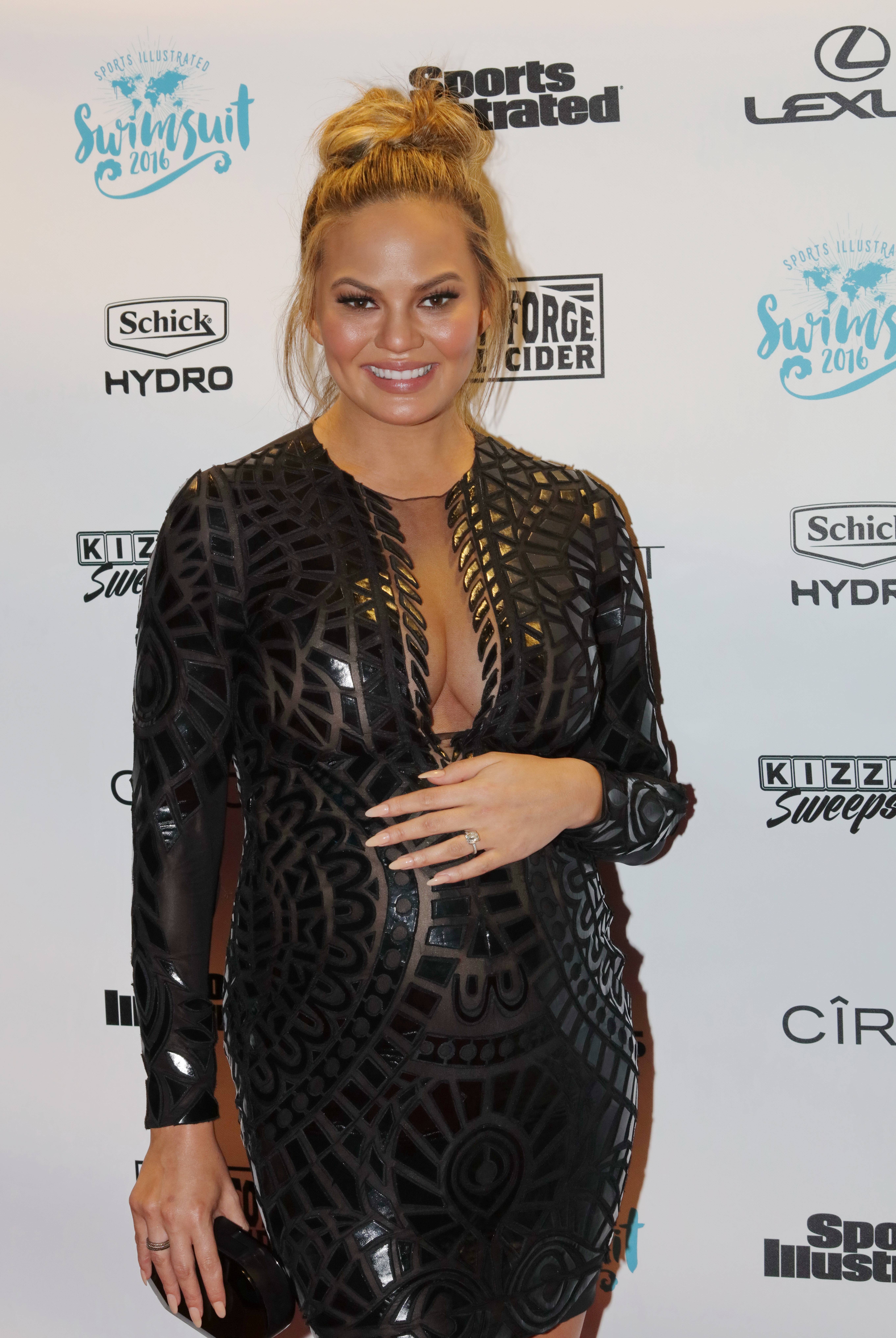 "It shocks me how good I feel the majority of the time. I have so much energy, I thought I would hit a wall but I never know when that wall is coming *she giggles*."
"With the baby on the way we have so much planning involved. We literally have narrowed it down to 20 names. It's a lot! At least we got the gender of the baby down. John deserves a little girl; he's going to be such an amazing father. I really just want those big family Sunday dinners. John is always travelling for his music and I'm working a lot as well, so I want to be able to find time for family reunions."
"I always look forward to the holidays. I want to live like those big Italian families, especially now that I'm feeling as light as a pregnant feather!"
Samantha Hoopes on personality traits nobody knows about her, her favorite part of SI, and how she became famous on Instagram 
"I love how SI promotes all shapes and sizes. It's so important for models and girls in general to know and love their body for how it is. You know, in the spread I'm with my bikini top off, and I look sultry and sensual but I'm actually super anti-social. I like to Netflix and chill with my dog and stay at home. But I do love my fans and I appreciate them so much, so I try to let go for them and give them what they want. I'm not the girl on Instagram that takes hours to do her makeup, hair and outfit. I literally get followers for posting pictures of me, just woken up with a bikini (or without one, haha). Crazy right? It's safe to say SI launched my career, and 90% of the models in it. I'm eternally grateful to them.