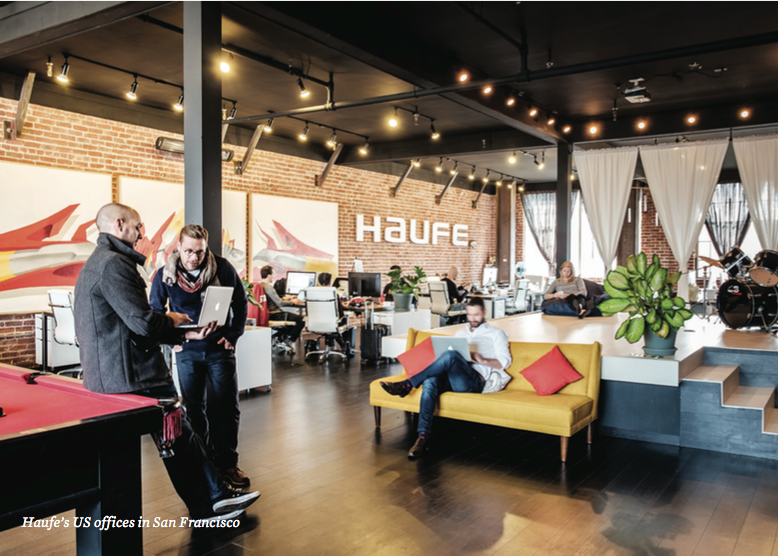 A few short years ago, a German company named Haufe set up shop in San Francisco, promising to bring a new kind of Human Resource service to the Bay Area and beyond. Leading the charge is Haufe's CEO, Kelly Max, a 21st century leader who was instrumental in making Reutax AG into Europe's fastest-growing IT company with 2,000 employees. Now he is implementing unique ideas for Haufe's Human Resource division, like putting himself up for re-election to keep his Chief Executive Officer title. "The idea is to give more power to employees. It starts at the top with leadership, putting ourselves on the line. In a way, we are asking them 'Are you guys still with me? Do you think I'm the right CEO for the next term?'" Fortunately, the answer was a resounding "yes," and Max earned 100 percent of the votes from their U.S. offices, and 95 percent from the company over all.
The Haufe Group is a 75-year-old company, with a relatively new focus on a new kind of HR. "Our goal is to strengthen companies from the inside through consulting, software and services," explains Max. Haufe helps their nearly 600 clients such as ZEISS, Medela, Zumtobel and Vice Media get more performance out of their employees, and ultimately, better balance sheets. "Haufe is about helping companies perform at a higher level and have more motivated employees from top to bottom. We help them funnel their creative power and energies of various individuals towards the success and vision of the company." Haufe spends a lot of time listening to clients, and then creating software to help them accomplish lofty goals.
Haufe's fees are results-oriented, showing just how certain they are that their efforts will increase their client's bottom line. "Rather than just selling software to our customers, we do a combination of software and service for which we get bonuses when profits go up."
Max has come up with a system of trust, transparency, partnership, and freedom—including both freedom to fail and freedom to succeed, which allows companies to foster innovation and get more out of their workforce. "In the U.S., a study revealed that 83 percent of the workforce are not highly engaged at work." Haufe aims to reverse these numbers to the benefit of everyone involved.
In short, Haufe helps create a team of intrapreneurs, which is defined as a manager within a company who promotes innovative product development and marketing. Max should know—he wrote the book on it called "The Grid: The Art of Intrapreneurship." Of helping companies evolve, Max says, "It's a rewarding and interesting process that we think changes the world for the better, one company at a time."