On December 17, 2015 Dream Hotel Group, the New York-based hotel brand and management company, announced the relaunch of Time Hotels along with the completion of their multi-million dollar renovation of renowned NY hotel The Time New York, located a few blocks away from Times Square on 224 W 49th St.
An elite destination for young creatives, business professionals, foreign travelers and New Yorkers, the luxury hotel underwent a complete redesign including a total makeover of its ample lobby, fine dining hall, guest rooms and VIP suites by the award-winning architecture and design firm, Rockwell Group.
Now, when entering the property guest will be pleased to find a contemporary and fresh environment inspired by modern art and conceptualism. One of the hotel's key highlights is the impeccably renovated twenty-five suites which feature brand new custom furniture such as Italian leather upholstered beds and wardrobes inspired by glittering jewel cases and artistic rugs in watercolor-style patterns. These lavish suites are masterpieces within themselves.
From the second floor, a light-filled reception area gives guests glimpses of the day lounge and bar areas. The lounge provides a communal work ing area for guests while the adjacent bar – defined by sculptural corset-style drapes – is where the Time brings out the party hats. On the lower level, near the entry and past the gorgeous glass elevator, the hotel's restaurant, Serafina awaits, featuring natural materials inspired by northern Italy's iconic warm color palette, together with a twist of modish luxury.

In the words of Jay Stein, interim Chief Executive Officer of Dream Hotel Group: "Time Hotel elevates the hospitality experience and sets a new standard for the lifestyle segment in New York City. Our friends and partners at Rockwell Group have created a welcoming and refined experience which will provide guests with a glimpse of what's to come as we grow and develop the brand around the world."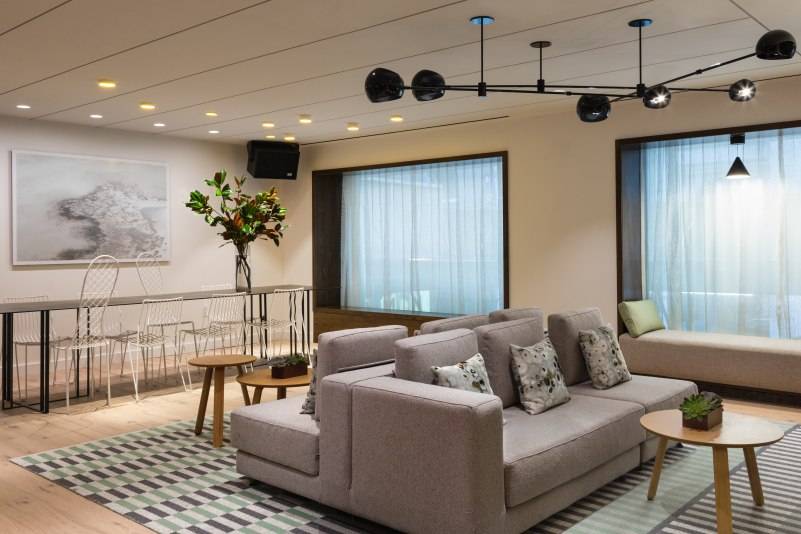 Start your luxe weekend right and go visit Time's chic new installations.
Subscribe to discover the best kept secrets in your city