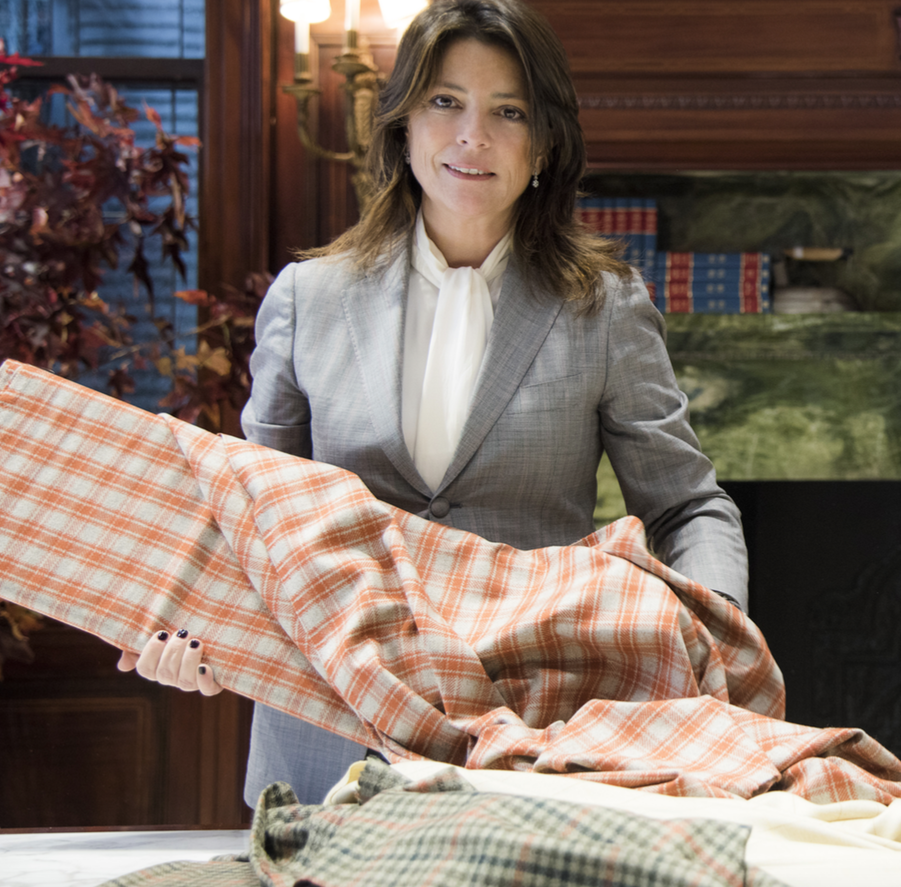 Maria Giovanna Paone's father Ciro began making menswear over 40 years ago in Naples. Next on the docket: a more refined approach with the spring relaunch of Kiton For Women, complete with that all important "It Bag."
My father is a genius to me," says creative director of the Neapolitan sartorial brand, Kiton, whose handmade men's suits can go for up to $10,000. It's clear that family is a priority for Maria Giovanna Paone who grew up in Naples with her sister who is also part of the company (in human resources). "My father had a stroke a few years ago and since then I've take on much of the responsibility," she says emotionally. My father is a strong person with a very young way of seeing life," she continues, he is still very much involved in every aspect of the business. He always thought of me as the one that is more like him," she admits.
The 47 year old Italian company with the very anti- Italian name is beefing up the woman's collection start- ing in spring, adding an "It bag" eyewear, and buttery leather trench and of course the all important jacket which is the cornerstone of the brand. "Our woman is a strong lady; she's powerful and definitely not the wife of our male customer. She has her own identity and she knows exactly what she wants. She understands quality and she wants the best for herself." The brand's quiet luxury becomes self-evident with wearing the garment— the user experiences a progressive love affair as the as the discovery unfolds. That is the beauty of the non-trendy, Kiton. " We have distinguished the women's collection from the men's but with distinct elements from the masculine side like traditional silk tie fabrics fashioned into women's blouses. We create exclusive fabrics— the design really starts with the fabric," adds Paone, hinting at her father's fabric merchant origins. "Our mill— Carla Barbieri Mills, develops the most innovative fabrications," she says. I like to play with color for the women's wear and pair it in unusual ways," says Paone.
The name Kiton was dreamed up by Ciro Paone, a 5th generation fabric merchant who invented the moniker because he wanted a strong name of ambiguous origin. It's derived from the Greek word for robe called Chiton. Their made to measure suits are some of the world's finest worn by CEO's and celebrities alike. George Clooney has suited up in Kiton as well as others. Paone purchased a townhouse on East 54 St in New York's midtown which Maria Giovanna calls "the palace". "My father saw this building 25 years ago. At that time it was the Banco di Napoli. He loved it and so when it came up for sale twelve years later he bought it. He's a visionary because at the time everyone thought he was crazy— we couldn't afford it. But he had his mindset and now after 15 years we finished paying it off and we own all the floors. It taught me, if you want something with a passion— it can happen," she says.
Maria Giovanna is dressed in an impeccably tailored understated pantsuit, an homage to her men's haberdashery roots. The rare trip to New York is to relaunch the women's collection and tell the story of her father's self-made company. In a mahogany paneled room with a massive banquet table she pulls out bolt after bolt of men's suiting fabrics—expressing excitement for each and insisting on feeling the hand of the material. The boutique is more townhouse than New York flagship and the interior is akin to walking into a home of a wealthy patron with its marble floors and spiral staircase. Although it is lavish, it also feels quite homey and as customers enter they are greeted with a warm Italian, Bon Giorno! Or Buena Serra!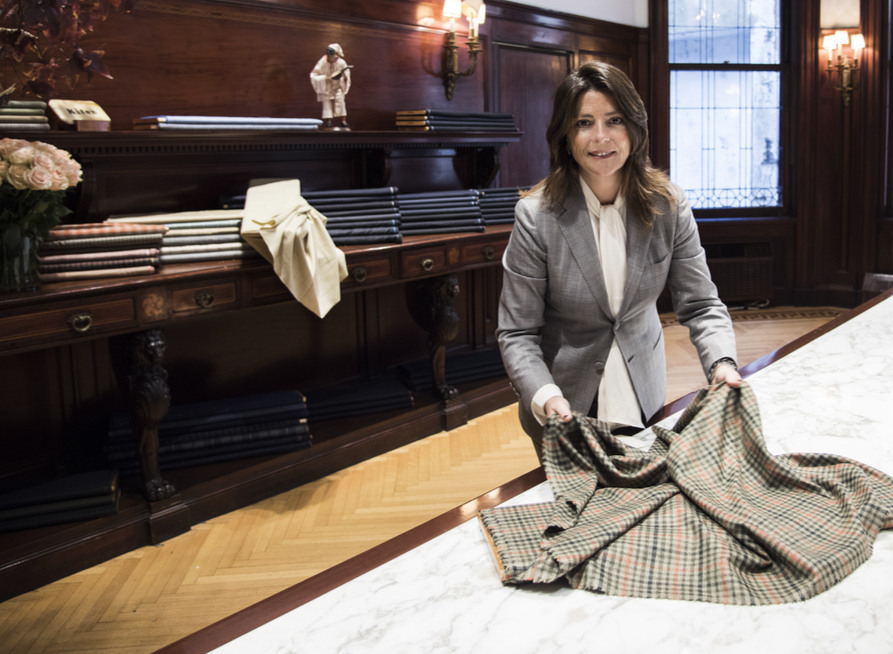 Kiton has 50 stores worldwide and are embarking on more in Houston, Texas and Zurich, Switzerland next. Her cousin, Antonio Paone is the President of Kiton USA where they have more of a presence than in Italy. Ms. Paone's wants to see the women's grouping have equal status as the men's which is a tall order considering Kiton is known for masculine power suiting. "Now that my children are older, I can dedicate more time to the company. My dream is to have the women's collection on the same footing as men's," she says.
But menswear isn't the only passion her father, Ciro held dear. " My father loved art from early on. He would bring home art books because he couldn't afford to buy pieces. As soon as he started making some money, he began investing in artwork, and antique furniture. He'd go to auctions at Christi's and Sotheby's and looked for beautiful things but also something unique and original. One time I recall, when I was I was 20 year's old— he bought a Scottish wedding suit complete with kilt, the sporran and coat. I couldn't understand why he bought it at the time but I realized, he wanted to gain understanding of Scottish tailoring. He displayed it in a corridor and each time I passed it, I gained more of an appreciation for it," she recalls.
Because each suit requires up to 25 hours of labor, and artisans, even in Italy, are a slowing loosing to a machine culture, they started the Kiton School of Tailoring to carry on traditions that are creeping to a halt. "It's a three year long course— students don't pay. At the end of the course, the best students get to stay on to find a job at the company. Each student specialized in one part of construction—the sleeve, the body, the lining," Ms. Paone says. The only "machines" that are used in our factory in Naples are needles, thimbles, and shears as their web site can attest with musically accompanied video revealing close ups of working hands meticulously marking fabrics with chalk. It is abundantly clear that the linchpin of the brand is human hands that diligently create the garments as it was done a hundred years ago. Some things never go out of style.
"We have 300 tailors, and 150 employees in Naples. We are lucky because we are a big family and many of us are involved in the company," says Paone. "You need people who love what they do. Working with family is joyful but you have the contrast of sometimes arguing. But we shout and then everything is over and done," says Paone. "I think that family is the real fortune of the company," she states. Based on their plans for expansion, the luxury customer is in full agreement with this sentiment.
Subscribe to discover the best kept secrets in your city