Michael and Xochi Birch don't do anything small, or so it seems.
After the husband and wife sold their social networking site, Bebo, to AOL for $850 million in 2008, they didn't buy just any house, they purchased a towering, five-story mansion on Pacific Heights's Billionaire's Row (that wasn't even on the open market yet) and hired decorator extraordinaire Ken Fulk to outfit the estate in his inimitable style.
The Battery, the haute 2-year-old private club and hotel they built in San Francisco, dominates its Jackson Square neighborhood at 58,000 square feet and upped the city's hip factor, thanks again to Fulk.
"We didn't want to dip our toes in the water and buy a little building and say it's a private club," explains Michael, who hails from outside of London, England, the birthplace of private clubs. "[We thought], if we're going to do it, we need to build one on the scale of the London clubs, do it properly and make it as good as we can make it."
Their spacious, personal tech incubator, Monkey Inferno—designed by you-know-who—features a bar, an iPad-controlled entertainment system, a massage room, a ping-pong table and service from a private chef. Then, there is the Birches' sprawling, nearly 600-acre spread in Sonoma, where they recently threw a memorable Old West theme party to celebrate their 21st wedding anniversary and to unveil their new vineyard estate to 400 of their closest friends.
Must the Birches do everything so large?
"The fish n' chips shop is pretty small," Michael, 44, answers sheepishly. "It's take-away only."
Their fish n' chips shop is in Woolsery, North Devon, about four hours west of London and where we caught up via Skype with the Birches in August during their European holiday with their three children, Isabella, 16, Joseph, 14 and Devon, 7.
"It's quite funny having Devon here because whenever we say his name, people look at us very strange," Xochi, 43, says.
Despite the popularity of the name in the United States, "No one in England is called Devon, because it's a weird name," Michael explains. "It would sort of be like calling a child Ohio or something."
Of course, no one in Woolsery thinks the Birches are odd; in this village, they are considered saviors. Last October, the couple bought The Farmers Arms pub, which had closed in December 2012, leaving the regulars with a three- mile trip to the nearest tavern. They also purchased the village's Manor House, which had been closed for eight years. The duo plans to restore the pub to its former glory and return the Manor House to a hotel, with 19 rooms, a landscaped courtyard, a café and an adjoining "village green area."
Michael has been coming to the village every year since he was born and still has relatives there. His ancestors once owned most of the village before it slowly got sold out of the family. His grandmother was born above the village shop his great- great grandfather built, which remained in the family until it was sold in 1961. When he heard the pub closed, the tech titan knew he had to take action.
"Woolsery is a place that I was always excited to visit as a child," Michael enthuses. "[It's] my spiritual home. I have a deep sense of connection, a place with real community."
Purchasing The Farmers Arms and Manor House are just two of the ways the Birches are using their tech windfall to help others. Tall, lean, fair-skinned and with long mousy-brown hair, Michael is a striking contrast to the shorter Xochi, who inherited her dark complexion and shiny black hair from her parents, whom are both of Mexican descent. He's loquacious; she chooses her words more carefully. Together, they make quite a formidable team as husband and wife, business partners and philanthropists.
They met at a bar in London— "which is somewhat appropriate given that our lives revolve around bars now," he quips—when she was an 18-year-old business major doing a study abroad program at the University of London, and he was a 19-year-old physics major at Imperial College London. After dating for four months while she continued her studies, they endured a four-year, long-distance relationship after Xochi, who grew up in Pittsburg in the East Bay, returned home. They wed at Saint Mary's College Chapel in Moraga in 1994, and Xochi returned to London with her new husband.
But, life was far from grand due to their tech start-up flops—Lemonlink, a self- updating address book, Friendly Wills, which helped people create wills online, and Babysitting Circle, designed to connect parents who would babysit for one another. Although the Birches were forced to mortgage their home twice and were living month to month, the couple never grew discouraged, for with each failure, Michael, the tech wiz, learned more about coding and design.
"The key is knowing when to give up," he says. "You think, oh, maybe if I do this it will work and maybe if I do that, it will work. Eventually you realize you're being delusional, and it's just not working. When there are enough signals that your premise was wrong, just move on to the next thing. It's not like you give up on life; you just give up on that idea and then come up with another one."
In 2001, that something-is-bound-to-work mentality spurred them to launch their first successful web business together, BirthdayAlarm.com, a birthday reminder and e-card website they continue to own. Still, times were tough. By 2002, they had two children and decided to leave Richmond, in suburban London, to move in with Xochi's parents in the Bay Area, where they lived for the next six  months. They had not yet rented their place in the U.K.
"Those were difficult times with two small kids and not knowing how we were going to pay the next month's mortgage," Xochi recalls. "We went through a couple of years of not knowing how things were going to pan out."
It took some time, but eventually things panned out quite well. Ringo.com, a social networking site they sold for private stock in 2003, led to the creation of Bebo, which, at its peak, had 45 million users worldwide who spent an average of 30 minutes a day on the site. At the time of Bebo's sale to AOL in 2008, the Birches felt they had taken their 3-year-old site as far as they could.
"We did feel that Facebook was beating us, and so we thought we've kind of probably lost faith for the long term," Michael says. "We thought it would be the time to sell, and in hindsight, it turned out to be a great time to sell."
Xochi gave birth to Devon a few months later, and in December of that year, Michael underwent open heart surgery when a long-term benign defect suddenly became dangerous. Afterward, he changed his status on his own Bebo page to read: "I survived open heart surgery! Woohoo!"
That's the kind of personality he has. Xochi is more reserved. The two never try to compete, regardless of the arena. The risk takers were the first mentors of Julia Hartz and Kevin Hartz, the husband-wife team that, along with Renaud Visage, co-founded Eventbrite. The Hartzes (Julia is featured on page 34) sought guidance on how to be successful co-founders while remaining married and in love.
"The advice we gave them was to divide and conquer," Michael says. "It's dividing up responsibilities so you're not both working on the exact same thing. You're saying, 'I'll take care of this part of the business and you take care of that part,' which you do if you're married. It makes the overall challenge a little less, because you're not worrying about every aspect of the business."
Michael tends to handle the technical product side, while Xochi handles everything else—as long as it isn't sales, a weak area for both.
"Usually, it's whoever cares most about the outcome of the particular project, they get to control it," Xochi adds. "We have different kinds of skills and interests, so it works out naturally without us really arguing about it or debating it."
While Xochi worked as a programmer for six years in London after the couple wed, "she never loved it," Michael confesses. "It was never a passion for her, but it was very useful that she understood it, because it made running an internet company that much easier. She was happy to leave that part to me, and then I hate anything to do with legal, finance, operations or people problems. I left that to her."
Their personal incubator, Monkey Inferno, employs about 22 people, mostly programmers. Some are currently working on turning Birthday Alarm into a Paperless Post-type website related to greeting cards. Others are on the Bebo team. After AOL ran Bebo into the ground, the Birches famously bought it back for $1 million in 2013, and last December, relaunched it as an experimental chat app with animated characters that can be brought to life with hashtags. The public gave the new app a resounding meh. Sent back to the drawing board, the team came up with what everyone at the incubator hopes is the next big thing, Blab, a live streaming app that allows four people to meet virtually and have a conversation; the app was released on the iTunes store on Aug. 17. The platform also includes a chat room where other users can watch or join the conversation.
With a team under them, they are free to explore other avenues. Michael has married his two worlds and developed hospitality software—The Battery is currently operating as a guinea pig as the Birches created most of the software currently in use at their club—that Michael hopes to license to other clubs in a year. They are also having a bus restored and outfitted with a bar, of course, to carry their club members to wine country. They've even started making their own wine, Moon Hollow. Add marketing and selling wine to their ever-growing agenda.
"Our lives have been tech and our children," Xochi says. "I feel that with the start-ups, we didn't have time for anything else. Now, we're doing a lot more together around philanthropy, The Battery, as well as working on [our projects in] Devon. Now we have new, more interesting projects."
When it comes to giving back, the Birches both display the passion and exuberance of start-up entrepreneurs. It wasn't until they sold Bebo—together they held a 70 percent equity stake and walked away with $595 million—that they had any real money to donate. They latched on to Charity Water, a nonprofit that provides clean and safe drinking water to people in developing nations, and where the Birches have invested $10.5 million. When Xochi turned 40, in lieu of gifts, she asked her friends to donate to the organization instead; her campaign raised $20,850. While the Birches built The Battery to fill a void in San Francisco's nightlife scene—Michael and Xochi are often there, mingling with members— altruism fueled their desire as well.
After getting their private, members-only club off the ground, they had a coffee date with Lynne Benioff, who came up with the catchy name, Battery Powered, for their giving program, and helped them develop how it operates. It goes like this: members choose a level—High Voltage, minimum $100,000 annual contribution for a couple; Battery Couple, $20,000 minimum annually per couple; or Battery Powered, $4,000 minimum for an individual—and their donations, made in thirds, go toward a theme which changes three times a year as well. Givers at all three levels can nominate the nonprofit organizations to receive the funds raised, but only the High Voltage members can select the themes, which address a mix of local and global issues. It's a format that allows the charitable supporters to discover and combine personal passions with collective influence for social impact while going deep in one area.
"Our tagline is 'Activating Generosity' and that's what we're trying to do," says Xochi, who also sits on the board of WildAid, that's mission is to end the illegal wildlife trade in our lifetimes. "We are trying to bring the members together and to have them experience and discover a new area, which they wouldn't normally have access to."
Since Battery Powered launched last fall, there have been four themes: San Francisco's future, the California prison system, extreme poverty and the ongoing early childhood education. Experts visit the club for discussions; additional talks are also offered, such as one on where Marc Benioff, Ron Conway and Kat Taylor spoke about philanthropy shaping San Francisco's future. In June, the Battery Powered program reached its biggest milestone yet when it gave an unprecedented $1.3 million to organizations working to end extreme poverty by 2030.
"When it's something you're passionate about, that's when everyone else's money goes towards your theme, and then when you're not passionate, your money is giving back to someone else's passion," Michael says. "The idea with the money is kind of, what goes around comes around. We thought, this is a great way of experiencing philanthropy together."
Togetherness is a word that clearly characterizes Michael and Xochi Birch, who stuck it out through tough times to reach the top. While they may live high on the hog, in their ever-hospitable style, they always welcome others to join in.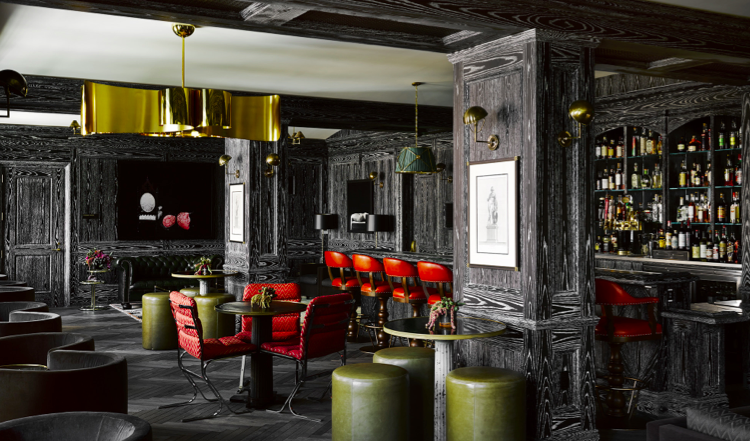 Subscribe to discover the best kept secrets in your city