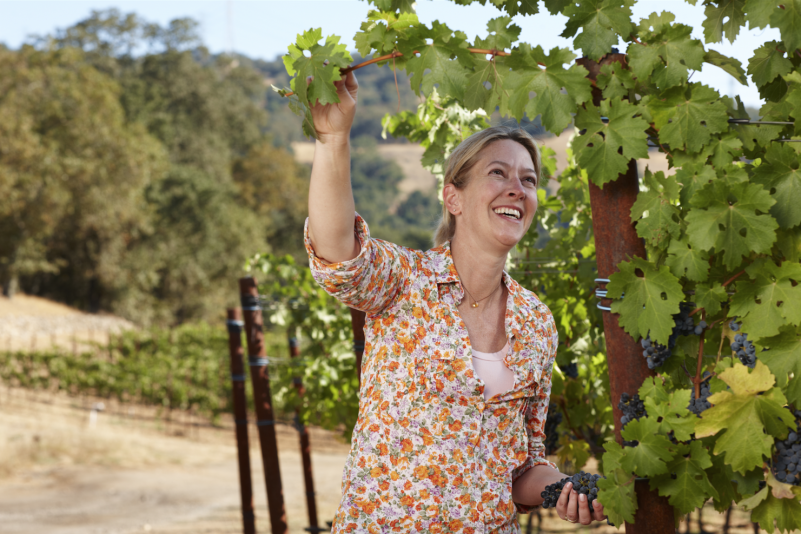 Susan Lueker, Director of Winemaking at SIMI Winery first started at Hacienda Winery, a 20,000 case family winery in the Sonoma Valley, which gave her an unequalled hands-on experience.  She took that experience on to Kendall Jackson before spending eight years at Dry Creek Vineyard where she developed an intense love of Zinfandel and Sauvignon Blanc. In the fall of 2000, attracted by SIMI's reputation as an industry leader in winemaking technology, she joined the team at SIMI. At SIMI, she directs the day-to-day winemaking processes, works with growers and vineyard managers to obtain the highest quality Sonoma County grapes, and assists marketing and sales in promoting the unique beauty and diversity of Sonoma County wines. In addition she gives special attention to my varietal favorites: Pinot Gris, Viognier, Sauvignon Blanc, Petite Sirah and Zinfandel.
We caught up with Susan on her favorite SIMI wines, pairing suggestions and what we can expect from the SIMI winery's haute chef, Kolin Vazzoler.
Since you studied viticulture, does that make your approach to wine more scientific? What can you tell us about your method to winemaking?
"After some serious soul searching and counseling from my father, I decided to transfer graduate schools moving from John Hopkins to UC Davis to pursue an entirely different field – enology. Right after I attended my first enology class and visited the vineyards, I knew I wanted to be a winemaker. I love the vineyard, and how viticulture blends the interactions with people, nature and science. I graduated from the University of Missouri with a minor in chemistry, so I have always had a bit of a science background. Applying the study of viticulture and chemistry at a small winery really allows you to do everything from vineyard thinning, sampling, experimentation, pump maintenance, winemaking, problem solving, sensory analysis, blending and bottling line production – many of which have scientific fundamentals. I think science is all about being curious and observant and testing theories. Those are definitely involved in my approach to winemaking. We love to experiment with process, barrels and yeast. This year we're looking at a tool to measure sugar development in grapes and berry volume changes during ripen. This helps to determine physiological ripeness vs. sugar accumulation.  There's a bit of nerd in every winemaker."
What is your favorite Red and favorite White from the SIMI collection?
"I often find myself reaching for a glass of SIMI Sauvignon Blanc. I love the crisp, bright flavors of the fruit, and the vibrant, citrus finish.
I love the boldness of the Landslide Vineyard Cabernet Sauvignon. Landslide has a great balance of dark fruit to bright fruit, and is structured and elegant. Its balanced acidity makes the wine very food friendly. It's one of my favorites year-round!"
Susan's haute pairing suggestions:
Whether you pair with a picnic or bask on the beach, the crisp, invigorating tastes of SIMI prove to be the perfect pairing for any summer activity. For the outdoor aficionado, Susan suggests the SIMI Sonoma County Sauvignon Blanc, noting that the wine's "bright acidity and fresh fruit character is the perfect pair for picnic fare of goat cheese and lightly smoked meats."
For sunny, seaside entertaining Susan recommends the SIMI Russian River Chardonnay paired with the traditional East Coast lobster roll, as "the lush and intensely flavored fruit from the Chardonnay has the weight and sweetness to match the flavor of the lobster and hints of butter and creaminess."
Tell us more about the SIMI Wine Club, how can we become haute members?
"We have an amazing winery with so much history and unique appeal that we wanted to share the goods with folks who enjoy our wines.  We also have a fabulous chef; the combination of beautiful grounds and amazing food and wine with decided it was too good to keep to ourselves. Wine and food are always better when shared with people of like minds so that philosophy gave birth to our wine club.  We have annual events from winemaker dinners, release parties, lobster feeds and barrel tastings. There's always a party happening here. I love making small lots for our club member.  We produce at least 8 wines from 125 cases to 400 cases just for our club members.
You can sign up to become a wine club member on our website, http://www.simiwinery.com/Wine-Club or in our tasting room next time you are in Healdsburg!"
What can we expect from Chef Kolin Vazzoler's kitchen?
"Chef Kolin is an expert at creating dishes that complement our SIMI wines. The SIMI Sonoma County Pinot Noir pairs perfectly with Chef Kolin's signature recipe for homemade pizza with roasted mushrooms and tomato sauce. The fruit-forward Pinot Noir delivers a bold flavor that balances the savory ingredients in Kolin's recipe quite nicely. This is one of my favorites for early fall – and a great comfort choice for those chillier autumn nights!
The SIMI Sonoma County Chardonnay is the perfect accompaniment to Chef Kolin's fava beans. The bright, crisp flavors of the chardonnay match nicely with the refreshing zest of the fava beans. This is one of my favorite fall appetizers, and a healthier snack option as well."
Subscribe to discover the best kept secrets in your city