Photo Credit: Kelly E. Carter
We know Mike Krzyzewski, the coach of the reigning NCAA champs Duke Blue Devils and the winningest coach in college basketball, has a great hoops mind, but we didn't realize how prescient he is too until August 8th when he told the benevolent crowd at the V Wine Celebration gala dinner at Nickel & Nickel winery in Oakville, "Something incredible will happen here tonight, and it's going to be the biggest night that we have ever had in the Winning Celebration." By the time the evening, highlighted by a spirited auction that was reminiscent of Jim Valvano's passion for living, had ended, the 17th annual fundraising event had shattered its own record by bringing in more than $10 million for cancer research. Haute Living was on the scene for the three days of fabulous festivities, which benefit The V Foundation for Cancer Research, started by Valvano, the late North Carolina State basketball coach turned ESPN commentator, and ESPN in 1993.
The weekend included a cancer research symposium, dinners at B Cellars, Joseph Phelps Vineyards, Raymond Vineyards and Silver Oak Cellars, along with a members-only Humanitarian & Founders Dinner at Gail and Carmen Policy's Casa Piena Winery, a Club Red after party at Raymond  Vineyards, the Presidents Club & Vintner Grant Honoree Luncheon, honoring Rick and Elaine Jones, sponsored by Bentley Motors at HALL Wines, a party on the lawn of V Marketplace featuring famed restaurateurs, chefs and vintners, plus a connoisseur wine auction and dancing to Project M. Duke University was well-represented with about 40 people, including former basketball stars Grant Hill (accompanied by his singer/songwriter wife Tamia), Jeff Capel (now the associate coach), Shane Battier and Mike Dunleavy Jr., and other notable alums such as Capel's wife Kanika Blue Capel and Eddy Cue, a Senior VP at Apple. ESPN and ABC Sports commentator John Saunders, along with ESPN executives, were also on hand to help raise money for the charity that touts a four star (out of four) charity rating for its sound fiscal management and commitment to accountability and transparency.
One hundred percent of The V Foundation's direct cash donations are used to fund cancer research. While The V Foundation funds research for all types of cancer, pediatric brain cancer was the focus for this year¹s fund-a-need. Going into the weekend, The V Foundation, in its 21-year-history, had raised the funds and awarded more than $130 million in cancer research grants, in turn, leveraging more than $1 billion in additional funding. The foundation has awarded more than 500 grants to over 120 institutions nationwide, including 55 grants for pediatric cancer research at institutions that have totaled more than $15 million to date. To put it perspective what this past weekend's $10 million+ take is, consider that last year's $4.7 million was the record. The $9.4 million raised two years ago included a gift of $5 million.
Photo Credit: Keith Rosenthal
"There are rare times in life that feel like everything you have done before led to this one moment," said Julie Allegro, co-founder and chair of The V Wine Celebration. "Tonight was one of those times. The feeling in that room – the excitement, the tears, the energy – was palpable. I think everyone felt it. And together, we exceeded our wildest goals, raising over $10 million that will surely lead to big strides in finding a cure to cancer."
Krzyzewski and his wife of 46 years, Mickie Krzyzewski, hosted this year's event. On stage at the gala, held under an elegantly-decorated tent, Krzyzewski showed why he could have easily been a comedian instead of a coach. He didn't miss an opportunity to zing Bob Lloyd, Board Chair Emeritus of The V Foundation, a current board member and Valvano's former college roommate at Rutgers University, or sons-in-law. Coach K, as he is known as, also wants to change the name of the V Wine Celebration to the Winning Celebration.
There was only praise, however, for Beth Nickel, the wine proprietress of Far Niente, Dolce, EnRoute and Nickel & Nickel who lost her husband Gil Nickel to cancer in 2003 and hosted the V Wine Celebration gala for the 11th year. "For over a decade, you've been here and opened up your home," Krzyzewski said. "You've put this big tent—and it keeps getting bigger, hopefully it will keep getting bigger. We've raised millions and millions of dollars here; but what we've also raised is hope. As much as you're growing grapes here and producing great wines, the main thing that you've done is produce a venue where we can give people hope. That's what the V Foundation is about. When we change this Wine Celebration—it will still be a W—but I would like to name it Winning Celebration. It's a winning celebration because that's what the V Foundation has done.
"…It's done what Jim wanted it to do. It's found cures. Jim was all about winning. That's why this foundation was formed. Instead of being in his hospital room and saying, 'I'm going to die,' he said, 'I'm going to win.' As a result of that, hundreds of people and millions of people in the future will win thanks to Bob and his group of scientists."
Before the auction began, Krzyzewski, a five-time NCAA champion, got the crowd ready by telling the story and showing a video of Grayson Allen, his eighth man who played an integral role in Duke winning the national title. The final numbers are proof that Coach K's words worked. The seven top live auction lots were:
Huey Lewis in Big Sky Country, $180,000
The Cruise of a Lifetime, $150,000
The Ultimate Cameron Crazy Weekend, $150,000
Sports' Biggest Awards Night The ESPYs, $100,000
Far Niente & Bentley EnRoute to Concours d'Elegance, $90,000
SWAT: Special Weapons and Tee Times $95,000
The Ultimate 3-Liter Cabernet Connoisseur Collection, $85,000
Photo Credit: Keith Rosenthal
Hand it to the auctioneers for knowing how to create a bidding war and the music adding to the energy that filled the tent. When it came time for the fund-a-need portion, an unprecedented $3 million matching grant from an anonymous donor also challenged bidders. A chart on the video screens kept everyone abreast of the goal. No sooner did bidding get underway that a woman clenching paddle No. 700 sprang to her feet to get the gifting going with $500,000. From there, the auctioneers couldn't say the paddle numbers fast enough for there were so many people eager to give various amounts of cash.
The memorable evening began with a hors d'oeuvres reception and Super Silent Auction inside the Nickel & Nickel winery barrel chai. Guests sipped JCB  No. 21 Brut Cremant de Bourgogne and nibbled on bites as they decided which items to bid among the selection of authentic, high-quality sports memorabilia, amazing wine selections, limited-edition signed masterpieces, vintage photographs, fashionable clutch purses, fine-dining experiences and accommodations in luxury hotels.
The sit-down dinner included a five-course gourmet meal paired with Nickel & Nickel wines preceded the auction. Following the auction, Huey Lewis & The News took the grand stage to perform under the stars. "We used to be a beer and hot dog band," Lewis said to the crowd. "Now we're hanging out with the wine and cheese set."
From Napa, Krzyzewski headed to Las Vegas for a mini-camp to start preparing the 2016 Summer Olympics in Rio de Janeiro. Last summer, he coached Stephen Curry and Klay Thompson of the NBA champion Golden State Warriors on the winning 2014 FIBA team. "They're incredible guys and those two guys will be down in Vegas and hopefully a part of our Olympic movement," the coach said. "Congratulations to them."
And congratulations to The V Foundation for Cancer Research!
Portrait of Jimmy Valvano
Mickie and Mike Krzyzewski
Bob Lloyd, Mickie Krzyzewski and Mike Krzyzewski
Charlie Stiefel celebrates after winning the Monday Night Football auction lot, which includes four tickets to the Green Bay Packers vs. Kansas City Chiefs game in Green Bay next month.
Naoko Dalla Valle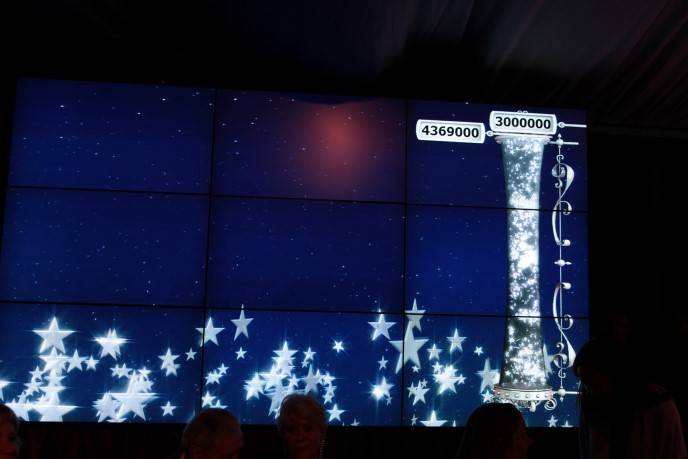 The screen shows that the fund-a-need has exceed the $3 million goal.
Maine lobster medallions
2008 Dolce, Napa Valley
Huey Lewis and The News
Huey Lewis and The News
Hors d'oeuvres reception and Super Silent Auction
Hors d'oeuvres reception and Super Silent Auction
The Ultimate 3-Liter Cabernet Connoisseur Collection sold for $85,000 at auction
Grant Hill, Jeff Capel and Fred Perpall
Jeff Capel, Kanika Blue Capel and Fred Perpall
David Duncan of Silver Oak Cellars, with his team promoting their auction lot of a cruise to Alaska via the Canadian coast aboard the Duncan family's own 122-foot luxury yacht, appropriately names the "SOC."
Dr. Joseph Moore of Duke Cancer Institute, receives a sports stars' welcome.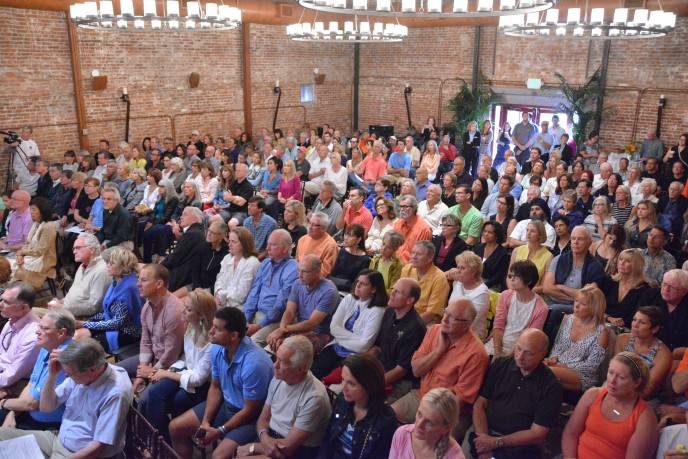 Cancer Research Symposium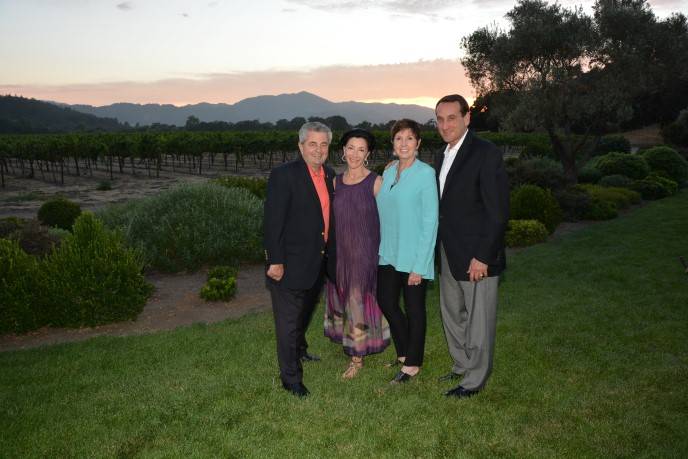 Carmen and Gail Policy with Mickie and Mike Krzyzewski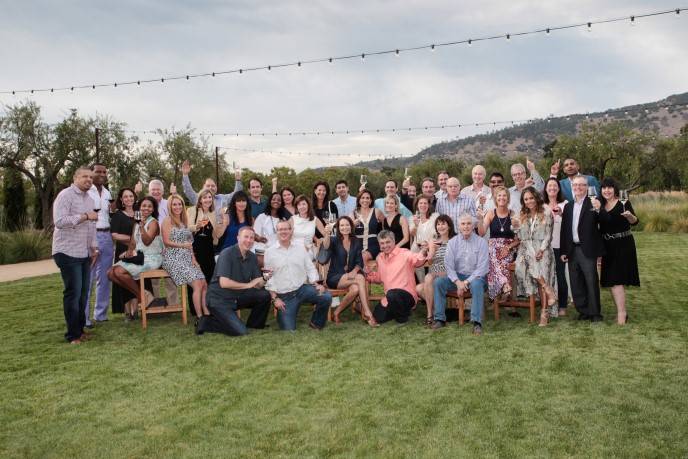 The Duke University contingency
Luncheon at Far Niente
Elaine Jackson, Beth Nickel and Mona Morello
Jean-Charles Boisset, Gina Gallo, Jeff Capel, Kanika Blue Capel, Mickie Krzyzewski, Tamia Hill, Grant Hill, Mike Krzyzewski, Debbie Krzyzewski Savarino and Peter Savarino
Jean-Charles Boisset, Gina Gallo, Mickie Krzyzewski and Mike Krzyzewski
Mike Krzyzewski and Jean-Charles Boisset
Project M performs at "Let's Get This Party Started"
Photo credit: Keith Rosenthal and Kelly E. Carter
Subscribe to discover the best kept secrets in your city