Photo Credit: Copyright Kimball Studios / Courtesy of Pebble Beach Concours d'Elegance
A whirlwind of automotive events ended in a blast of confetti when a 1924 Isotta Fraschini Tipo 8A owned by Jim Patterson of Louisville, Kentucky nabbed the coveted Best of Show trophy at the 65th annual Pebble Concours d'Elegance held Aug. 16 at the famed Pebble Beach Golf Links. Haute Living takes you inside the hautest parties and events that took place the last several days during Monterey Car Week 2015.
The granddaddy of them all was, of course, the Concours itself. This marked the second time Patterson claimed the top award.
"The first one was just the thrill of a lifetime," said Patterson, who won in 2010 with a 1933 Delage D8S De Villars Roadster. "I came here with a white car. No one had ever won Best of Show with a white car, so I didn't want to try that again. I came with an all black car… I think it's more exciting this year because we had tremendous competition. Sam and Emily Mann had a fantastic car. I really kind of expected them to win. I'm sort of overwhelmed."
The Manns won the Gwenn Graham Most Elegant Convertible award for their gorgeous 1937 Delahaye 145 Franay Cabriolet. On a local note, the Elegance in Motion Trophy went to a 1931 Alfa Romeo 6C 1750 Gran Sport Touring Spider owned by Arturo Keller of The Keller Collection at the Pyramids in Petaluma. The Enzo Ferrari Trophy was awarded to a 1960 Ferrari 250 GT SWB Scaglietti Berlinetta Competizione owned by Big Fork Holdings, LLC., in Menlo Park. Roger Hoffmann of Point Reyes Station won the FIVA Postwar Trophy with his 1956 Jaguar D-type Roadster, and Richard and Susanne Stephens of Woodside won the Montagu of Beaulieu Trophy with their 1931 Invicta LS Carbodies Coupé.
Asked what he likes best about his 1924 Isotta Fraschini Tipo 8A, which first won the European Classic Early class on Sunday, Patterson replied, "I love the cigarette lighters. You should see them—cigarette lighters in the backseat on both sides. I wondered a while ago if they worked, and I have a blister on my finger. Seriously, the car is just fantastic. It's got an eight-liter engine in it. It's got everything you could ever imagine could exist in 1932. We're just very pleased the way it all turned out."
Although the car is listed as 1924, it was acquired by Carrosserie Worblaufen around 1931 and used as the basis for a Sport Cabriolet they had envisioned on the long wheelbase, 145-inch chassis. The finished car was displayed at the 1932 Geneva Auto Show and won the Grand-Prix d'Honneur at Cannes in 1933.
Patterson may take his Best of Show winner to the Concorso d'Eleganza Villa d'Este. "It's an Italian car with a Swiss body, and Villa d'Este loves Italian cars," he said.
The Concours d'Elegance isn't just about car collectors flaunting their automobiles. The event also raises money for people in need. At an appreciation reception on Thursday at Pebble Beach Resorts, Pebble Beach Company CEO William L. Perocchi and Concours Chairman Sandra Button jointly announced that charitable donations raised since the Concours began now exceed $20 million – a milestone for the event
that dates back to 1950.
"I continue to be inspired by the generosity of the collector car community," said Button. "Entrants bring their automotive treasures here to share with others, judges bring their expertise, sponsors often debut new cars and provide items for opportunity drawings—and, together, we are able to make a solid contribution to better the lives of others."
This year's event is currently on track to raise close to $2 million. Through its primary charitable partner, the Pebble Beach Company Foundation, grants are distributed to 100 local nonprofit educational programs impacting the lives of more than 10,000 children in Monterey County.
Perocchi stressed that most of the charitable donations raised by the Concours are put to use in the local community, where the funds can help address issues like poverty, hunger and literacy. "It is easy to see the affluence of this area, but we cannot overlook the many needs in this
county," Perocchi said. "It's because of the generosity of our donors and charity partners that we can significantly impact the lives of Monterey County residents. The money raised during this event, and in turn distributed to our community partners, helps those in need."
At the Concours, and throughout the week, our July/August cover boy Jay Leno was out and about. We caught up with him on the Concept Lawn as he checked out the 1/1 Bentley EXP 10 Speed 6 concept car, which made its west coast debut.
Photo Credit: Kelly E. Carter
Photo Credit: Kelly E. Carter
Complete List of 2015 Winners
Best of Show
1924 Isotta Fraschini Tipo 8A F. Ramseier & Cie Worblaufen Cabriolet
Jim Patterson/The Patterson Collection, Louisville, Kentucky
Best of Show Nominees
1914 Rolls-Royce Silver Ghost Kellner Torpedo Phaeton
Doug Magee Jr., Wolfeboro, New Hampshire
1937 Delahaye 145 Franay Cabriolet
Sam & Emily Mann, Englewood, New Jersey
1953 Abarth 1100 Sport Ghia Coupé
Grant Kinzel, Calgary Alberta, Canada
Most Elegant Awards
J.B. & Dorothy Nethercutt Most Elegant Closed Car
1932 Rolls-Royce Phantom II Continental Figoni & Falaschi Pillarless Berline
Don Williams, Danville, California
Gwenn Graham Most Elegant Convertible
1937 Delahaye 145 Franay Cabriolet
Sam & Emily Mann, Englewood, New Jersey
Most Elegant Open Car
1914 Rolls-Royce Silver Ghost Kellner Torpedo Phaeton
Doug Magee Jr., Wolfeboro, New Hampshire
Strother MacMinn Most Elegant Sports Car
1938 Alfa Romeo 8C 2900B Touring Berlinetta
Jon Shirley, Medina, Washington
Special Awards
Alec Ulmann Trophy
1929 Hispano-Suiza H6B Hibbard & Darrin Cabriolet de VIlle
H. Hulsbergen, Freienbach, Switzerland
Ansel Adams Award
1923 Mercer Series b6 Sporting
Kirk M. Pumphrey, San Jose, California
Art Center College of Design Award
1955 Maserati A6G 2000 Zagato Coupé
Jack Croul, Corona Del Mar, California
Briggs Cunningham Trophy
1953 Cunningham C-5R Roadster
The Revs Institute for Automotive Research, Inc., Naples, Florida
Chairmans Trophy
1926 Renault 45MC Manessius Cabriolet de Ville
George F. Wingard, Eugene, Oregon
Charles A. Chayne Trophy
1902 Panhard et Levassor Type B1 Saloon
Merle & Peter Mullin, Oxnard, California
Classic Car Club of America Trophy
1931 duPont Model H Merrimac Sport Phaeton
Richard Riegel, Bedford Hills, New York
Dean Batchelor Trophy
1951 Mercury 1CM Bob Hirohata Custom Coupe
Jim and Sue McNiel, Orange, California
Elegance in Motion Trophy
1931 Alfa Romeo 6C 1750 Gran Sport Touring Spider
The Keller Collection at the Pyramids, Petaluma, California
Enzo Ferrari Trophy
1960 Ferrari 250 GT SWB Scaglietti Berlinetta Competizione
Big Fork Holdings, LLC., Menlo Park, California
FIVA Prewar Trophy
1921 Stutz K Bearcat
Wayne Carini, Portland, Connecticut
FIVA Postwar Trophy
1956 Jaguar D-type Roadster
Roger Hoffmann, Point Reyes Station, California
French Cup
1939 Bugatti Type 57C Vanvooren Cabriolet
Margie & Robert E. Petersen Collection, Los Angeles, California
Gran Turismo Trophy
1952 Cunningham C-4R Competition Roadster
The Simeone Automotive Foundation, Philadelphia, Pennsylvania
Lincoln Trophy
1933 Lincoln KB Dietrich Five Passenger Convertible Sedan
John P. Shibles, Sea Grit, New Jersey
Lorin Tryon Trophy
General William Lyon, Newport Beach, California
Lucius Beebe Trophy
1952 Rolls-Royce Phantom IV Hooper Sedanca de Ville
Ion Tiriac,, Monaco
Mercedes-Benz Star of Excellence Award
1935 Mercedes-Benz 500K Roadster
Miyabi Collection, Honolulu, Hawaii
Mille Miglia Pre-War Trophy
1939 Alfa Romeo 6C 2500 Touring Coupé
David B. Smith, Medina, Washington
Montagu of Beaulieu Trophy
1931 Invicta LS Carbodies Coupé
Richard & Susanne Stephens, Woodside, California
The Phil Hill Cup
1952 Ferrari 340 Mexico Vignale Spyder
Les Wexner, New Albany, Ohio
The Revs Program at Stanford Award
1914 Rolls-Royce Silver Ghost Kellner Torpedo Phaeton
Doug Magee Jr., Wolfeboro, New Hampshire
Road & Track Trophy
1965 Ford Shelby Mustang GT350
John Atzbach, Redmond, Washington
The Tony Hulman Trophy
1948 Talbot-Lago T26C Grand Prix Racer
Denis Bigioni, Pickering, Ontario
The Vitesse – Elegance Trophy
1946 Delahaye 135 MS Pourtout Coupé Aérodynamique
Neal & Susan Ryan, Smithtown, New York
Pebble Beach Concours d'Elegance
Sir Michael Kadoorie and Emily Mann
Pebble Beach Concours d'Elegance
Sam Mann and Emily Mann in their 1937 Delahaye, which won Most Elegant Convertible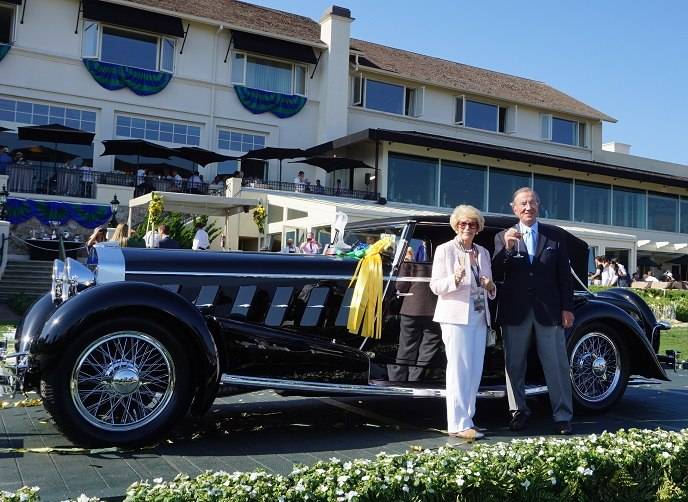 Pebble Beach Concours d'Elegance
Dot and Jim Patterson won Best of Show with this 1924 Isotta Fraschini Tipo 8A
Photo Credit: Olivia Hsu Decker
Pebble Beach Concours d'Elegance
Jay Leno, Copyright © Kimball Studios / Courtesy of Pebble Beach Concours d'Elegance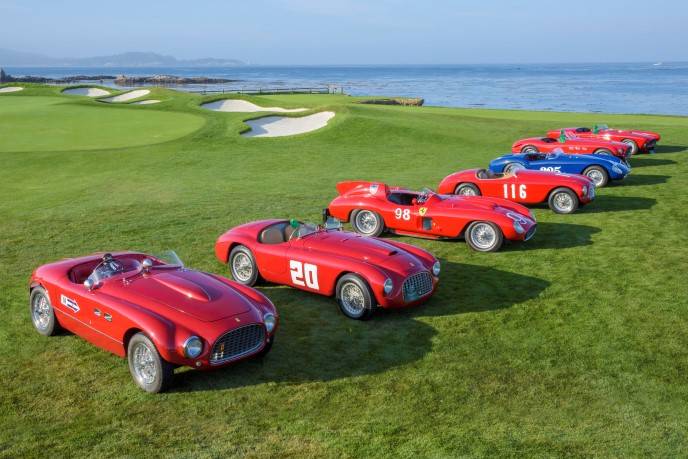 Copyright © Kimball Studios Courtesy of Pebble Beach Concours d'Elegance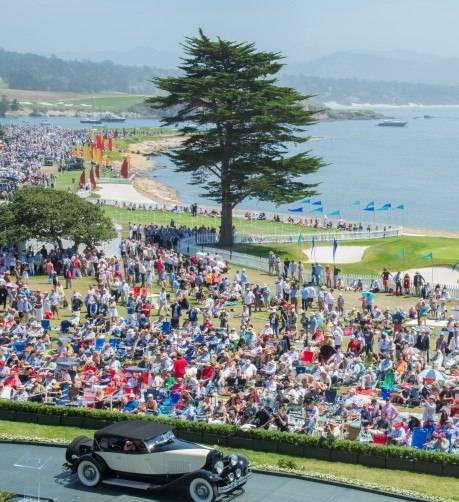 Copyright © Kimball Studios Courtesy of Pebble Beach Concours d'Elegance
Pebble Beach Concours d'Elegance
1901 Duryea XLS
Pebble Beach Concours d'Elegance
Jon Shirley
Pebble Beach Concours d'Elegance
Sam Mann