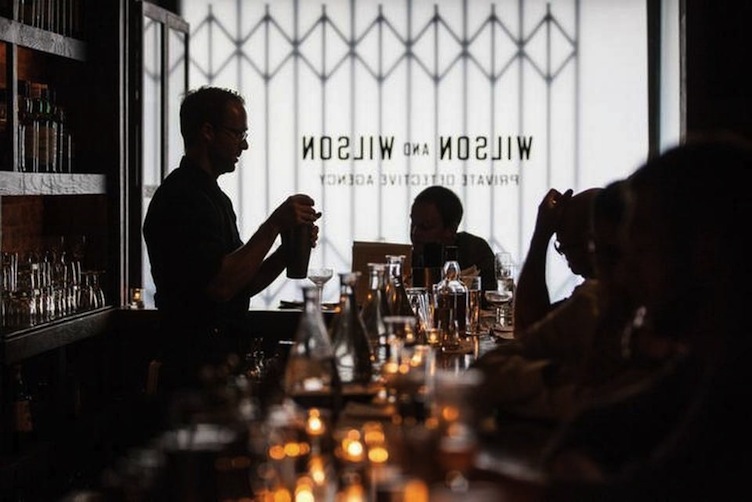 While Bourbon & Branch may be a household name to the cocktail-happy denizens of San Francisco, only a handful of in-the-know residents have witnessed the speakeasy within a speakeasy that is Wilson and Wilson Private Detective Agency. Hidden in a private room within the password-admitted saloon-style establishment, Bourbon & Branch—one of the first pioneers in San Francisco's craft cocktail movement—Wilson and Wilson takes the movie-ready mystique and eliteness of B&B and applies it to every aspect of the detective-themed drinking experience, from the Sherlock Holmes-inspired decor to the hushed tones in which the bartenders greet patrons.
Once guests have presented the hostess with the secret password at the 501 Jones Street entrance, they are escorted to a door bearing a frosted glass window marked "Wilson and Wilson Private Detective Agency" that separates the rest of the world from the mystery novel scene that awaits. Inside, a dark-wood, L-shaped bar houses bracketed, high shelves stocked with assorted glassware and endless bottles adorned with antique-looking labels against an exposed-brick wall.
Bartenders, in their blacks and whites, measure out high-end libations in one-ounce pours and measured squirts of eyedroppers, dipping into an apothecary of small stoppered jars. In keeping with the Sherlock style decor, the intimate space offers a film-noir atmosphere, complete with 1920s-style wallpaper, old cash registers behind the bar and a drink menu that can be found within a file case atop the bar.
The bartenders at Wilson and Wilson come up with new beverage offerings each month to keep patrons on their toes. This month, make sure you stop by and taste the Charlie Chan, a vodka cocktail made from black tea-infused Karlsson's, heightened by ginger syrup, lemon juice, black pepper, clove tinctures and coconut marmalade. The combination of expertly-crafted cocktails and the moody, time-period setting comes together to create a haute San Francisco drinking experience truly unlike any other.
The perfect occasion for a black trench coat, fedora and your personal Watson, Wilson and Wilson takes SF's mixology scene a step further down the road it has been traveling for the past several years. Bartenders have become chefs in their trade- brewing, infusing, mixing and evolving cocktails in ways no one has considered before. Many of the drinks contain such homemade tinctures and bitters as sarsaparilla infused aromatic bitters, black pepper tincture, and cinnamon infused orange bitters. While Wilson's beverages can be ordered à la carte, the full experience can be achieved through the tasting menu — an aperitif, a "main," and a digestif — or a communal punch for four, served in an antique silver teapot. The artists behind the refreshments served at Wilson and Wilson refer to the experience as a "liquid dinner", starting light with an "appetizer", moving to a full-bodied drink for a "main course", and finishing off on a strong but sweet note, much like a dessert.
Elite is the word that comes to mind when discussing the private drinking destination. Wilson and Wilson limits the number of patrons to a cozy 28. Reservations can be made online for 90-minute time slots, upon which a confirmation email will be sent including the password required for entry. Since seating and entry are both so limited, we suggest getting your reservation in early to witness—and taste—the work of the Wilson and Wilson Detective Agency.