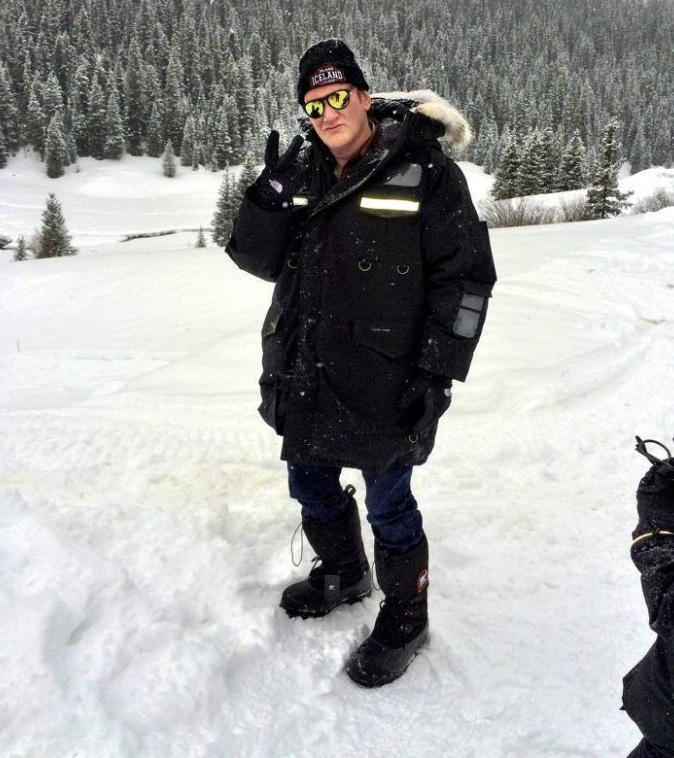 As film geeks, we spend a lot of time waiting: waiting for the next Quentin Tarantino film, that is! Last year it was revealed that Tarantino's new script for The Hateful Eight had been leaked and many feared that the film would be abandoned all together. Thankfully, that has not happened.
Though Tarantino's productions are locked down when it comes to the press, there are still a few glimmers of hope that shine through to the media letting the world know that a new Tarantino film will indeed see the inside of a Cineplex.
The most recent of these glimmers comes from beloved actor and Hollywood icon Samuel L. Jackson. Jackson, a Tarantino favorite that has turned in seminal performances in Pulp Ficion, Jackie Brown, Django Unchained and a voice-over turn in Inglorious Basterds, posted two photographs to his Facebook page.  The pictures seem to be from the set of none other than Hateful Eight. In those pictures, we see Quentin himself in full-on snowman gear and a selfie of Jackson also looking like he's freezing his buttocks off.
The film is described as a post-Civil War western and its cast is an absolute doozy: Academy Award-nominee Samuel L. Jackson as Major Marquis Warren, Golden Globe-nominee Kurt Russell as John "The Hangman" Ruth, Golden Globe-nominee Jennifer Jason Leigh as Daisy Domergue, Emmy-nominee Walton Goggins as Chris Mannix, Academy Award-nominee Demian Bichir as Bob, Academy Award-nominee Tim Roth as Oswaldo Mobray, Michael Madsen as Joe Gage and Academy Award-nominee Bruce Dern as General Sanford Smithers. Also, Channing Tatum has signed on for a role in the project.
As with all Tarantino films, we can certainly expect cartoonish buckets of blood, liberal use of profanity, amorality and the elevation of a genre film into high art. Yes, high art.
L.A. Haute 100 updates consist of news about members of our Los Angeles Haute 100 List; a list of L.A.'s most powerful players. 
Subscribe to discover the best kept secrets in your city