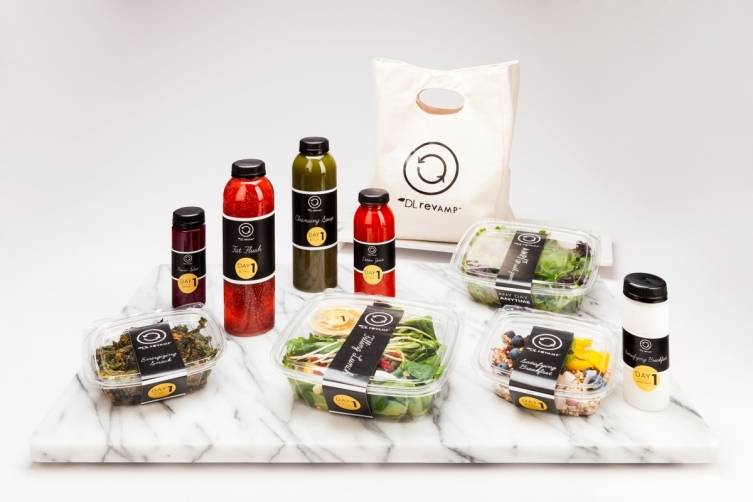 Cleansing isn't a new concept anymore. By now most people have tried a juice fast, and maybe even succeeded in finishing it, but despite it's entrance into the mainstream, cleanses are still much easier said than done. That was, until the DeliverLean revAMP, a kit by the area's most popular meal delivery service. They offer home delivery of light gourmet, paleo diet, vegetarian and vegan varieties, and now a cleanse.
It's so simple, anyone can do it—and we mean even the most dyed-int-the-wool fast foodies. A styrofoam cooler arrives FedEx'd on day one, packed full of a few days worth of USDA Organic juices and whole food meals comprised of  salads, snacks and delicious soups, numbered by day (i.e.. Day 1, Day 2), along with an easy to follow menu guide. It was easy to follow and we especially loved the coconut milk "smoothies", buckwheat groat cereals, soups, raw cacao truffles and chia and cranberry "fat flush" drink, all of which helped us feel like it was just business as usual (no cleansing going on here).
There is also a "Zen Kit", which helps you eliminate the toxins you'll bring to the fore with this vegan detox. The kit contains herbal detox teas, a skin brush, which helps circulation and toxin elimination, and bath salts to pull out the bad stuff from your bodies biggest organ—the skin. There's even a candle, cooler bag and tee-shirt to remind you why you're feeling so good.
The man behind the revAMP is Scott Harris, CEO and Founder of DeliverLean. "DL revAMP creates a whole new category for the diet and nutrition world," he explains. "Our detox program will not only help detoxify the body and clear the mind, but it will completely change the way consumers look at juice cleanses and vegan diets.  A lot of people are looking for a way to cleanse other than liquid diets or shake programs which tend to leave you feeling hungry and cranky.  DL revAMP solves that problem by allowing people to 'eat their cleanse' and enjoy their experience while reaping all the benefits.  It's an easy way to kick start any diet, stay healthy and give the body a much needed reset from regular foods."
The cleanse is certainly one of the easiest we've tried, offering the benefits of a juice cleanse (weight loss, renewed energy, better eating patterns), minus the starvation. Of course, all of this convenience and quality doesn't come cheap. Expect approximately $100 a day for the whole shebang—but every penny spent on achieving this level of health and wellness is a penny well spent. Go to dlrevamp.com.