The weekend couldn't come soon enough for San Francisco's social set. Tastemakers and socialites deserve a break after a busy week that included late-night dancing at the Top of the Mark, where Solange Knowles showed off her deejay skills at a haute Ken Fulk and One Nob Hill Associates bash on Nov. 6. They were also oohs and aahs over iconic fashion designer Carolina Herrera's Spring 2015 Collection during a fashion show/luncheon at the de Young on Nov. 3, champagne toasts for Carlos Souza on new his book at the Valentino boutique on Nov. 4 and an award for Apple designer Sir Jonathan Ive. For details on those fabulous events, let's take a look back at the week that was: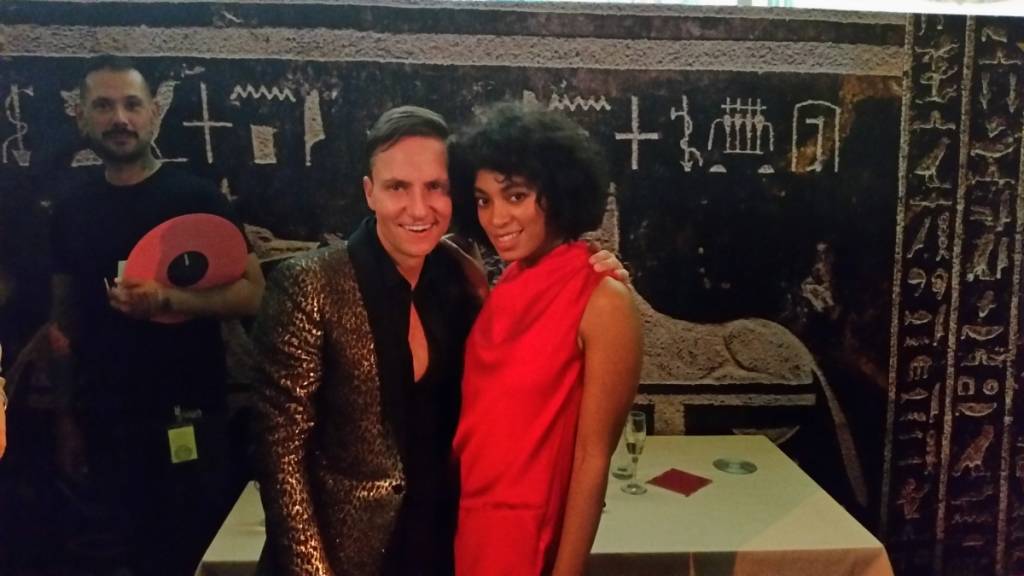 Photo Credit: Kelly E. Carter
We knew Fulk, the imaginative designer behind the oh-so-cool decor at The Battery, Marianne's and other hotspots, would come up with something special for the evening celebrating the 75th anniversary of The Top of the Mark. First, there was a haute black-and-white, save-the-date video that partygoers were invited to view online. Then came the actual invite: A festive box that arrived via mail and contained a smaller Mark Hopkins-logoed black box. Inside that was an Image 3D viewer; with seven black-and-white images that whetted the appetites of partygoers, who probably were not expecting to see a live camel when they arrived to The InterContinental Mark Hopkins Hotel on Nov. 6 for the swank affair.
Inside, Paula West performed sultry songs in the bar, where guests sipped cocktails and noshed on passed bites by Gary Danko before being whisked to The Top of the Mark and were greeted by: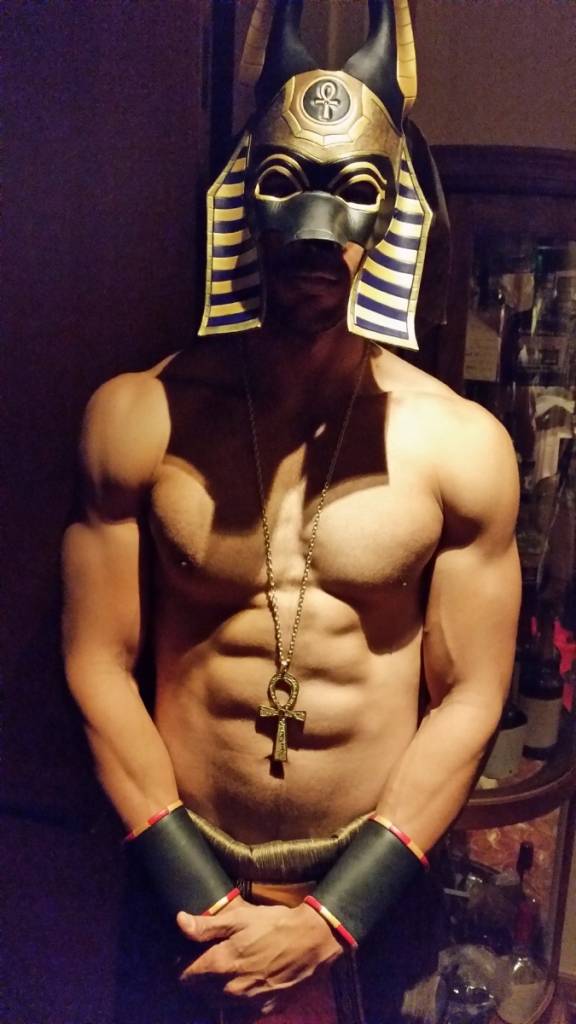 Photo Credit: Kelly E. Carter
Egyptian scenes played out on the ceiling and walls as all around bare-chested muscular men waltzed around guests, who included Larry Baer, Willie Brown, Sonya Molodetskaya, Dede Wilsey, Trevor and Alexis Traina, Todd and Katie Traina, Bahya Oumlil-Murad and Gus Murad, Sloan Barnett, Vanessa Getty, Gary Friedman, Brenda Zarate, Joy Venturini Bianchi, Eric Johnson, Nick Montana, London Breed, George and Fabiola Gascon, George Hamel and, well, it's easier to say who wasn't there because it seems like everyone who is anyone was there. The dance floor stayed packed until after midnight, thanks to deejay Knowles spinning lots of old school tunes. Near the end of the evening she introduced herself and graciously thanked guests for dancing.
Fulk set out to remind partygoers of the vibrant days at The Top of the Mark, which boasts spectacular panoramic city views, and got a glimpse of what is to come at the iconic hotel. He let us in on what he's doing.
"I'm the creative director of the whole project," he told Haute Living. "We're restoring the original lobby and ballroom. We are creating a beautiful deco-inspired bar where the Top of the Mark is and returning the bar to the center of the Top of the Mark, which everyone asks about. We're returning the energy and vibe of the city back to The Top of the Mark."
We'll have to wait until 2015 to see Fulk's work but we know it will be haute, just like this party.
The Art of Fashion: Runway Show and Luncheon at the de Young
Carolina Herrera and Dede Wilsey
Jennifer Walske and Colin Bailey
Nancy Kukacka, Barbara Brown, Robert Arnold-Kraft and Stephanie Marver
J. Riccardo Benavides, Carolina Herrera and Patricia Lansing
Komal Shah and Sobia Shaikh
Nancy Rubenstein, Jan Newman and Dolly Chammas
Jeana Tonay and Isha Abdullah
OJ Shansby, Phoebe Cowles and Gay-Lynn Blanding
Dara Rosenfeld, Nancy Kukacka, Lauren Hall and Stephanie Marver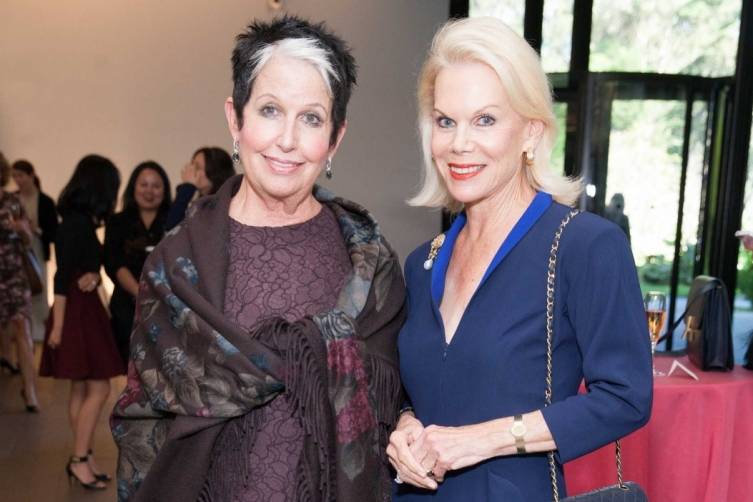 Karen Kubin and Sandra Farris
Photography by Drew Altlizer Photography
Over 250 Fine Arts Museums of San Francisco patrons, Saks Fifth Avenue clients and Carolina Herrera enthusiasts attended the fashion event of the season on Nov. 3 at the de Young Museum, benefitting the Fine Arts Museums of San Francisco and presented by Saks Fifth Avenue. A champagne reception was followed by a sit-down luncheon. Herrera showed 46 looks from her Spring 2015 Collection on the runway in Wilsey Court with the Richter mural as the backdrop. The event raised almost $200,000 which will help support future fashion exhibitions including "High Style: The Brooklyn Museum Costume Collection" in March 2015.
Afterwards Herrera praised San Francisco women. "They love fashion so that is perfect for me," she enthused.
Herrera didn't mince words when she was told that one guests in her 60s gushed over the jackets, especially those with the opening in the back, but she wasn't sure she would wear it because she is of a certain age and desired coverage.
"Do you have anything with more coverage?" Herrera was asked.
"Yes, but she should go to someplace else."
Honorary chair Dede Wilsey, dressed in vintage Herrera, loved the youthful collection.
"I am pleased to know that with the loss of Oscar (de la Renta), which was a huge loss for me, that we will have a wonderful ladylike collection," Wilsey said. "I have worn Herrera for a long time and love her. She fills a niche and I think it's wonderful. It's very modern and very young. We need someone who can keep the youth organized and keep them enthusiastic. She did a great job. (It's) a beautiful collection."
Valentino's Carlos Souza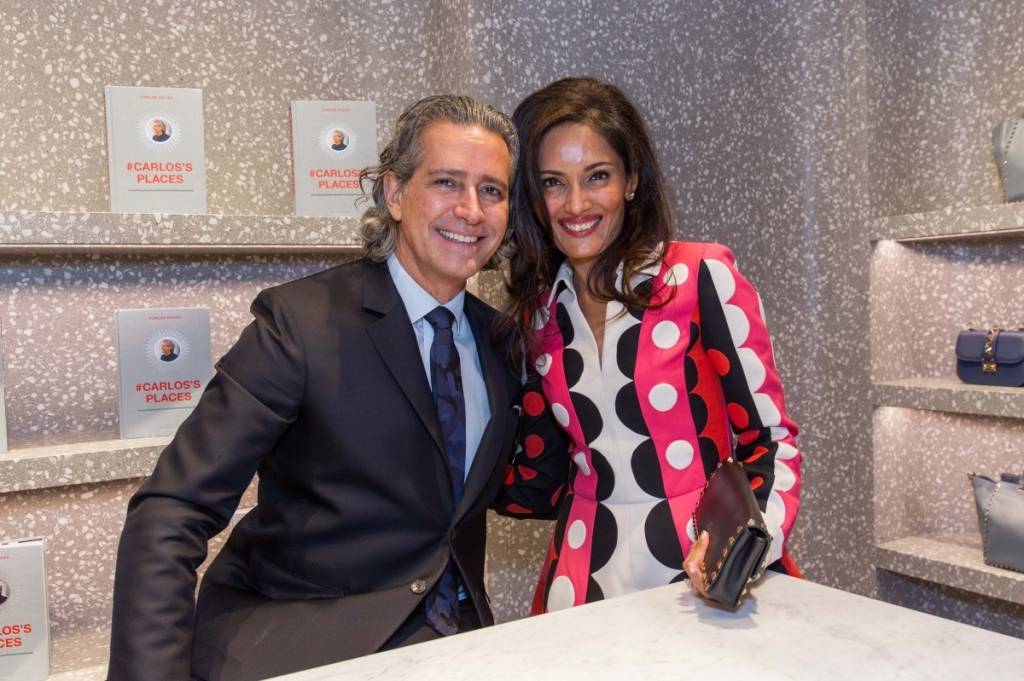 Photo Credit: Drew Altizer Photography
San Francisco's fashionistas (and fashionistos!) turned out in force to celebrate Valentino brand ambassador Carlos Souza's new book, #Carlos's Places at the Valentino boutique on Nov. 4. Alexis and Trevor Traina and Ken Fulk hosted the exclusive cocktail reception and book signing. The book follows Souza's exciting calendar as he begins the year in Gstaad, Switzerland with his family, travels to Los Angeles for the Golden Globes and so on. There are two pages dedicated to San Francisco.
"San Francisco is a city that I'm always so happy to come back (to)," Souza told Haute Living at the party. "It's chic. Is elegant. It's one of the most beautiful cities in America.
"I have a special love because Nan Kempner, who was from San Francisco, used to tell me, 'Carlos, we've got to be in San Francisco together. I want to show you my city.' We never did it so whenever I come, I'm a little bit nostalgic about my dear friend."
Souza says two things he always does when he is in San Francisco are visit the de Young and the Legion of Honor.
"And (go) hiking with Allison Speers. This morning we went to Lands End. It's so gorgeous. The magic air, the salty air, the Pacific. It's an exciting city for me."
The chic crowd included Willie Brown and Sonya Molodestkaya, Brenda Zarate, Todd and Katie Traina, Susan Dunlevy, Komal Shah, Lana Adair, Sujata Pherwani and Stephanie Marver. A percentage of the proceeds of Valentino merchandise purchased that evening was donated to the Fine Arts Museums of San Francisco.
Jonathan Ive Receives 2014 Bay Area Treasure Award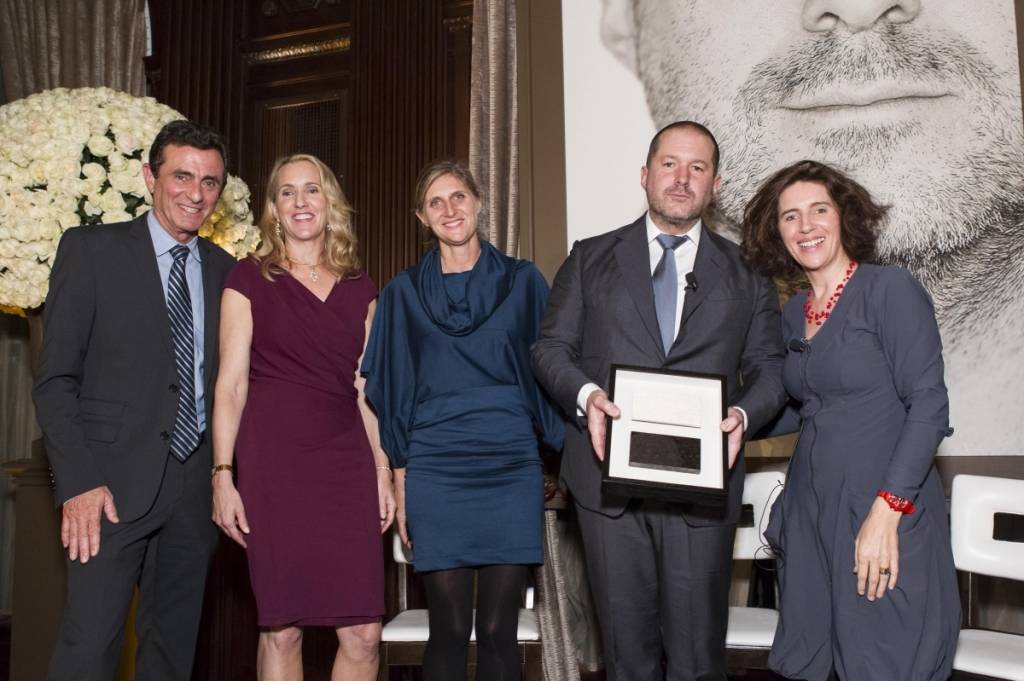 Photo Credit: Drew Altizer Photography
Sir Jonathan Ive, Apple's senior vice president of design, received the 2014 Bay Area Treasure Award from the San Francisco Museum of Modern Art on Oct. 30 at the Julia Morgan Ballroom in San Francisco before a crowd that included Charles and Helen Schwab, Mark Pincus, Ken Fulk, Cynthia Deaver, Norah and Norman Stone, Dede Wilsey, Trevor, and Alexis and Katie Traina.  The annual lifetime achievement award recognizes artists and creative leaders in the region whose contributions have redefined contemporary visual culture.
"Ive is our generation's most innovative and influential figure in the field of industrial design—no other design mind has done more to transform the way we visualize and share information," said SFMOMA Director Neal Benezra. "SFMOMA was the first museum on the West Coast to establish a department of architecture and design, and we're thrilled to celebrate Ive's revolutionary achievements."
Like Haute Living San Francisco? Join our Facebook page or follow us on Twitter @HauteLivingMag. Want Haute Living San Francisco delivered to your inbox once a week? Sign up for our newsletter.
Subscribe to discover the best kept secrets in your city