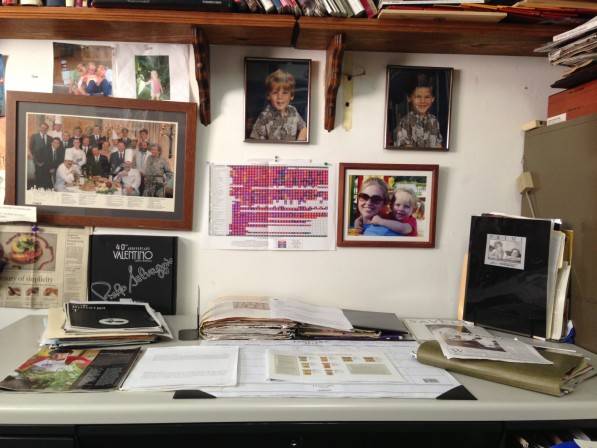 Ever wonder what the most powerful leaders, business execs and celebrities keep on their desks? Well, we're about to tell you. Our biweekly "What's on My Desk" feature will take a look inside the offices and at the desks of the world's most influential power players.
This week we've featured the desk of Piero Selvaggio, the enigmatic owner of Santa Monica's luxe Italian eatery Valentino. Selvaggio, who has now been in the business for 40 years, expanded a $4,500 venture into a multi-million dollar business, bringing the food of Italy to Los Angeles, Las Vegas and Houston with authenticity and style. The Sicilian restaurateur is famous for not only his dedication to the art of preparing exquisite Italian fare, but also for providing his patrons one of the best wine cellars in the world, offering more than 2,200 choices among 130,000 bottles. When he isn't hosting guests at Valentino, Selvaggio is dedicated to promoting his memoir and collection of recipes, The Valentino Cookbook, to participating in charity events, and acting as the Italian consultant for Crystal Cruises' luxury cruise lines. Here is a look at the items on his desk.
Pictures of my daughter Sasha and my wife Anna.
A framed picture of the most famous Italian restaurateurs in America (including me) for Capital Magazine.
Valentino's Lobster Salad recipe from the L.A. Times.
The 40th anniversary of Valentino commemorative plate and a pile of recipes and menus to categorize for a book project.
Like Haute Living Los Angeles? Join our Facebook page or follow us on Twitter @HauteLivingMag.