VooDoo Zip Line at the Rio is now open to the general public. The feet-dangling, adrenaline rush attraction launched its grand opening event hosted by mixed martial arts announcer Bruce Buffer on Sunday, May 25.
Hours before the event started, thrill seekers lined up at the door to be among the first to ride Las Vegas' newest attraction. Buffer kicked off the event as he buckled up and yelled his signature catchphrase "it's time!" while soaring almost 500 feet in the air. A line continued out the door throughout the afternoon. To maximize guests' experience, VooDoo Zip Line reduced unnecessary wait times by allowing patrons to dine, gamble and enjoy the property while waiting for their reservations. An alert was sent to guests' cell phones when their ride time was ready. Prior to boarding, all riders received a safety briefing and ride operators were available to answer questions.
Created by New Capital Ventures, VooDoo Zip Line accommodates two riders at once and connects the two towers of the Rio Las Vegas. The attraction begins on the patio of VooDoo Steakhouse, located on the 50th floor of the Masquerade Tower, and propels riders at speeds up to 33 miles per hour to the adjoining 20-story Ipanema Tower. Guests make a return trip to the starting point traveling backwards at 20 miles per hour. Offering one of the best views of Las Vegas, VooDoo Zip Line boasts a 360-degree panorama of the Strip and scenic views of the surrounding mountain ranges. The heart-pumping adventure covers one-third of a mile in one minute and 10 seconds.
VooDoo Zip Line is open from noon to midnight Monday through Thursday and 10 a.m. to midnight Friday through Sunday. Admission is $24.99 (plus applicable services fees) per person from noon to 5:30 p.m. and $37 (plus applicable services fees) per person from 5:30 p.m. to midnight. Only patrons 21 years of age or older are allowed to ride after 8:30 p.m.
Click on the photos below to enlarge.
Like Haute Living Las Vegas? Join our Facebook page or follow us on Twitter. Want Haute Living Las Vegas delivered to your in box once a week? Sign up for our newsletter.
Bruce Buffer on VooDoo Zip Line_Photo Credit Erik Kabik_2
Bruce Buffer on VooDoo Zip Line_Photo Credit Erik Kabik_3
Bruce Buffer on VooDoo Zip Line_Photo Credit Erik Kabik_4
Bruce Buffer on VooDoo Zip Line_Photo Credit Erik Kabik_5
Bruce Buffer on VooDoo Zip Line_Photo Credit Erik Kabik_6
Bruce Buffer on VooDoo Zip Line_Photo Credit Erik Kabik_7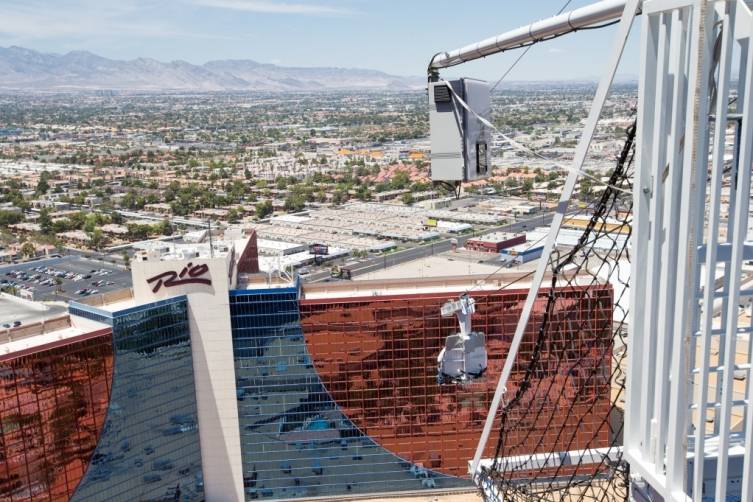 Bruce Buffer on VooDoo Zip Line_Photo Credit Erik Kabik_8
Bruce Buffer on VooDoo Zip Line_Photo Credit Erik Kabik
VooDoo Zip Line_Rio Las Vegas_Photo Credit Erik Kabik_2
VooDoo Zip Line_Rio Las Vegas_Photo Credit Erik Kabik_3
VooDoo Zip Line_Rio Las Vegas_Photo Credit Erik Kabik
Subscribe to discover the best kept secrets in your city