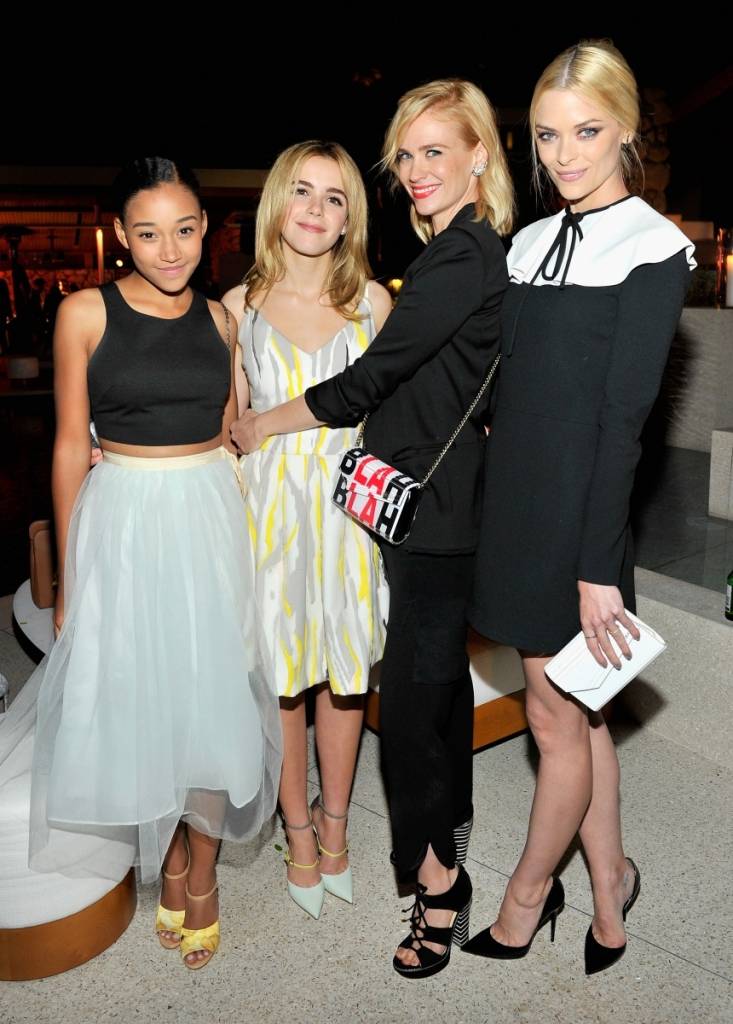 Jimmy Choo celebrated the launch of its CHOO.08˚ collection with a star-studded soiree in Los Angeles last week.
The event, which took place at a private residence in Beverly Hills, was hosted by Jimmy Choo's Creative Director, Sandra Choi, in honor of not only the new collection, but also its recently expanded Beverly Hills store.
Guests included Kate Bosworth, January Jones, Zoe Kravitz, Christina Hendricks, Camilla Belle, Poppy Delevingne, Aluna Francis, Mary Charteris and Robbie Furze, Solange Knowles, Jack Whitehall and Gemma Chan, Emmy Rossum, Kate Sumner, Hannah Bronfman, Chelsea Leyland, Kiernan Shipka, Cleo Wade, Zoey Deutch, Bastille, Jaime King, Derek Blasberg and Theophilus London.
Entertainment was provided by  British band, Bastille, and guest DJ Solange Knowles.
LA Contemporary artist, Retna, created two distinct pieces of art in his signature graffiti style creating a dramatic backdrop when guests arrived and framing the neon lit stage and DJ booth. An existing piece of art served as the backdrop for the photo booth.
Choo.08˚ is a new attitude introduced within the Pre-Fall 2014 collection heralding an evolving direction with a collection that speaks to the edgy spirit of the brand and taking its inspiration from the brand's creative centre in London. The name CHOO.08˚ references the longitude for London, -0.08˚. Originating from Choi's personal style aesthetic, CHOO.08˚ features a wardrobe of shoes such as Biker boots, brogues, smoking slippers and trainers all with the signature Jimmy Choo personality.
Like Haute Living Los Angeles? Join our Facebook page or follow us on Twitter @HauteLivingMag.
485038051
Photo by Donato Sardella/Getty Images for Jimmy Choo
485038055
Photo by Donato Sardella/Getty Images for Jimmy Choo
485038063
Photo by Donato Sardella/Getty Images for Jimmy Choo
485038065
Photo by Donato Sardella/Getty Images for Jimmy Choo
485038073
Photo by Donato Sardella/Getty Images for Jimmy Choo
485038075
Photo by Donato Sardella/Getty Images for Jimmy Choo
485042761
Photo by Donato Sardella/Getty Images for Jimmy Choo
485037463
Photo by Donato Sardella/Getty Images for Jimmy Choo
485037487
Photo by Donato Sardella/Getty Images for Jimmy Choo
485037493
Photo by Donato Sardella/Getty Images for Jimmy Choo
485037499
Photo by Donato Sardella/Getty Images for Jimmy Choo
485037739
Photo by Donato Sardella/Getty Images for Jimmy Choo
485037741
Photo by Donato Sardella/Getty Images for Jimmy Choo
485037747
Photo by Donato Sardella/Getty Images for Jimmy Choo
485037753
Photo by Donato Sardella/Getty Images for Jimmy Choo
485037757
Photo by Donato Sardella/Getty Images for Jimmy Choo
485037761
Photo by Donato Sardella/Getty Images for Jimmy Choo
485032989
Photo by Donato Sardella/Getty Images for Jimmy Choo
485032999
Photo by Donato Sardella/Getty Images for Jimmy Choo
485033001
Photo by Donato Sardella/Getty Images for Jimmy Choo
485032505
Photo by Donato Sardella/Getty Images for Jimmy Choo
485032507
Photo by Donato Sardella/Getty Images for Jimmy Choo
485032865
Photo by Donato Sardella/Getty Images for Jimmy Choo