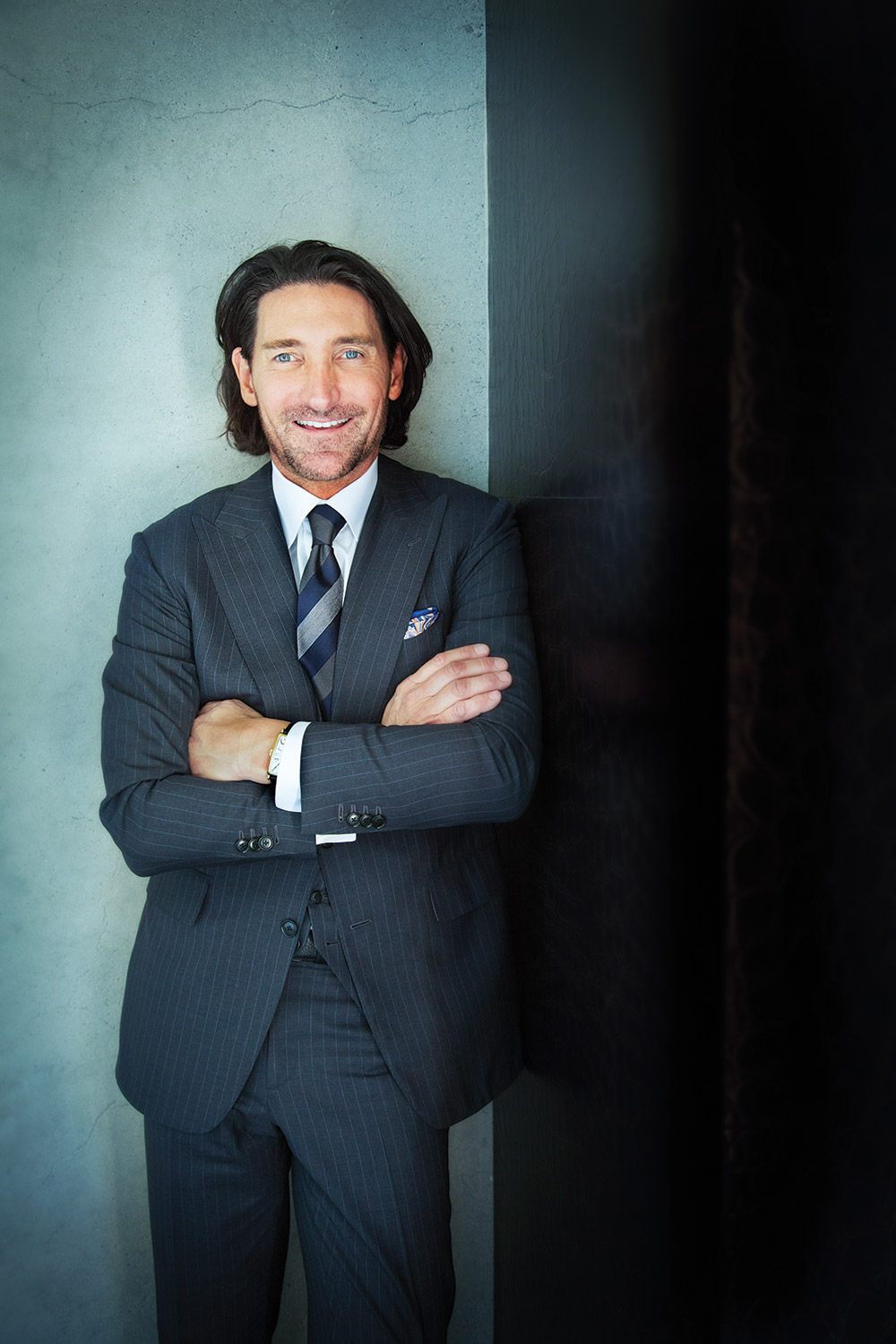 Marine shades of blue and green will launch your style this season for work, play and travel…
If you've heard the phrase "The devil is in the details", they were most likely talking about David August–Lifestyle Outfitter's custom, hand-tailored, made-to-measure clothing. Although clothing from David Heil has been seen on the red carpets, in boardrooms and in magazines, David August–Lifestyle Outfitters focuses on providing clients with elegant, modern, and functional lifestyle clothing.
With a palette of greens and blues inspired by the Mediterranean, celebrity clothier, David Heil of David August–Lifestyle Outfitters, is excited about the spring collection. "Blue is a classic for everyone's wardrobe, so we're taking the deep-sea blues and making them more up-to-date and modern," Heil explains. "Green is my favorite color, but a lot of people shy away from it—that's why we've softened and deepened the tones to make them easier to wear."
Both shades have been highlighted in the accessories, so it will be a great season for David August's celebrated cufflinks, belts, scarves and ties. Show your best side this spring season, whether its for work or play, by adding these five essential fashion items to your wardrobe:
Shoes: David August's spring shoe collection brings back the shades of navy, mid-blue and blue-gray to men's footwear. Summer suede boots and sneakers, wingtips in suede and leather, and penny loafers are sporting these colors in mottled tones of deep blues and greys. Not daring enough for you? Seek out the dark green and grey penny loafers that Heil created just for this collection.
Scarves: Yes, in spring—even in California. Throw on a David August lightweight linen and linen-cotton blend scarf to ward off the chill of a spring evening. The marine blues and greens are teamed with patterns of stripes and dots, pairing well with a light jacket, sport coat or suit, or just worn over a T-shirt.
Knitwear: When an event is too casual for a sport coat or suit, but a simple shirt won't be warm enough, spring knitwear is the answer. Although lightweight knits are typically worn in the fall season, thanks to new weaving technologies, the David August collection features Tasmanian or cotton-wool blend high V-neck and crew neck knit sweaters that are the ideal weight for spring.
Cufflinks: Even for the office with the strictest dress code, every man can still show some individuality with the cufflinks that peek out from their suit sleeve. This spring's collection has a range of cufflinks from conservative to contemporary, in jeweled ocean tones. From Mod bull's eye links to emerald-cut glass, there's a pair to suit every style.
Clothing with Stretch: This has been a secret that women have been keeping for years. But don't assume it's all for yoga pants—adding stretch fibers to knitwear, jeans, chinos, sport coats and even dress shirts is now David August–Lifestyle Outfitter's fashion coup. Comfort isn't the only benefit to this clothing, as the stretch fibers make these items ideal for travel and long days by being less prone to wrinkle.
And whether it's a business trip or time off on vacation, clothes play an important part in travel. When you're getting off the plane in New York, Las Vegas, Los Angeles, Paris or Miami, you want to be—looking your best. Not sure what to wear to St. Bart's this spring, or need to make a good impression in your New York meeting? Call David August–Lifestyle Outfitters, and they will check the weather, your itinerary and off-duty plans, all you'll have to do is pack. If you're a current client, they can pick items from your existing wardrobe, add new pieces as needed, and even create curated packages for each day of your trip.
With impeccable details, fine fabrics and contemporary styling, the David August spring collection allows every man to indulge in the bold colors of the season through a tastefully designed line of clothing and accessories.
For more information about David August–Lifestyle Outfitters, visit the website at www.DavidAugustInc.com or call for an appointment with a professional clothier on 714-545-7848.
All items can be purchased at
David August
Lifestyle Outfitters
3140 Airway Ave
Costa Mesa, CA 92626
1-800-546-SUIT (7848)
Subscribe to discover the best kept secrets in your city