Food and wine may not be the first two things that come to mind when you hear the name Roberto Cavalli. He is, after all, a very special fashion icon and part of a group of 20th century Italian designers that include Armani, Versace, Prada and Valentino.
Each of these brands brought something totally new to fashion. Roberto Cavalli, now 73, garnered attention with his very first fashion show in Paris in 1970, showing printed leather made with a totally new process he patented. Then, shortly after, the emerging designer made waves sending models down the runway in various patchwork creations, and, most shockingly, jeans. Yes, jeans. Because of this, he is credited with making jeans fashionable and paving the way for designer jeans. Haute Living sat down with the famous designer at his bungalow at The Delano and asked him about this. He said, "Was I the first? Maybe yes, maybe no, but I think so."
Cavalli's ascension to the $500 million empire he now presides over wasn't a straight shot after his jean debut. By 1977, when he met his wife, Eva, she was a contestant in the Miss Universe contest and he was a judge, Roberto Cavalli, the brand, was on the wane. Thirty-seven years later the two are still married, have three grown children as well as grandchildren together, and have built an empire that extends far beyond clothes. In fact, Eva Cavalli has often been referred to as the company's "secret weapon," attending to the day-to-day running of the company while her more artistically-inclined husband dreams up designs, new concepts draped in his signature decadent mish-mash of animal prints, leather and precious metals.
This signature look runs throughout his homes, fragrance and clothing lines and of course, his 134' mega- yacht, the R.C. The ship is iridescent purple and replete with maximalist custom details like a hand-carved wood serpent bannister. Scads of celebs from Naomi Campbell to Karolina Kurkova have been sighted enjoying themselves aboard the R.C., which regularly makes the rounds to haute hotspots St. Tropez, Cannes and Monaco.
The designer forged new territory again in the aughts, by giving the Cavalli treatment to a bottle of premium vodka in 2006. "I'm not scared of anything, I'm spontaneous," he says of the attitude he had going into the launch of Cavalli Vodka.  His most favorite part of the process was designing the packaging, which features a snake elegantly wrapped around the bottle. "I enjoyed it very much," he says.  "I even tried to start to drink more vodka." The premium vodka, which sells worldwide, is produced in Tuscany and made with wheat grown in the south-western Alps and spring water from Monte Rosa Switzerland. Cavalli Vodka has been a hit, especially in swanky nightclubs where bottles sell for hundreds. But it wasn't exactly the success of the spirit that led him to create a wine.
It was 1999, when his son Tommaso "Dad, do you mind if I start to make wine?" Cavalli replied, "I would love it!" But making the wines on the family's Tuscan lands meant a bit less for his prized horses. "I had been breeding race horses for many years," says Cavalli. "But this was his passion, so we took down all the paddocks where we used to have the horses to make vineyards."  It was 25 hectares of vineyards in the heart of the Chianti Classico region. The decision was a good one as the land is known for excellent wine.They subsequently planted vineyards on sprawling grounds of  Cavalli's luxurious Tuscan villa south of Florence. The family enlisted the help of renowned Tuscan enologist Carlo Ferrini. They then were able to have two terroirs to grow grapes and achieve the perfect blend.  The wine is called Degli Dei Toscana IGT Cavalli Selection and is a blend of Merlot, Cabernet Sauvignon, Cabernet Franc, Petit Verdot and Alicante Bouschet grapes.  The wine is aged in small oak barrels for 18 months, and then a further 12 months aging after it is bottled.
"After the first 3 or 4 years we started to have the first wine and it was very good. It's not a big production, but it's very, very special," says Cavalli. Each vintage features a different Cavalli-inspried design on the bottle, although the fanfare should not eclipse the wine itself, which earned 90 points from Wine Spectator. "It was a natural passage for me to go from fashion to design and fine dining, I just needed to decide how to share my inspirations and convey the Cavalli lifestyle at its best," says the designer.  Having conquered fashion, wine, vodka and even home goods with Roberto Cavalli Home, which includes murano glass, tiles, linens, wallpaper and tableware, it wasn't a much longer leap to enter into hospitality. It started with a partnership in Milan.
"I would turn up the music around midnight." The tables would clear and people would dance. Before he knew it Cavalli had a bona fide success on his hands. "It became the number one place in Milan," boasts Cavalli. So they took the show on the road to the biggest and most over-the-top city they could think of: Dubai. "Dubai is Dubai," says Cavalli reflecting on the excess of the city. "The club we have there is the most beautiful in the world. It's fantastic, my god, it's fantastic." But, he says, "Miami is something different. It's soft, and feels like you're  getting an invitation to dinner at my house."
Indeed, both the restaurant and club feel 100% Cavalli, with a mash-up of prints, skins, branded tableware and, of course, Cavalli wine and vodka on the table. But while the atmosphere is relaxed and sexy, don't forget to come styled. "I'm a little bit spoiled," says Cavalli with a mischievous smile. "I like to see everybody dressed. Everything should be perfect." But it's not as though there is a jacket required. After all, this is a designer who doesn't like rules. But that doesn't mean he doesn't enjoy classics. As in classical Tuscan dishes like the ones he serves or his favorite, Steak Florentine, which is right in line with the dishes you'll find on the menu such as Tuscan Wild Boar Ravioli with White Truffle, Lamb Ossobucco and Lobster Consommé.
"The restaurant is an important part of my life and it's about pleasure. The pleasure to have a good time with friends, the pleasure to have a good drink or the best wine, the pleasure of a good meal and … the pleasure to be beautiful." Clearly this is a man who knows how to enjoy his life and the luxuries he has earned. "In Italy right now, it's better not so show your affluence, so for me, luxury is freedom. As an Italian my luxury is to be free, do what I want and speak as I like."
This includes some interesting comments on the fashion world at large that he feels free to voice.  "Labels shouldn't be important, it's about what you like. Take off the label!" He says passionately. "Fashion is just about money now. There's no evolution. In the 18th and 19th centuries, fashion used to completely change every 20 years. Totally new silhouettes, etc. Now, there is less creativity.  There's been nothing truly new since the 1950s, except many sneakers," he says referring to fashion's cyclical nature of late.  Unlike most designers Cavalli says he doesn't have a problem with fast fashion. "Now you have designers and you have Zara, which is meant to be fast and sold at a very cheap price, so you expect [copying.]" In fact, Cavalli even launched diffusion line Just Cavalli to, in essence, copy himself before others could do it.   "But Mr. Michael Kors, he copies everything! It's really a scandal and nobody has the courage to say anything. It's really not fair."  Cavalli has said similar remarks to media around the world in an apparent bid to out Kors as a copycat and, hopefully, make him think twice about "borrowing ideas" from the house of Cavalli for his own line.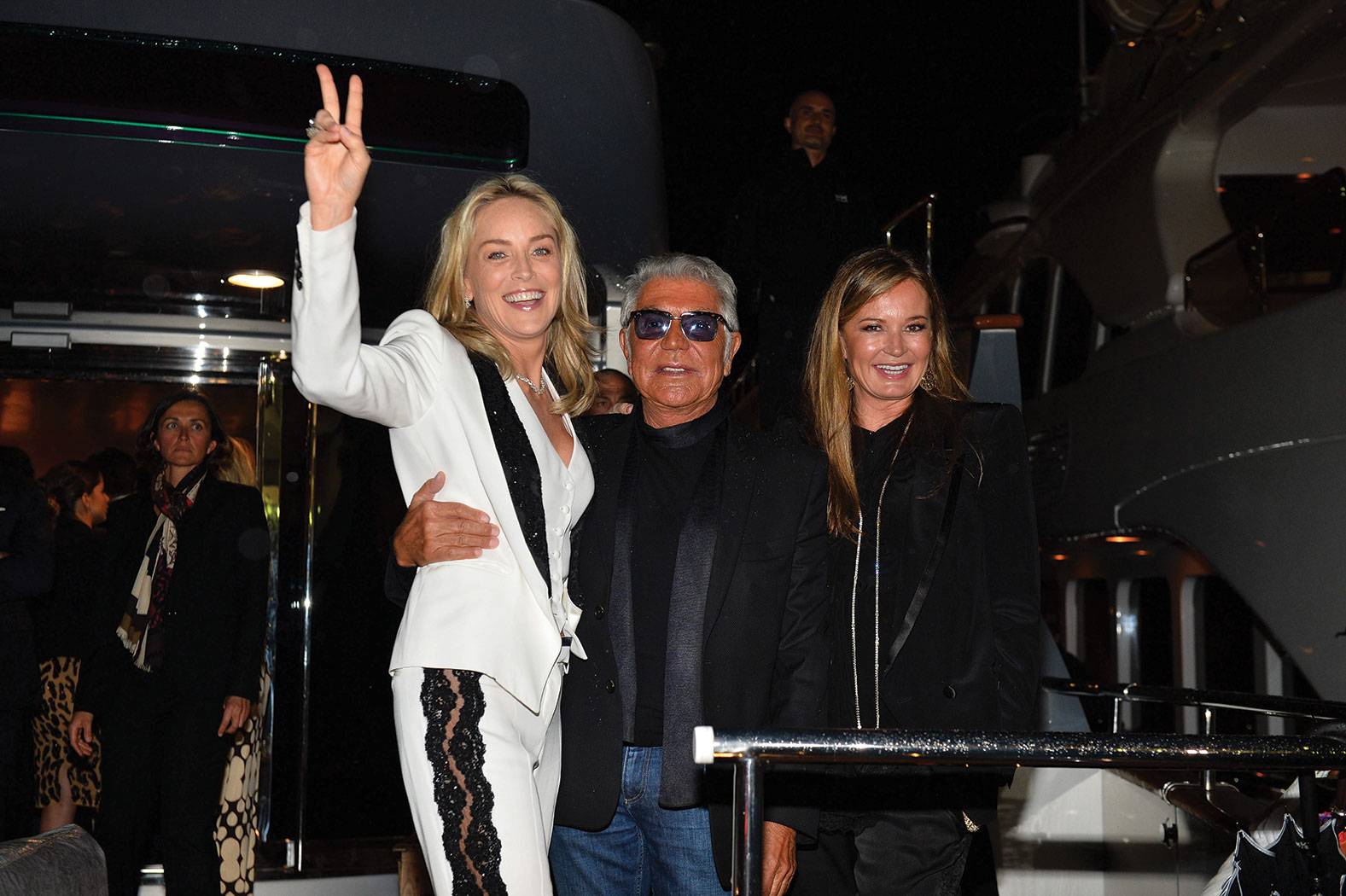 Subscribe to discover the best kept secrets in your city