Designer Extraordinaire Creates Your Dream Come True
Imagine that a wealthy Bay Area resident hires you to purchase an amazing home, and to renovate, decorate and furnish the entire property without your client seeing it as you work. After five years of carte blanche, you deliver the home to the owner, and voila! He is blown away.
That is just one peculiar project that was recently tasked to Ken Fulk Design mastermind Ken Fulk. The San Francisco-based firm is a full-service operation of architecture, lifestyle and interior design that has caught the attention of clients – and potential clients — for its outlandish, irreverent and sometimes whimsical design.
Marquee names that Fulk has worked with include San Francisco society queen Denise Hale, Yelp CEO and co-founder Jeremy Stoppleman and Zynga's Chief Product Officer and founder Mark Pincus.
But it is more than Fulk's provocative eye that keeps the rich and famous coming back. "I'm good at building relationships with people," he says modestly. Fulk's client list spans old guard socialites to celebrities to billionaire tech titans because he takes time – days, sometimes weeks – to learn who his clients are. In fact, he gets to know their eccentricities so well that he is trusted to pick out minute details from napkins to knives to spoons to dishes. "It's crazy and wonderful, but I don't do it lightly," he says.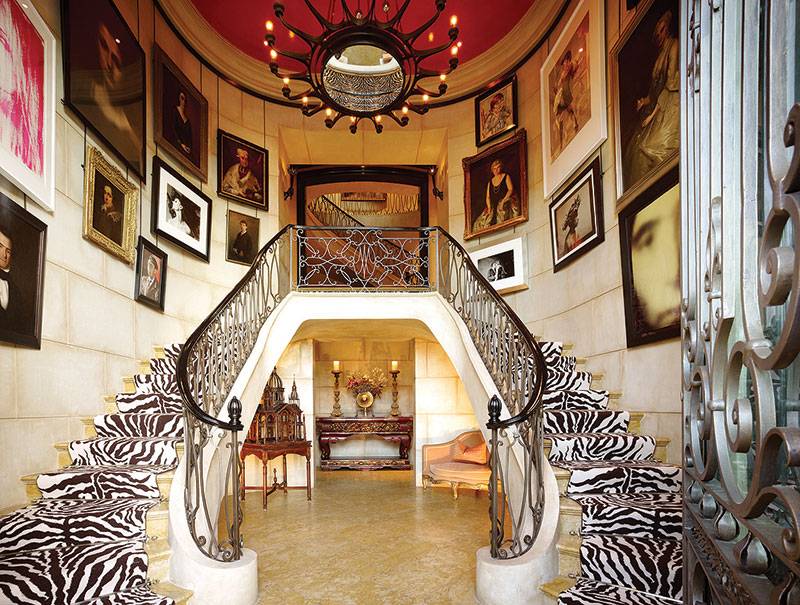 After moving to San Francisco from Jefferson County, Virginia with his partner, Kurt Wootton, more than two decades ago, Fulk fell into the design business by accident. He experimented with the staging of model homes until a friend then asked Fulk to decorate his apartment and business took off. The designer's list of services has evolved and morphed in as many ways as his clients have seen fit. "Part of the reason I have a different business than a lot of designers is that I haven't worked for one. I didn't know what I wasn't supposed to do," he says.
Fulk's South of Market (SoMa) warehouse – a former S&M leather factory – is his home and design studio. Since acquiring the building in 2007, Fulk has also used the space to throw outlandishly lavish parties, including an A-list, bondage inspired masquerade ball for Denise Hale in 2010 in honor of the creation of the Denise Hale Fund at the SF SPCA. Fulk also put together a peep-show style celebration for Jean Paul Gaultier to kick-off Gaultier's spring-summer 2012 exhibit at the De'Young Museum. Burlesque model Dita Von Teese's 15-minute striptease was the talk of the town for months.
Nothing is too big or too crazy for Fulk: event planning, interior design, personal style concierge – he does it all.
"I wanted to have my own model," he says about his concierge work. "From getting a haircut, to throwing a dinner party, to planning a vacation for them. I wanted to make sure everyone had a good time and had the best experience possible. I knew how to make that happen."
In fact, he has crossed over to the new generation of multimillionaires and billionaires of the Silicon Valley. What's a tech billionaire to do with a ton of new money? Hire Ken Fulk, of course.
"The more established folks come to the table with more of everything – stuff, experience and opinions – so it's more defined," he explains. "Whereas the new guard sort of client may not have that experience – having that house, throwing the party – so it's more about exposing them to this and shepherding them. Sometimes it's the opposite. There are certainly occasions where the 'new guard' client will be more free-flowing and more adventurous."
One such client is Sean Parker, the billionaire Internet genius who helped create Napster and Facebook. Parker, known for his elaborate parties, was introduced to the designer through a mutual friend, and hired Fulk to design a unicorn-themed prom party for 200 people. With fewer than 24 hours notice, Fulk managed to make it happen with confetti cannon balls and ponies dressed as unicorns.
"He's the guy who comes up with the crazy ideas and I bring them to life," Fulk said. "Usually, I'm the craziest one in the room until Sean Parker walks in."
More recently, Fulk designed Parker's wedding – a reported $10 million affair based on Parker's suggested theme of an enchanted forest. The ethereal scene was set amidst the redwoods of Big Sur. Visual elements like the ruined stone castle and a10-foot Celtic cross brought the mythical scene to life. To push the envelope even further, each of the 364 guests were individually fitted in "Tolkien-esque" attire.

"Usually, I'm the craziest one in the room until Sean Parker walks in."
"Luckily, we nailed it on the head. I think it's because I've worked with Sean in the past. We had a shared vision. We were able to lay it out and express what he had in his head" said the designer. Celebrity guests included Emma Watson, Lars Ulrich from Metallica, Twitter founder Jack Dorsey, Sting and Trudy Styler, Lieutenant Governor Gavin Newsom and Sean Lennon.
Fulk himself was in awe of his own creation. "It was jaw-dropping to see the effort of hundreds of people who created this thing, something so special that we may never see this again."
Though he enjoys creating elaborate affairs for San Francisco's VIPs, today commercial projects are piquing Fulk's interest. He created the 1960s London concept for the Cavalier, a British-inspired brasserie that opened downtown last summer.
His latest obsession is one of the largest projects of his career, a private social club slated to open in October called The Battery. He has taken on the role of creative director and handles everything from the architecture to the in-room amenities. The impressive new Jackson Square club has a spa, a gym, 14 hotel suites, five bars, an Alain Ducasse-trained chef and is topped with a modernist glass penthouse. Not bad for someone who was never formally trained in the interior design business.
With a resume as impressive as his, one might wonder Fulk has anything he wishes he could still do.
Well, yes. When asked if he could design for any celebrity, living or dead, Fulk confessed, "I would have loved to design for Liz [Taylor] and Dick [Burton] in 1966 at the height of La Dolce Vita. They were chartering private jets and living fabulously."
"That would have been an outlandish and crazy time." We're not surprised: a man with Fulk's wild imagination wouldn't have it any other way.
Subscribe to discover the best kept secrets in your city