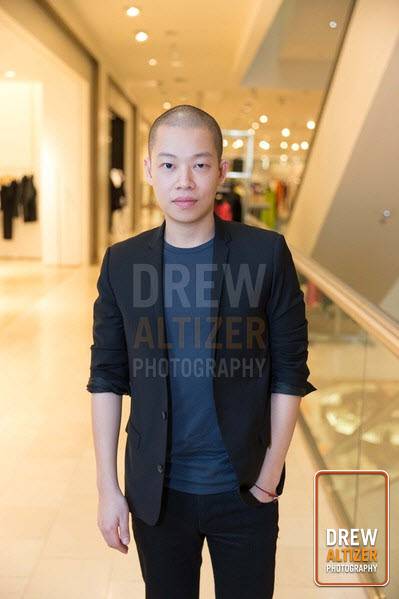 Haute Living San Francisco was lucky enough to sit down with the venerable designer, Jason Wu, at Neiman Marcus' Rotunda and talk shop about him, his line and some of his secrets to traveling well and his must have luxuries in life.  However, the most wonderful insight we gained from our time with Jason was his drive to encourage and foster the development of young designers in Taiwan, his birthplace.  When he was growing up, Taiwan was not the fashion obsessed place and it certainly was not as culturally liberal as it is today.  He knew from a young age that he was going to be a fashion designer, through his interests in sculpture and fascination with dolls.  His parents were understanding and cultivated his talent by moving to Canada.  Today, for the last 3 years and continuing on, Jason awards two very talented students from Shih Chien University in Taiwan a special fellowship whereby they join his studio for at least 6 months to see the process of designing a collection from start to finish.  And now for more insight into the man and his namesake brand, Jason Wu.
HL:  This fall/winter collection was departure from your usual feminine, classic elegant pieces.  It was much edgier and even incorporated La Perla.  What inspired you for this fall/winter?
JW:  Well, La Perla was involved for spring, but both collections need to be talked about together.  The Spring collection was inspired by Helmut Newton.  I supposed people said it was edgier but I meant for it to be stronger.  I felt as a designer I really evolved.  I started the brand when I was 23 and I'm 30 now.  I've grown up and along with my customers like you.  I felt like it was time to bring out the sexier, stronger side of her.  It felt like the right time, that this is what women wanted to wear now.  That's the fun thing about fashion, it changes.  One day, we're into short, the next we're into full length for day, or half short and long.  It's really about the times we're in and for S13, F13, it was right to go for something more tougher and a stronger version of vision of femininity.   It was a side I haven't previously explored and I felt like I wanted to do it.
HL:  You've experienced so much with your line, you started with runway then collaborated with a high-street retailer, Target and now just launched your diffusion line, Miss Wu with Nordstroms.  Can we expect a stand alone store from you soon?
JW:  Yes, that definitely in on the horizon.  But we're a bit young to do that right now.  Being a self-owned and financed company, it's always been very important for me to do things at the right pace and not rush things.  Chanel wasn't build in one day.  The fabulous thing about today is that you can see the dress and order the next day on Moda Operandi, but to build a fashion business still takes time and it's really important to not rush things.
HL:  We're a luxury lifestyle magazine.  What is one luxury, whether it be a well made espresso or spa day, that you cannot live without?
JW:  Spa.  Really good.  I just have to.
HL:  Where do you spa?
JW:  Mandarin Oriental is my favorite.  The pressure is always perfect because I go for deep tissue.
HL:  So how about three people, living or deceased, real or imaginary, who you would like to have a dinner party with and why?
JW:  Diana Vreeland, because she is my inspiration and just amazing in general.  A bit cliche, but Audrey Hepburn.  Despite being cliche, there is a reason why she is such a reference.  There was recently a book published of the unseen pictures of her and you look through it and just see how she truly is the chicest woman.  And Yves Saint Laurent because he is one of my favorite designers. He is legend, he has definitely been a great inspiration to me.  So influential in our industry and such a pillar in the fashion community.  His work from beginning to end as always been a source of inspiration for those who wanted to enter into the design world.
HL:  You've been traveling a lot.  What is one of your secret travel tricks to staying so fresh, so interview like this?
JW:  Take an Ambien on the flight and sleep…
HL:  And now we're going to talk about everyone's favorite two things:  your two cats, Jinxy and Peaches!  How old are they?
JW:  Jinxy is 9.  I've had her since ever since I was a student at Parsons.  I got her from a classmate, whose cat was pregnant and no one knew!  And all of a sudden, there was this litter of kittens and I said I would take one.  That is how the love affair started.  Peaches is 2.  I adopted her from city critters, a rescue in the city.  She was so adorable.
HL:  Who's the trouble maker?
JW:  They work as a group.
HL:  Finally, what are you wearing today?  You always look so impeccably dressed on the runway or in pictures.
JW:  I'm wearing Prada jeans, Dior jacket and just some T-shirt.
HL: And I see a bracelet.  What's is that?
JW:  It's Me & Ro.  My best friend gave it me and it says Fearlessness on it.  It's a bit raggedy, but I always wear it.  And you know, being Chinese, we always love a little bit of red.  Red is for good luck.
With that, we wish Jason Wu the best of luck for the upcoming year and many more to come.  We hope you enjoyed getting the insight into him as much as we did.