The Hard Rock Hotel honored its newly re-opened Body English Nightclub & Afterhours with two fabulous grand opening parties and numerous trend setting DJs including notorious hip hop act De La Soul, Jan. 25-27.
The property paid tribute to Body English with an official Grand Opening Party on Friday, Jan. 25. Guest enjoyed complimentary cocktails, beer, shots and hors d'oeuvres as they mingled and danced to the beats of Steve Duda. Following the party, regular nightclub hours started and more patrons filtered in to start the Lady Gaga Concert After Party. DJs CHEW FU and Breedlove spun their upbeat remixes while guests sipped on drinks and reveled in the beauty of Body English's luxe décor. Spotted among the crowd was professional BMX rider and reality star Ricardo Laguna.
The next night, Mark Farina and Doc Martin shared their electrifying sounds with the packed house. Farina sported a San Francisco 49ers shirt to celebrate his team's wins and Big Game qualification. The talented American DJs shared the stage offering guests a unique, once-in-a-lifetime experience.
On Sunday, Las Vegas nightlife enthusiasts came out to support the long-awaited grand re-opening of Body English for the club's Industry Grand Opening Party. Hip hop trio De La Soul headlined the celebration in front of a packed house. Famous hip hop group Tha Alkaholiks joined the De La Soul on stage and rapped one song to an excited crowd. Later, De La Soul rapper and producer Kelvin Mercer got up close and personal with fans when he jumped into the crowd and rapped a song. Attendees enjoyed complimentary drinks while they chatted, danced and ogled at the beautiful, seductive new nightclub. The bass was bumping early into the morning hours as guests danced and sang along to their favorite hits.
Dorm Daze returned on Sunday. The event took over the 10th and 11th floors of the Casino Tower as patrons partied it up like true celebrities in the Real World Suite. Guests had fun mingling, playing pool, bowling and more inside the 4,200-square-foot penthouse suite.
Click on the photos below to enlarge.
Like Haute Living Las Vegas? Join our Facebook page or follow us on Twitter. Want Haute Living Las Vegas delivered to your in box once a week? Sign up for our newsletter.
1.27.13 De La Soul at Body English Nightclub & Afterhours, credit Erik Kabik
De La Soul at Body English. Photo: Erik Kabik
1.27.13 De La Soul at Body English Nightclub & Afterhours (2), credit Erik Kabik
De La Soul at Body English. Photo: Erik Kabik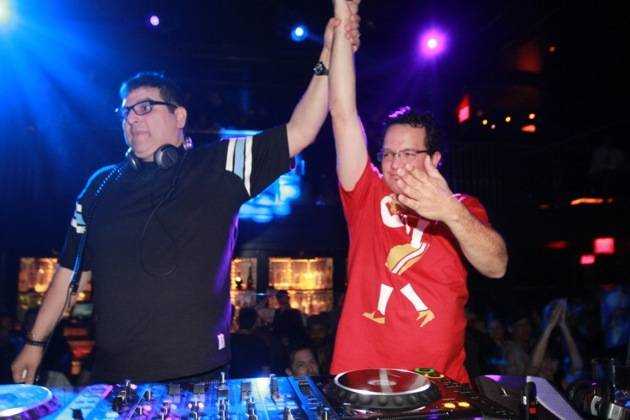 1.26.13 Doc Martin and Mark Farina play together at Body English Nightclub & Afterhours, credit Hew Burney
Doc Martin and Mark Farina play together at Body English. Photo: Hew Burney
1.25.13 Steve Duda at Body English Nightclub & Afterhours, credit Hew Burney
Steve Duda at Body English. Photo: Hew Burney
1.25.13 CHEW FU at Body English Nightclub & Afterhours, credit Hew Burney
CHEW FU at Body English. Photo: Hew Burney
1.25.13 Breedlove at Body English Nightclub & Afterhours, credit Hew Burney
Breedlove at Body English. Photo: Hew Burney