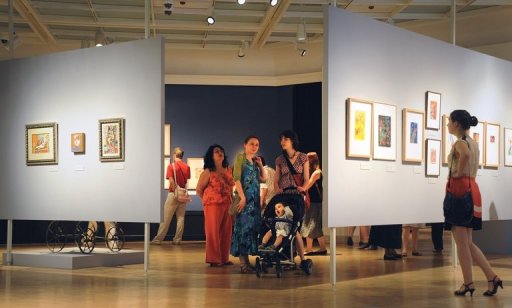 Image: AFP/File, Alexander Nemenov
Russian painter Marc Chagall's work is being featured at an exhibition in Moscow's Tretyakov Gallery, which explores the multiple influences on his work and celebrates the "mystery of Chagall".
The exhibition is an opportunity for Chagall's work to be revived after being banned as "bourgeois" and allows visitors to explore his artistic talents. According to curator Ekaterina Selezneva, "Visitors after ask, why Chagall's animals are blue, yellow or prink, why the bride is flying over the rooftops and the man has two faces. They will now understand where Chagall drew (his images) from."
The exhibition includes popular pieces such as a Russian wood engraving, a carpet and icon, a seven-branched menorah chandelier and a Jewish spice-cake mold. Also on display are little-known drawings, sketches and watercolors by Chagall, who passed away in France in 1985.
The exhibition will run through September 30.
Like Haute Living Moscow? Join our Facebook page or follow us on Twitter @HauteLivingRU. Want Haute Living Moscow delivered to your inbox once a week? Sign up for our newsletter.
Subscribe to discover the best kept secrets in your city