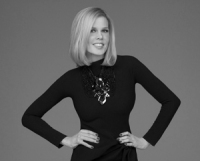 Haute Secrets New York: Fashion and Beauty Expert Mary Alice Stephenson
Born in Winston-Salem, NC and currently living in New York, Mary Alice Stephenson is one of the world's most renowned fashion and style experts. Her ability to analyze trends and contextualize style has granted her a position as fashion and beauty commentator for several well-known networks and shows, including MTV, VH1, E!, The Style Channel, and CNN.
Throughout her career, Stephenson has worked as Fashion Editor and Fashion Director for esteemed publications such as Vogue, Allure, Marie Claire, and is currently the Contributing Fashion Editor for Harper's Bazaar. Additionally, Stephenson manages her own consulting firm, lending her expertise further into the worlds of fashion, entertainment, pop culture, and technology. Her work has led her to style Hollywood's most fashionable celebrities.
Stephenson is also a celebrated philanthropist and is known especially for her work with charities such as Free Arts NYC and the Make-A-Wish Foundation, the latter of which she was named National Fashion Ambassador and spokesperson in 2008. Her work for the Make-A-Wish Foundation includes creating unforgettable experiences for kids who request modeling and fashion-related wishes.
Subscribe to discover the best kept secrets in your city