Haute Time's stock in trade, as our regular readers know, is the new, the cutting edge –the haute in the watch world, in a word.  But sometimes it's worth looking back at watches that aren't just a part of history—they've helped make history happen.
These days, they're few and far between; mechanical watches since the quartz watch came along in 1969 have become more and more something you wear for the cool factor, not the functionality. Let's face it, a quartz LCD watch that can do everything from tell you the relative humidity to your altitude above sea level to the time in Timbuktu pretty much conclusively proves that as far as functionality goes, quartz is the undisputed reigning champ. But it wasn't so long ago that mechanical watches weren't just hot collectibles or works of mechanical art. Most of them were tools, plain and simple, and were expected to work for a living.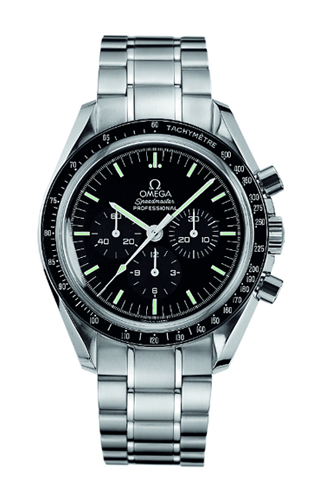 The Speedmaster Professional is the working watch par excellence, though like most mechanical watches of its era, it was designed with an understanding that good aesthetics make for good utility. Like the old Leica rangefinder cameras, in the Speedmaster great aesthetics were both a deliberate choice and the result of an insistence on form-follows-function integrity. The first Speedmasters were released in 1957 and, as the name (and tachymetric bezel, with a scale enabling a speed reading over a measured mile of up to 500 mph) implied, they were designed originally for automotive enthusiasts, not for use in aviation. And, it goes without saying, they weren't designed for use in outer space. It was in outer space, however, that the Speedmaster earned the nickname by which the basic model—still in production, with only minor changes, after all these years—is known: the Moonwatch.
The Speedmaster was worn by Gemini and Apollo crews, as well as Apollo-Soyuz and Shuttle crews; as the engraving on the back of today's model says, it is qualified by NASA for all manned space flight as well as having the honor of having been the first watch worn on the moon. The Speedmaster was so popular that it was (when they could get it) the preferred watch even of Russian cosmonauts, and it remains the only watch ever flight qualified by NASA for EVA (that is, wear on the outside of a spacesuit when outside a spacecraft).
READ THE FULL REVIEW ON HAUTETIME.COM
Subscribe to discover the best kept secrets in your city