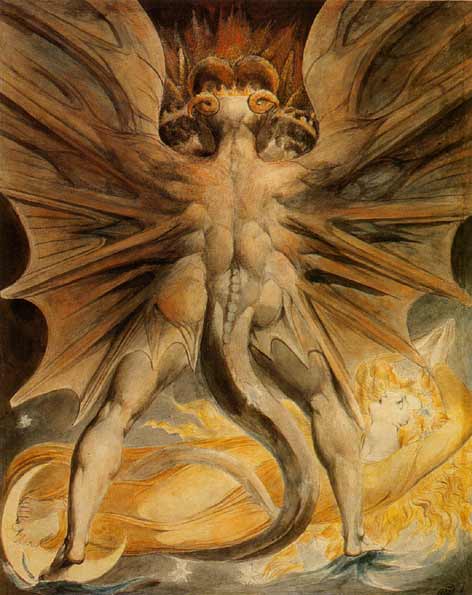 William Blake was a poet, artist and philosopher during the Romantic period in England.  With such works as "Songs of Innocence and Experience", a series of poems and illustrations by him, which included "The Chimney Sweeper," Blake will go down in history as one of the most important literary figures in England.
But Blake, who was an integral part of the Romantic Movement, was seen as a madman, even a heretic during his time.
He was controversial, his work showed a love for the Bible but distaste for organized religion like the Church of England, and his writings on English society were not exactly well received by authorities.   Nevertheless, his eloquent expressiveness and imagination made him an icon in the literary world.
In honor of his achievements and heavy influence on artists after him, the Pushkin Museum of Fine Art's in Moscow is exhibiting over 150 engravings, drawings and paintings mostly by Blake but also from those he influenced, including 20th Century artist Francis Bacon.
It is the first such exhibit in Russia.  Lately the Russian public has taken a liking to Blake for his incorporation of poetry, philosophy and art.
The exhibit- now halfway through and continuing until Feb. 9- mainly focuses on the art Blake created, sticking with Blake's upbringing as an apprentice to an engraver and less on his literary work, which he most famous for today.
After the first Russian translation of Blake's poetry in the early 20th century, his popularity has grown in Russia for his revolutionary thinking.  But an exhibit such as "William Blake and the British Visionaries," at the Pushkin Museum of Fine Art's, which features his artwork is unique because it is a new side of Blake that the Russian public generally hasn't seen.
Blake's eclectic imagination of biblical scenes such as "The Body of Abel Found by Adam and Eve" and Blake's illustrations to Dante's "Divine Comedy," are highlights at the exhibit.
Source: The Moscow Times